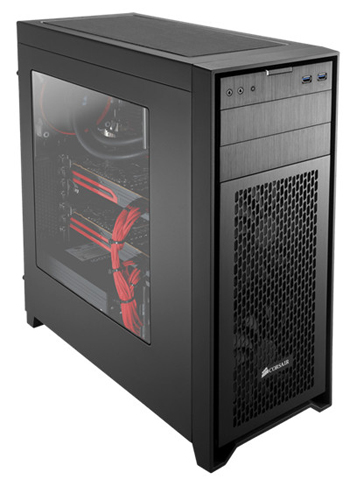 Obsidian Series 450D Mid-Tower PC Case
Mid-tower Size with a Roomy Interior that's Optimized for Airflow
If you want to build a high-end mid-tower PC system, build with Corsair Obsidian Series 450D. Although the 450D comes in a mid-tower size, it gives you a quite roomy interior to accommodate large-sized PC components, multiple case fans, as well as serious water cooling gear.
In addition to support for a Micro ATX, ATX, Mini ITX, or E-ATX motherboard, the 450D can accommodate graphics cards of up to 430 mm in length, and CPU coolers of up to 165 mm in height.
The 450D is preinstalled with dual front AF140L intake fans which provide direct GPU cooling, and features a total of seven fan mounting points, allowing you to add extra fans or install water coolers. Specially optimized for superior cooling efficiency, the 450d even comes with a modular removable drive cage system and dual SSD bays that mount behind the motherboard tray and out of the airflow path.
The beautiful brushed aluminum fascia with mesh cutouts makes an elegant design statement. The extra-large, flush mounted side window puts your system-building expertise on display.
Obsidian Series 450D Mid-Tower PC Case Introduction
Dual AF140L Intake Fans with Direct Airflow Path to GPUs
The custom-designed, Corsair-exclusive AF140L 140mm intake fans deliver effective airflow with less noise and turbulence. Air intake passes directly across your GPUs for efficient heat dissipation.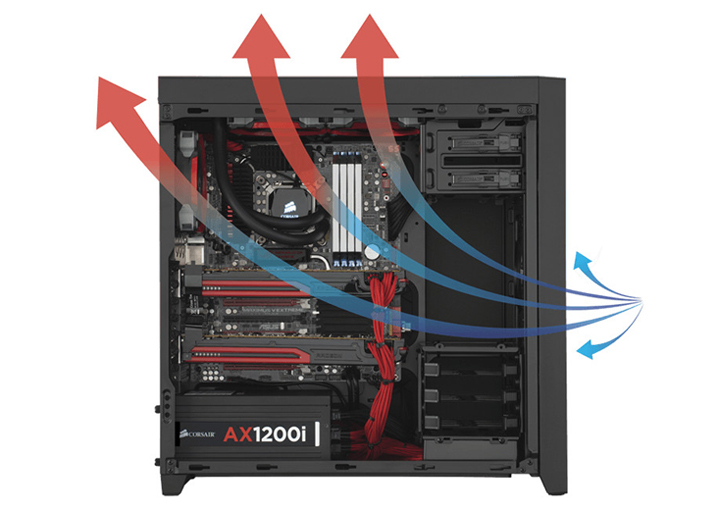 Seven Fan Mounting Points for High Airflow and Water Cooling Applications
If your high-performance system build requires high-performance cooling, the 450D is an ideal platform. The mounts support front, bottom and rear radiators for flexible water cooling installation options, or fans for superior ventilation.
Radiator and fan compatibility:
Top: 3 x 120mm or 2 x 140mm (360mm radiator)
Front: 2 x 140mm or 2 x 120mm (2 x 140mm included) (280mm radiator)
Bottom: 2 x 120mm (240mm radiator)
Rear: 1 x 120mm (120mm included) (120mm radiator)
Modular Drive Cage System with Lateral SSD Bays
Mounting the SSDs under the motherboard uses interior space efficiently and gets your solid-state storage out of the airflow path. The removable drive cages allow you to use only the space you need for your storage requirements.
Black Anodized Brushed Aluminum Fascia
The elegant aluminum front fascia is an Obsidian Series hallmark. It's durable and resistant to scratches and fingerprints.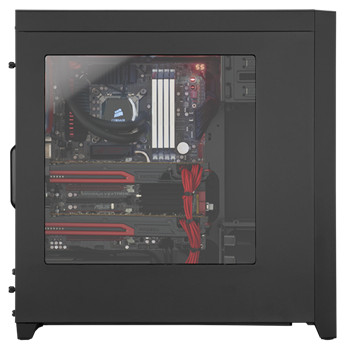 Extra-large, Flush-mount Side Window
The clear acrylic window lets you show off your high-end components.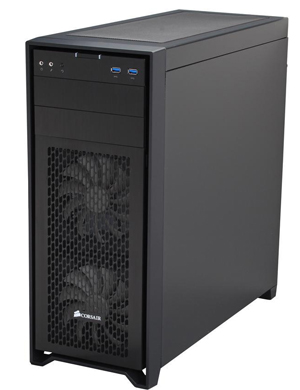 Fast and Straightforward Builds
Like all Obsidian cases, the 450D is designed for fast and neat builds, with clever features like tool-free SSD, hard drive and optical drive installation, and excellent cable routing with rubber grommets. The removable front intake fan dust filters and PSU dust filter keep dust out of the interior. And the front panel features two USB 3.0 ports for blazing-fast data transfer, plus headphone and microphone jacks.