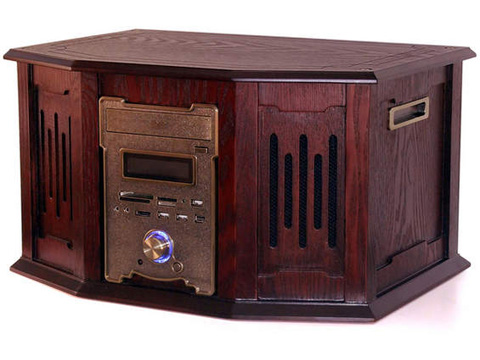 The First Wooden HTPC Case Ever!
Editor's Choice Awarded HTPC Case

nMediaPC is proud to introduce the first wooden HTPC Case. The classic looking HTPC 8000 case will not only meet your HTPC needs, but with its smart internal design it can easily surpass any gamer's expectations as well.
The new HTPC 8000 wooden case is a state-of-the-art ATX case for users of different interests. It supports full ATX motherboards, ATX PSUs, and all full-length video cards. It's built with one 140mm case fan to make your build a completely silent system. Direct air flow design from front to back improves the cooling performance significantly. Not enough? Feel free to add two 92mm fans in the front behind the panel.
Beyond the superior functions offered above, the classic style of this HTPC will capture every eye and impress your guests with your one-of-a-kind powerful home theater system.

Supports ATX power supplies
Supports ATX, Micro-ATX, DTX, and Mini-ITX motherboards
Four 3.5in. internal bays for media data
Easy up-front access digital connection interfaces
HD Audio; SDHC 2.0 Card Reader; USB 2.0 x 2
SupportS full height and length PCI cards
Stylish antique redwood design
Compact size and feel
Optional upgrade on 20 x 2 programmable MCE LCD module
Innovative architecture makes your installation easy
Quiet as ever!
nMedia is the first company to deliver a mass-produced wooden case to our labs. A mechanically-distressed finish adds to the HTPC 8000's nostalgic radio look, with reduced production costs allowing for a mass-market-friendly $120 Web price.
A short 14.4in. depth allows the unit to sit on narrower shelves and tables compared to a standard hi-fi-style case, and its dimensions accurately replicate the scale of the old radios it resembles. Likewise, its 19.7in. width and 11.0in. height will look great anywhere!
Simulated speaker holes at the front offer intake ventilation, while a simulated radio-tuning indicator hides a mount for a digital-display panel, such as the nMedia part sold here. The simulated knob is a stylish power button.
Casual glances may not reveal the DVD cover or button, but there's nothing retro about the case's memory card reader or front panel USB, eSATA, and FireWire ports. Front-panel microphone and headphone mini-jacks are also of the handy, non-retro variety.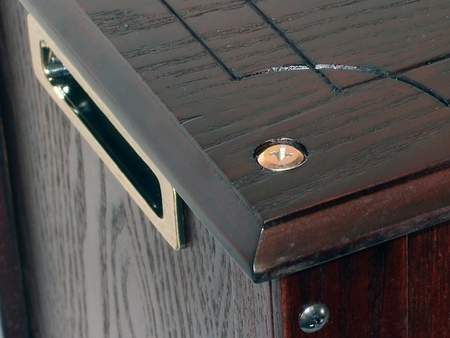 Anyone who does not get close enough to the front panel to notice the modern conveniences probably won't notice the clever Phillips #3 top screws, which detract slightly from an otherwise stylish panel.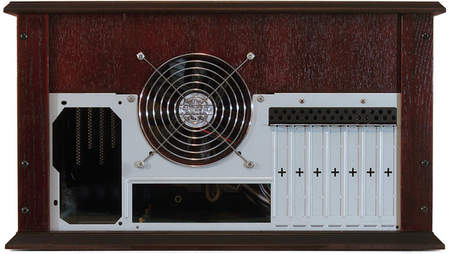 A 140mm low-speed fan draws warm air out the back. Reportedly manufactured by Dong Guan Hengli Hongsheng Electronics Factory (UL E225507), this 0.20A 140mm fan is unlisted at the manufacturer's site and its A14025L12S part number isn't carried by other suppliers.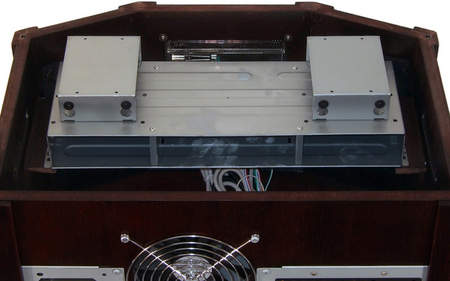 A rack six inches above the motherboard supports four 3.5in. hard drives and one 5.25in. optical drive. There's enough room beneath it for most CPU coolers, except for 120mm tower-design coolers.
A card-reader and front-port connectors reside under the drive rack.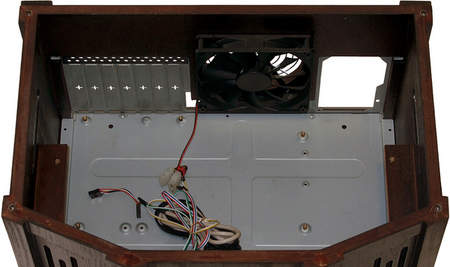 The HTPC 8000 supports full ATX and micro-ATX motherboards, with just enough room in front to support long graphics cards (such as the GeForce GTX 285) in six of its seven expansion slots.