A GAMING CASE BUILT FOR THE MOST DEMANDING USERS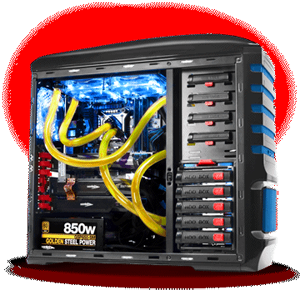 The Sentey Burton GS-6500B is a computer case built for power users, designed for extreme gamers and those that are passionate about technology.
It has the astonishing value of including six fans from the factory, ensuring an excellent level of cooling is provided within the chassis with maximum airflow for cooling each of the hardware components installed on the system.
It also supports VGA's up to 340mm in length, or the largest you will find in the market, as well as CPU coolers up to 162mm tall. Everything you would would want to install in a computer case is possible in the Sentey Burton.
1mm Japanese SECC Steel
Six Fan Coolers
Built-In Card Reader (CF/MD, XD, SD/MMC, TF Y MS/M2)
Motherboard Support (ATX or Micro ATX)
Peripheral Bays (5 x 5.25" and 5 x 3.5")
Four USB Ports
E-SATA and Native SATA Ports Included
Audio and Microphone Port
Water-Cooling System Support