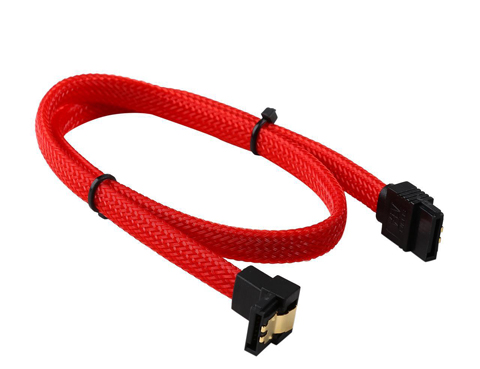 Coboc PR-SATA3-18-LL-RD-90 18-inch Premium SATA III 6Gbps Data Cable
Featuring a straight (180°) SATA III male connector at one end and a right-angled (90°) SATA III male connector at the other end, the Coboc PR-SATA3-18-LL-RD-90 Premium SATA III Cable makes a right-angled connection to your SATA drive, for easy installation in tight spaces.
The SATA III interface delivers a maximum data transfer rate of up to 6Gbps when used with SATA 3.0 compliant drives. It's also backward compatible with SATA I (1.5Gbps) and SATA II (3Gbps) specifications.
The right-angled (90°) SATA connection enables you to easily plug in your Serial ATA hard drive in hard-to-reach areas or tight spaces, providing flexibility to position your SATA drive as needed within your system case. The flat cable design improves airflow and reduces clutter in your computer case, helping to keep the case clean and cool.
Not like most 3 micron flash gold contacts SATA cable, the premium SATA III cable uses 15 micron gold plated contacts to protect pins material from corrosion, thus keeping more durable and stable data connection speed for years of use. Enclosed with high-quality Nylon fiber jacket, it provides great durability and flexibility.