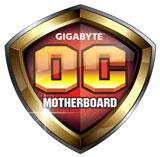 Embrace the new power within the Intel 4th Gen Core processor.

The GIGABYTE GA-Z87X-OC Force mobo is based on the latest Intel Z87 chipset. It's a great system foundation to take full advantage of the "Haswell" power and features in an LGA 1150 package. Aimed at gaming enthusiasts and extreme overclockers, this mobo comes equipped with a number of new and improved features for maximized performance and the most enjoyable OC experience, including industry-leading durable components, a full set of small gears for optimization and customization, and a user-friendly setup interface for easy tuning. And with supporting four-way SLI and Crossfire graphics configurations, and an incredible 16 digital phase VRM for the CPU and memory, the GIGABYTE Z87X-OC Force is truly peerless and utterly ruthless.

OC Ignition
here are occasions as an overclocker when you want to shut down the system without turning off the power to other parts of the system, for example the drives and system fans. This is where OC Ignition is really useful.
Hitting the OC Ignition button gives continuous, uninterrupted power to all the motherboard's connected drives and system fans, but not to the CPU. This is useful in 'cold bug' situations when you need to heat the CPU to a bootable temperature, but you'd prefer the fans to keep spinning, reducing moisture build-up.
Overclockers using i-ram drives may also want to maintain SATA power and not risk losing their customized OS install, while users with regular SSDs or HDDs also know that frequent powering on and off is harmful to your drives in the long-term.
OC Ignition is also useful in allowing users to pre-test water cooling setups, and even allows case mod demos to be developed without having to fully turn on the PC.

OC Ignition: Feature Summary
• Powers fans and drives without booting or powering the CPU
• Active fans help to reduce moisture build-up when using LN2
• Maintain continuous uninterrupted power to drives
• Safely powers water cooling systems for safe leak checking
• Test demo and case mod systems without needing to boot the system
OC PCIe Switch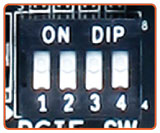 Overclockers can manually turn on or off each installed PCIe lane of the motherboard, allowing users to effortlessly remove graphic cards from the system without the hassle of physically removal. This is especially convenient for VGA overclocking on LN2 and water cooled systems.
OC PEG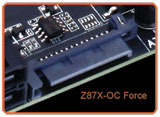 OC Peg adds auxiliary power to the PCIe slots of your motherboard, improving system stability in extreme configurations. This is especially useful in power-hungry four-way graphics configurations.
OC Brace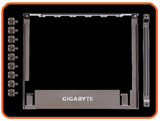 OC Brace allows extreme overclockers to safely install up to four graphics cards in an open case, without risking PCIe slot damage or preventing cards not showing up in the OS due to poor contact with the PCIe slot.
OC Brace is a simple and elegant way to give robust installation support to full sized graphics cards in extreme multi-GPU configurations. This includes LN2 benching with cumbersome GPU pots that a need stable, solid installation base over extended periods.
OC Cool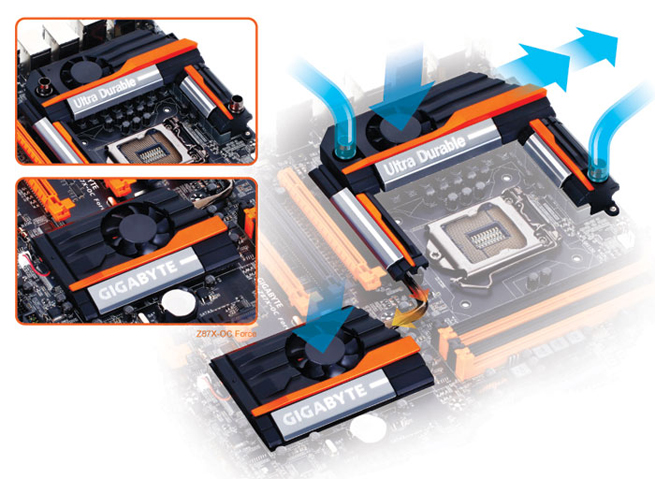 The GIGABYTE Z87X-OC Force Motherboard features an extreme heatsink design for the PWM area that allows users to employ both passive, active and water cooling setups. A hollow body heatsink, fitted with a silent integrated fan, ensures superb heat dissipation during extreme overclocking configurations.
GIGABYTE OPT Fan Support
Many of today's third-party water cooling systems require CPU fan power support for both the cooling fan and the water pump. GIGABYTE 8 Series motherboards feature OPT fan support, an additional CPU fan pin header that can be used to connect a water pump, and configured for continuous full speed operation. The OPT Fan is also useful for high-performance coolers employing two fans.
Durable Black Solid Caps

GIGABYTE 8 Series motherboards integrate the best-quality solid state capacitors that are rated to perform at maximum efficiency for extended periods, even in extreme performance configurations. This provides peace of mind for end users who want to push their system hard, yet demand absolute reliability and stability. With ultra-low ESR — no matter how high the CPU loading — these capacitors come in customized jet black,exclusively on GIGABYTE 8 series motherboards. ("Rated for an unprecedented 10,000 hours of intensive operation at an incredible 105°C" – Nippon Chemi-Con)
Gold-Plated Solid Power Connectors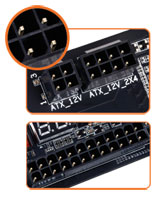 GIGABYTE Overclocking motherboards feature gold-plated connectors for the CPU and 24-pin ATX power connectors. Gold provides superior conductivity and signal transmission than standard implementations. It also ensures far better reliability and stability over time, by its resistance to metal corrosion caused by frequent use.
Gold-Plated CPU Socket, DDR and PCI Express Slots

GIGABYTE 8 series motherboards come equipped with gold-plated hardware for the areas where your motherboard has contact with other components; a gold-plated CPU socket, gold DDR3 slots, and PCI Express slots. Using a gold-plated CPU socket and slots means that enthusiasts are guaranteed absolute reliability and longevity for the CPU, memory and graphics cards, no matter how many times you switch them out.
Extreme Multi-GPU Support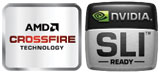 Premium four-way graphics support: this extreme design employs a PLX chip that doubles the available PCI Express bandwidth, allowing overclockers and gamers to enjoy the ultimate in extreme multi-GPU configurations, four-way AMD CrossFire and NVIDIA SLI.
Native PCIe Ge. 3 x16 Direct Link to CPU: The single black PCIe x16 slot provides a direct link to the CPU, enabling it to bypass the PLX chip. This provides the fastest possible connection for single graphics card benching.
Wi-Fi/Bluetooth 4.0 PCIe Expansion Card
Supports the latest IEEE 802.11 a/b/g/n Wi-Fi connectivity, plus Bluetooth 4.0 and the latest Smart Ready technology.
Front-Access USB 3.0 Panel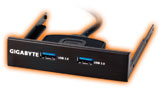 A convenient front-access USB 3.0 panel provides two USB 3.0 ports for quick and easy access to ultra-fast and reliable data transfer performance.
New GIGABYTE UEFI DualBIOS with Dashboard Mode

GIGABYTE's new UEFI DualBIOS has a redesigned user interface that offers users the chance to take control of their BIOS environment like never before.

Dashboard Mode: GIGABYTE's exclusive Dashboard Mode puts you firmly in the driver's seat, allowing you to have complete access to all data related to your motherboard's key components — including CPU, graphics and memory clocks, temperatures, voltages and fan speeds.

Fully Customizable UI: You can create their own custom home page, adding the menus and options that you use most frequently. This creates a slick and optimized interface that can be further customized by adding your own background image.

Choose Your Own Landing Page: Choose exactly which section or page of the BIOS you want to land on after each reboot. If you are fine tuning your memory timings, you can save time with each reboot by landing on the DDR sub-timings page each time. Fewer clicks, better experience.

Real-time Overclocking: For the first time ever, overclockers can adjust the CPU clock, frequency and voltage settings in real-time within BIOS. This massively saves time, allowing users to find optimal settings without having to reboot.
GIGABYTE EasyTune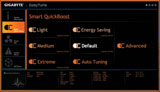 Now integrated with the GIGABYTE App Center, a re-designed and updated EasyTune app offers a simple and easy-to-use interface that allows users to fine-tune their system settings. Adjust system and memory clocks and voltages in a Windows environment with system-related information displayed, including advanced system fan calibration and configuration.