With a blend of performance, features, design and quality, the GIGABYTE GA-990FXA-UD3 R5 (rev. 1.0) motherboard is the ultimate platform for you to build an AMD processor based power house. Use it to take full advantage of the advanced AMD chipset technologies and Gigabyte's innovations in power design, component selection, and thermal design.
Chipset determines your motherboard's processor compatibility and expandability. Powered by AMD 990FX and AMD SB950 chipset, this motherboard supports AMD AM3+/AM3 series processors, and features up to four PCIe x16 slots allowing you to build 2-Way AMD CrossFire/NVIDIA SLI multi-graphics configuration for scalable gaming performance.
Gigabyte's innovations ensure reliable daily computing and even smooth operation under heavy loading. 8+2 phase power design along with Digital Power design ensures robust and efficient power delivery. The Gigabyte exclusive Ultra Durable technology utilizes a range of design and components to ensure maximum durability, reliability and protection against humidity, power surges, electrostatic discharge, and even BIOS failure. The Realtek ALC1150 codec in concert with premium audio capacitors and dedicated audio hardware separation brings onboard audio far beyond your expectation to an amazing 115dB SNR. The USB 3.0 and SATA III will save you time while transferring large libraries of files, while two eSATA 6Gbps facilitates data backup. Additionally, this motherboard features thermally-optimized heat sink on the PWM area and chipset, enabling a cool look and cool operation under extreme loading level.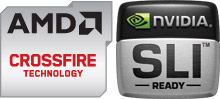 Extreme Multi-GPU Support
Flexible graphics capabilities supported for either 2-Way CrossFire or 2-Way SLI action, delivering the ultimate in graphics performance for gaming enthusiasts who demand the highest frame rates without compromising on resolution.

GIGABYTE Digital Power Engine
GIGABYTE Ultra Durable motherboards take advantage of an exclusive Digital PWM controller array, to deliver maximum and stable power to latest processors. Using digital controllers means that more precise power delivery to the motherboard's most power hungry and energy sensitive components is possible. This Digital Power system, with Precise Auto Voltage Compensation to make real-time adjustments and deliver a steady flow of power to the system, no matter the loading. This all new, digital power system provides enthusiast users with exceptional control over the overclocking potential of their GIGABYTE motherboard.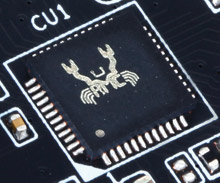 Realtek ALC1150 115dB SNR HD Audio with Built-in Rear Audio Amplifier
The Realtek ALC1150 is a high-performance multi-channel High Definition Audio Codec that delivers an exceptional audio listening experience with up to 115dB SNR, ensuring users get the best possible audio quality from their PC. The ALC1150 provides ten DAC channels that simultaneously support 7.1-channel sound playback, plus 2 channels of independent stereo sound output (multiple streaming) through the front panel stereo outputs. Two stereo ADCs are integrated and can support a microphone array with Acoustic Echo Cancellation (AEC), Beam Forming (BF), and Noise Suppression (NS) technologies. The ALC1150 incorporates Realtek proprietary converter technology to achieve Front differential output 115dB Signal-to-Noise ratio (SNR) playback (DAC) quality and 104dB SNR recording (ADC) quality.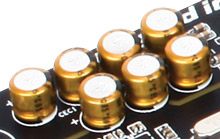 High Quality Audio Capacitors
GIGABYTE Ultra Durable™ motherboards use high quality Nippon Chemicon ARE series audio capacitors. These professional audio capacitors deliver the highest quality sound resolution and sound expansion to create the most realistic sound effects for user experience.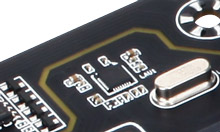 Dedicated Audio Hardware Zone
Separation on the PCB layer protects the board's sensitive analog audio components. This motherboard also features separated analog and digital ground to protect against Electromagnetic Interference (EMI).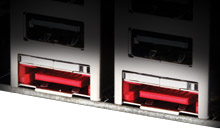 eSATA Ports for easy data manipulation on external devices
Featuring with two external SATA (eSATA) ports on rear panel, it provides smart setup and hot-plug functionality allowing easier data backup and content manipulation on external storage devices.
2x Copper PCB Design (2 oz Copper PCB)

GIGABYTE's exclusive 2X Copper PCBs design provides sufficient power trace paths between components to handle greater than normal power loads and to remove heat from the critical CPU power delivery area. This is essential to ensure the motherboard is able to handle the increased power loading that is necessary when overclocking.
Humidity Protection with New Glass Fabric PCB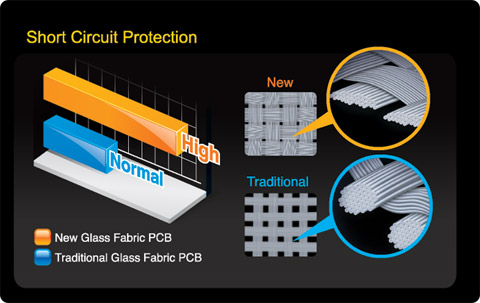 There is nothing more harmful to the longevity of your PC than moisture, and most parts of the world experience moisture in the air as humidity at some point during the year. GIGABYTE motherboards have been designed to make sure that humidity is never an issue, incorporating a new Glass Fabric PCB technology that repels moisture caused by humid and damp conditions. Glass Fabric PCB technology uses a new PCB material which reduces the amount of space between the fiber weave, making it much more difficult for moisture to penetrate compared to traditional motherboard PCBs. This offers much better protection from short circuit and system malfunction caused by humid and damp conditions.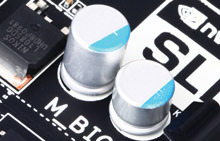 Long Lifespan Solid Capacitors
GIGABYTE motherboards integrate the absolute best quality solid state capacitors that are rated to perform at maximum efficiency for extended periods, even in extreme performance configurations. This provides peace of mind for end users who want to push their system hard, yet demand absolute reliability and stability.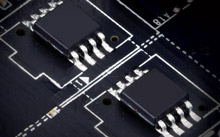 GIGABYTE Patented DualBIOS (UEFI) Design
GIGABYTE Ultra Durable™ motherboards feature GIGABYTE DualBIOS, an exclusive technology from GIGABYTE that protects arguably one of your PC's most crucial components, the BIOS. GIGABYTE DualBIOS™ means that your motherboard has both a 'Main BIOS' and a 'Backup BIOS', making users protected from BIOS failure due to virus attack, hardware malfunction, improper OC settings or power failure during the update process.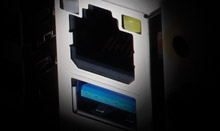 ESD Protection for USB and LAN
GIGABYTE motherboards raise the bar in terms of protecting your system, providing advanced electrostatic discharge (ESD) protection for both your Ethernet LAN and USB ports, both common sources of ESD-related failures. Each LAN and USB port is paired with a dedicated protection filter that can withstand high electrostatic discharges, protecting your system from common electrical surges and even direct lighting strikes.
Power Failure Protection with Anti-Surge IC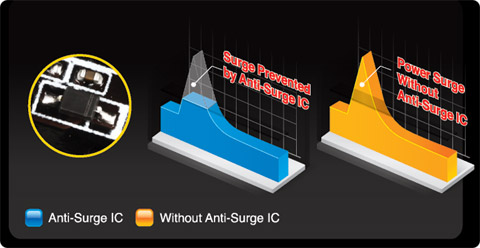 GIGABYTE Ultra Durable™ motherboards also feature special anti-surge ICs that protect your motherboard, and your PC from any surge in power delivery that may occur, helping to ensure that your PC is equipped to deal with any potentially irregular and inconsistent power delivery.
All New Heat Sink Design

GIGABYTE motherboards feature new heat sink designs that offer uncompromisingly efficient cooling on key areas of the motherboard including the PWM area and chipset (PCH). GIGABYTE motherboards offer cooling support of the crucial PWM area so even the most aggressive and extreme configurations will be kept well within optimal thermal parameters.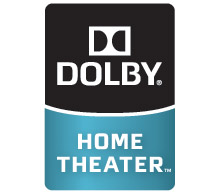 Dolby Home Theater Support
Delivers vivid surround sound for music, movies, and games, using two to eight speakers or any set of headphones.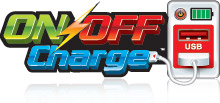 On/Off Charge Technology
GIGABYTE On/Off Charge technology allows you to charge your iPhone, iPad and iPod Touch regardless of whether your PC is on, in standby mode or even off. A derivative of GIGABYTE's highly acclaimed 3x USB Power feature, On/Off Charge enables devices to draw more current from GIGABYTE motherboard USB ports than standard USB ports allow, so that charging from your PC can be as fast as with a charger.