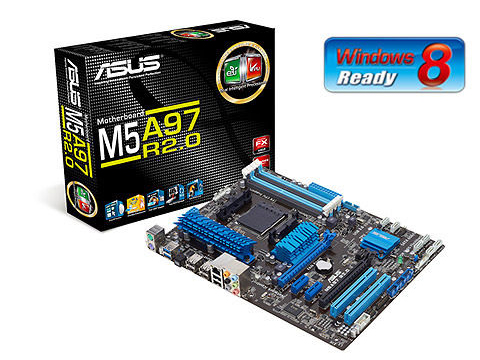 ASUS M5A97 R2.0 AM3+ AMD 970 SATA 6Gbps USB 3.0 ATX AMD Motherboard with UEFI BIOS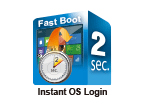 Fast Boot

Instant OS Login
ASUS has released new hardware and software designs to shorten system boot-up time to two seconds for a smoother user experience that removes annoying delays under Windows 8, and even previous versions of Windows. Faster system boot and restart means Windows starts quicker and more efficiently. No more waiting around.
---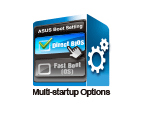 ASUS Boot Setting

Multi-Startup Options
Thanks to ASUS Windows 8 hardware optimization, ASUS Boot Setting provides better flexibility in customizing your PC's startup process. You can enter the BIOS directly with one click through a user-friendly interface, and quickly select your preferred system boot up method: either get to the OS in seconds or opt for regular boot up. Whatever your choice, settings are saved and persistent, with no need to choose every time you power on.
---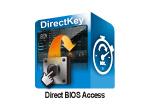 DirectKey

A Dedicated Button to Access the BIOS Directly
Designed for those requiring frequent BIOS access, users can easily enter the BIOS automatically when the PC is on standby power with the simple press of a button. It saves you time during boot-up from having to repeatedly press the DEL key. Convenience and ease at its best!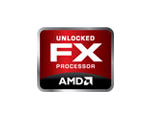 AMD® Socket AM3+ for AMD® FX Series CPU Up to Eight-Core
AMD® FX™-Series / Phenom™ II / Athlon™ II / Sempron™ 100 Series Processors (Socket AM3+ / AM3)
M5A97 R2.0 supports AMD® AM3+ / AM3 multi-core processors with unique L3 cache and delivers better overclocking capabilities with less power consumption. It features dual-channel DDR3 1866 memory support and accelerates data transfer rate up to 5200MTps via HyperTransport™ 3.0 based system bus. This motherboard also supports AMD® CPUs in the new 32nm manufacturing process.
---
AMD® 970 Chipset
AMD® 970 Chipset is designed to support up to 4800MT HyperTransport™ 3.0 (HT 3.0) interface speed and PCI Express™ 2.0 x16 graphics. It is optimized with AMD®'s latest AM3+ and multi-core CPUs to provide excellent system performance and overclocking capabilities.
---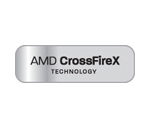 Quad-GPU CrossFireX Support!
Flexible Multi-GPU Solutions, Your Weapon of Choice!
AMD's CrossFireX™ boosts image quality along with rendering speed, eliminating the need to scale down screen resolution to get high quality images. CrossFireX™ allows higher antialiasing, anisotropic filtering, shading and texture settings. Adjust your display configurations, experiment with the 3D settings, and check the effects with a real-time 3D-rendered previews within AMD Vision™ Engine Control Center.
Dual Intelligent Processors
ASUS continues to put innovation at its forefront, launching the world's first Dual Intelligent Processors technology. This exclusive design consists of the EPU (Energy Processing Unit), which automatically monitors power consumption system-wide to ensure efficiency, and the TPU (TurboV Processing Unit) - guaranteeing superior performance for every task, bringing users an unbeatable experience.
---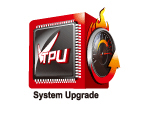 TPU

The Ultimate Turbo Processor
Unleash your performance with ASUS AI Suite II utility. The TPU chip offers precise voltage control and advanced monitoring through Auto Tuning and TurboV functions. Auto Tuning offers a user friendly way to automatically optimize the system for fast, yet stable clock speeds, while TurboV enables unlimited freedom to adjust CPU frequencies and ratios for optimized performance in diverse situations.
---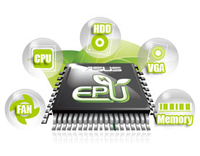 EPU

Energy Efficiency All Around
Tap into the world's first real-time PC power saving chip through AI Suite II utility. Get total system-wide energy optimization by automatically detecting current PC loadings and intelligently moderating power consumption. This also reduces fan noise and extends component longevity!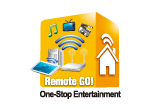 Remote GO!

One-Stop PC Remote Control and Home Entertainment
Remote GO! links PCs, tablets, smartphones and TVs wirelessly together through an existing LAN cable and router setup. It allows users to stream multimedia content from PC to your HDTV, access their computer anywhere using their mobile device at home, while also allowing easy file transfers between your computer and mobile device. It provides seamless environment for a futuristic connected lifestyle with three useful functions: Media Streaming Hub, Remote Desktop and File Transfer.
Media Streaming Hub:
Enjoy HD video, music and photos stored in the PC streaming to your HDTV via Wi-Fi connectivity. You can even control the PC to play multimedia on a TV with a tablet. It's the perfect match for creating your own home theater!
Remote Desktop:
Operate and control your PC in real-time from a smartphone or tablet for complete comfort. This function brings notebook-like convenience, by creating a virtual remote desktop, offering portable access to your data in desktop with a smartphone or tablet.
File Transfer:
Send and share files between your PC and smart devices* with only a right click on the mouse.
*iPad/iPhone can send, but not receive files from the PC
Set up Your Home PC with Remote GO!
1. Wi-Fi environment setup - use an existing LAN cable and router setup to connect PC and smart devices on the same home network
2. Install Remote GO! software on your PC
3. Download Wi-Fi GO! Remote to your smart devices (Supported Systems: iOS 4.0 or later & Android 2.3 or later)
4. Setup complete - get three useful free apps with ASUS Remote GO!
---
USB 3.0 Boost

Faster USB 3.0 Transmission with USB Attached SCSI Protocol
New ASUS USB 3.0 Boost technology supports USB Attached SCSI Protocol (UASP), the latest USB 3.0 standard. With USB 3.0 Boost technology, a USB device's transmission speed is significantly increased up to 170%, adding to an already impressive fast USB 3.0 transfer speed. ASUS software automatically accelerates data speeds for compatible USB 3.0 peripherals without the need for any user interaction.
World's first USB 3.0 UASP Support – 170% faster instantly
Complete USB 3.0 Solution – Performance boost for most USB devices
Simple Plug & Boost – Auto detection design ensures best performance always
---
USB BIOS Flashback

Easy, Worry-Free USB BIOS Flashback
USB BIOS Flashback offers the most convenient way to flash the BIOS ever! It allows overclockers to try new UEFI BIOS versions easily, without even entering their existing BIOS or operating system. It even works without key components such as the CPU and memory installed. Just plug in any USB storage and push the dedicated button for 3 seconds. The UEFI BIOS is automatically flashed using ATX standby power. Worry-free updating for the ultimate convenience!
---
DirectKey

A Dedicated Button to Access the BIOS Directly
Designed for users requiring frequent BIOS access, you can easily enter the BIOS automatically when the PC is on standby power with a press of a button. It saves you time during boot-up from having to repeatedly press the DEL key. Convenience and ease at its best!
---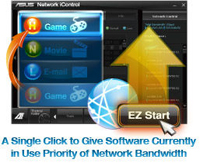 Network iControl
Real-Time Network Bandwidth Control
With a single-click on/off button, the application currently in use has its data and network bandwidth prioritized over other programs. Moreover, you can prioritize your favorite software easily by configuring profiles through the intuitive user interface. Within the profile, programs can be pre-scheduled to run in a specific time period to avoid network congestion and long-waits on downloads. Auto PPPoE network connection provides a one-step setup for enhanced online convenience. Overall, it's an intuitive network bandwidth control center.
---
UEFI BIOS
ASUS UEFI BIOS offers the first mouse-controlled graphical BIOS designed with selectable modes, providing a user-friendly interface that goes beyond traditional keyboard-only controls. It also natively supports fully-utilized hard drives larger than 2.2TB in 64-bit operating systems.
ASUS Exclusive Interface
EZ Mode displays frequently-accessed info. Users can choose system performance settings and drag and drop boot priorities. Advanced Mode for performance enthusiasts includes detailed DRAM settings via a dedicated memory info page for complete insight.
New Upgrade! Quick and Easy Info for Enhanced System Control
F12 BIOS snapshot hotkey for sharing UEFI setup info and troubleshooting
New F3 Shortcut for most accessed info
ASUS DRAM Serial Presence Detect (SPD) Information for accessing memory info, detecting faulty DIMMs and helping with difficult POST situations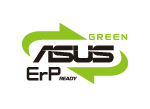 GreenASUS and ErP Ready
The motherboard is European Union's Energy-related Products (ErP) ready, and ErP requires products to meet certain energy efficiency requirements in regards to energy consumptions. This is in line with ASUS vision of creating environment-friendly and energy-efficient products through product design and innovation to reduce carbon footprint of the product and thus mitigate environmental impacts.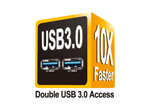 Complete USB 3.0 Integration

Double USB Access, Double Convenience
ASUS facilitates strategic USB 3.0 accessibility for both the front and rear panel - four USB 3.0 ports in total. Experience the latest plug & play connectivity at speeds up to 10 times faster than USB 2.0. This motherboard affords greater convenience to high speed connectivity.
---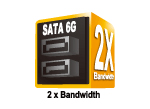 SATA 6Gbps Support
AMD® SB950 Southbridge natively supports next-generation Serial ATA (SATA) storage interface, this motherboard delivers up to 6Gbps data transfer rates. Additionally, get enhanced scalability, faster data retrieval, double the bandwidth of current bus systems.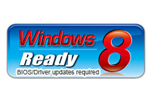 Windows 8 Ready
With hardware driver compatibility tested and assured, ASUS provides a complete solution for Windows 8 support. Starting now, users can experience the next generation operating system on ASUS hardware, and can rest assured that they can easily upgrade once the final driver versions are released without any compatibility issues!

ASUS CPU-Z

Whole New Design of CPU-Z
ASUS CPU-Z is a customized ASUS version authorized by CPUID. It has the same functionality and credibility as the original version, with a unique design. Use the whole new look of ASUS CPU-Z to truly report your CPU related information and your uniqueness.

TurboV

Adjust system performance parameters with just a few clicks.
AI Suite II

One-stop access to innovative ASUS Features.
Fan Xpert

Built-in variety of useful profiles offer flexible controls of fan speed to achieve a quiet and cool environment.
MemOK!

Quickly ensures memory boot compatibility.