MSI Gaming Video Card - N760 - TF 4GD5/OC GeForce GTX 760 - 4GB 256-Bit GDDR5 - PCI Express 3.0 - SLI Support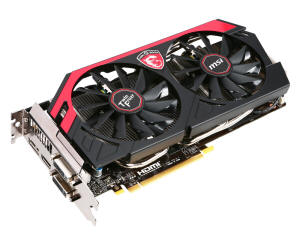 Serious gaming requires serious graphics cards. A graphics card is the single most important element for more FPS. As gamers, you understand that not just any graphics card "will do." The MSI Gaming N760 graphics card comes with performance but not the heat or noise, making it your weapon of choice for domination. It's based on the proven 28nm Kepler architecture and built with 1152 CUDA Cores with gigantic 4GB GDDR5 memory, giving the capability you need to game at Full HD.

You can switch this card OC Mode with the Gaming APP to tune up the frequency to Base Clock 1085MHz and Boost Clock 1150MHz for smoother gameplay. An array of latest GTX gaming technology, such as GPU BOOST 2.0, NVIDIA Adaptive V-Sync, NVIDIA 3D Vision Surround, and NVIDIA PhysX, offers you more than one way to elevate your gaming experience.