The VisionTek Radeon R9 270X graphics card is the cornerstone of a high-performance, yet affordable gaming rig. It's the fastest 1080p capable gaming card available at its price point, offering a 3DMark Fire Strike score exceeding 5,500. With support for the DIRECTX® 11.2 graphics standard, you just need to add a 1080p display and instantly you'll elevate your gaming experience with stunning 3D visual effects, realistic lighting, and lifelike imagery.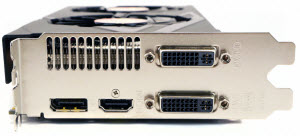 With 2GB of 256-bit GDDR5 memory, engine clock speed of 1030MHz, award-winning Graphics Core Next (GCN) architecture, and DVD-I/DVI-D/HDMI/DisplayPort outputs, the VisionTek Radeon R9 270X can run today's most popular games at 1080p resolution up to 49% faster than other brand GPU powered graphics cards. For peace of mind ownership, it comes backed by an industry leading lifetime warranty and free lifetime US-based technical support.
1080p Performance That Beats the Competition
GCN Architecture A new design for AMD's unified graphics processing and compute cores that allows them to achieve higher utilization for improved performance and efficiency.
AMD Eyefinty Technology Run multiple displays from a single graphics board and expand your gaming field of view across all displays.
AMD App Acceleration AMD App Accelerator creates a "co-processing" environment in which the compute processing potential in your AMD Radeon™ Graphics processor works together with the system central processor, to accelerate enabled applications.
AMD HD3D Technology
Supports the latest stereoscopic 3D content and display technologies. Play 3D games, watch Blu-ray 3D videos, and edit 3D photos on your 3D Monitors, TV, or projector.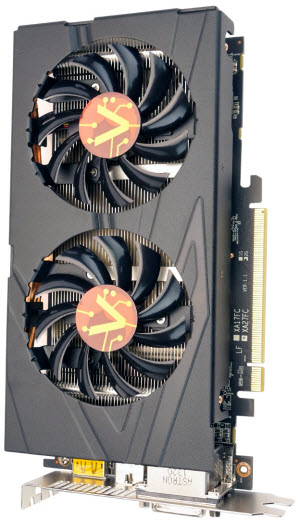 AMD CrossFire™ Technology Multi-GPU support offers superior scalability. Increase your gaming performance up to 2x with AMD CrossFire™ technology, 2.75x for TriFire configurations, or 3.75x with QuadFire configs.
Microsoft DirextX® 11.2 Get intense gaming performance and unrivalled image quality with stunning 3D visual effects, realistic lighting and lifelike imagery.
AMD HD Media Accelerator Assumes rendering responsibility for HD encode (VCE)/decode (MPEG-4 ASP, H.264. MVC, MPEG2, etc.) and conclusively enable superior video playback quality with advanced hardware post-processing algorithms.
AMD PowerPlay™ Technology AMD PowerPlay™ Technology dynamically adjusts clockspeeds in response to GPU load, saving power for just when you need it.
AMD PowerTune Technology Maximizes performance under load conditions by dynamically increasing the GPU engine clock to take advantage of unused TDP headroom. Also allows users to configure their own TDP limit, within a provided range, for even higher performance or more power efficiency.
Advanced GDDR5 Memory Technology GDDR5 memory provides the highest available memory bandwidth of any memory technology today, enabling higher GPU performance.
Intelligent Overclocking Control AMD latest Boost State technology automatically allows Radeon Graphic to run higher than the base core speed if it's operating below power, current, and temperature specification limits.
Dolby® TrueHD and DTS-HD Master Audio™ Support of content protected, high bandwidth, 7.1 channels of surround sound over HDMDI and DisplayPort.
3D Mark Fire Strike: Greater Than 5500 3DMark Fire Strike is the world's most popular dedicated gaming benchmarking tool used by millions of gamers, top hardware review sites, and many of the world's leading manufacturers to measure PC gaming performance.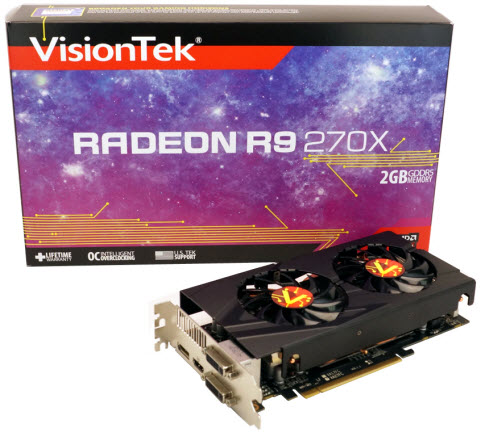 ---
Radeon™ R9 270X Specs

Graphics Engine: RADEON R9 270X
Video Memory: 2GB GDDR5
Memory Interface: 256-bit
DirectX® Support: 11.2
Bus Standard: PCI Express 3.0
Core Speed: 1030MHz (1080Mhz boost)
Memory Speed: 1400MHz x4 (5.6Gbps)
VGA Output: (using DVI to VGA adapter)
DVI Output: SL-DVI-D + DL DVI-I
HDMI Output: HDMI (video/audio)
DisplayPort Output: DisplayPort (video/audio)
UEFI Ready: Support
Warranty: Limited Lifetime

Radeon™ R9 270X System Requirements

PCI Express® based PC is required with one X16 lane graphics slot available on the motherboard
600W (or greater) power supply with two 75W 6-pin PCI Express power connectors recommended. 750W power supply (or greater) with four 75W 6-pin PCI Express power connectors recommended for AMD CrossFire™ technology. Certified power supplies are recommended. Refer to //ati.amd.com/certifiedPSU for a list of certified products.
Minimum 4GB of system memory. 8GB (or more) of system memory recommended for AMD CrossFire™ technology.
Installation software requires CD-ROM drive, a keyboard, a mouse, and a display.
DVD playback requires DVD drive and a DVD.
Blu-ray™ playback requires Blu-ray drive and a Blu-ray disc.
For an AMD CrossFire™ system, a second AMD Radeon™ R9 270X GPU, an AMD CrossFire™ Ready motherboard and one AMD CrossFire™ Bridge Interconnect cable is required.
Use of three or more displays with AMD Eyefinity technology requires a DisplayPort-capable panel or an AMD Eyefinity validated dongle. See //www.amd.com/EyefinityDongles for a list of validated DisplayPort dongles.
64-Bit operating system highly recommended