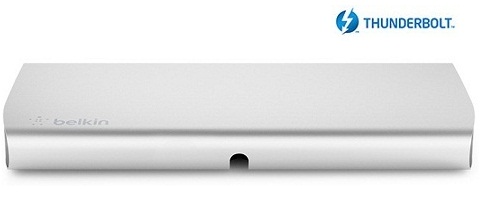 F4U055WW Thunderbolt Express Dock
Introducing Thunderbolt™ Express Dock
Always coming and going with your laptop? Now one cable connection does everything you need!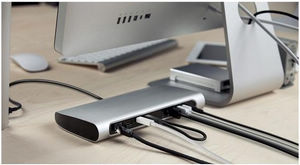 Easy is Beautiful
With Thunderbolt™ Express Dock, all your drives, networking, and input and output devices connect to the eight ports on the back. It in turn connects to your laptop through one Thunderbolt™ port. In short, eight cables become one.
So take your laptop when you go, and bring it home when you return - and deal with only a single cable. It's the kind of convenience that connects you to a whole new world indeed.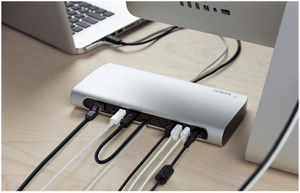 Fast is Beautiful
Thunderbolt™ is a quantum leap forward. Suddenly everything is faster, easier, better. Thunderbolt™ moves data on two bidirectional 10Gbps channels. That's 20 times faster than USB 2.0, 12 times faster than FireWire 800. And it means an entire HD movie transfers in 30 seconds. A whole year of continuous music? 10 minutes! And thanks to the Belkin Thunderbolt™ Express Dock, life on your laptop is about to be very different. In a very good way.
Beautiful is Beautiful
We thought that a technology as brilliant and beautiful as Thunderbolt™ deserved a dock that not only performs at the highest level, but looks the part as well. So we designed the Thunderbolt™ Express Dock with an elegant, low profile. Simple is beautiful, and Thunderbolt™ Express Dock is a shining example.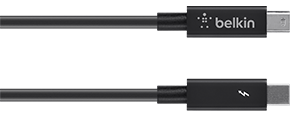 Plug into Fast
Connect Thunderbolt™ devices and experience blazing fast data transfer speeds. The Belkin Thunderbolt™ Cable (not included) allows you to connect all your Thunderbolt™ peripherals and utilize the daisy chaining capabilities the technology affords.
The Belkin Thunderbolt™ Express Dock is an easy, powerful way to take advantage of Thunderbolt™ technology. The Thunderbolt™ Express Dock lets you use a single connection to create high-speed, reliable transfers between your laptop and up to eight other devices, including FireWire, Ethernet, USB and daisy chaining multiple Thunderbolt™ devices.
The Belkin Thunderbolt™ Cable is not included with the Belkin Thunderbolt™ Express Dock.
Plug into Beautiful
From computer screen to big screen, the Belkin Mini DisplayPort™ to HDMI adapter allows you to stream all of your favorite audio and video content from your laptop to your HDTV in FullHD. Connect your Belkin Thunderbolt™ Express Dock to your HDTV using this Mini DisplayPort to HDMI adapter and a separate HDMI cable. (We can replace with any other adapter; choose one.)
NOTE: The Thunderbolt™ and Mini DisplayPort™ connectors look identical, but there is a difference. Mini DisplayPort allows you to connect your laptop to a monitor with Mini DisplayPort, but does not transfer data. Thunderbolt™ is backwards compatible with MiniDisplayPort, but adds blazingfast 10Gbps speeds, for connecting additional devices, such as hard drives, and another monitor or HDTV.
Belkin offers a variety of Mini ports
DisplayPort/Thunderbolt™ Adapters:
1. Mini DisplayPort™ to HDMI Cable
2. Mini DisplayPort™ to HDMI Adapter with HDMI Cable
3. Mini-DisplayPort™ to HDMI Adapter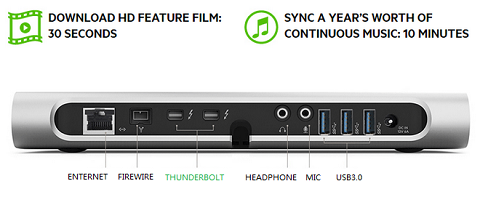 At a Glance:
20 Times faster than USB 2.0
12 Times faster than FireWire 800
Transfer an entire HD movie in 30 seconds
Sync a year's worth of continuous music in 10 minutes
Daisy chain up to five Thunderbolt devices
Package Includes:
Belkin Thunderbolt Express Dock
Power Adapter
Connect eight separate devices to your laptop through a single Thunderbolt cable (cable sold separately)
One Thunderbolt port to connect to laptop
One Thunderbolt port to connect Thunderbolt devices (Daisy-chain up to five devices through one port)
One Gigabit Ethernet port
One FireWire 800 port
One 3.5mm Headphone Output Jack
One 3.5mm Audio Input Jack
Three USB 3.0 ports (data transfer at 2.5Gbps max)
Powered USB 3.0 Ports support USB Charging (500mA)
Cable-management channel
Thunderbolt enabled Mac computer (MacBook Air, MacBook Pro, Mac Mini, and iMac)
Mac OS X v10.8.4 or higher
Note: Does not support tablet or iPad charging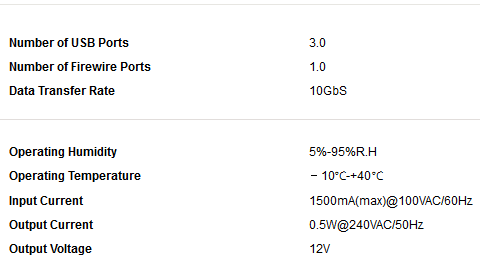 MacBook Pro 13in.
MacBook Pro 15in.
MacBook Pro 17in.
MacBook Air 11in.
MacBook Air 13in.