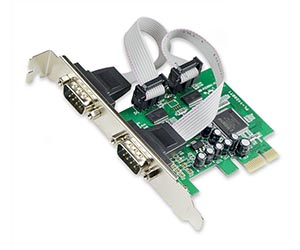 Syba SY-PEX15034 Two-Port DB9 Serial PCI-E x1 Card
The SY-PEX15034 PCI Express serial card lets you turn a PCI Express slot into two DB9 serial ports. Based on a native single chip design, this two-port serial adapter card allows you to harness the full capability offered by PCI Express, and reducing the load applied to the CPU by as much as 48% over conventional serial cards.
The Two-Port Serial Adapter Card is compatible with a broad range of operating systems including Windows 2000 / XP / 2003 / Vista / Windows 7 / 8 and Server 2008 R2 (32- and 64-bit).