WePresent-1500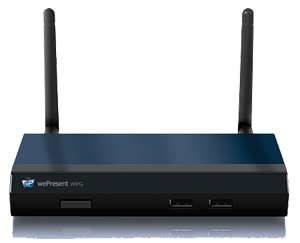 Besides having enhanced performance power, this new model offers more interactive features than the WePresent-1000 model.
The new features on the WiPG-1500 make it the perfect tool for creating an even more interactive, wireless presentation environment.

In addition to all functionality the WiPG-1000 has to offer, the WePresent-1500 also allows users to annotate on-screen during presentations. Beside this, it can also project a virtual white or blackboard to annotate on. It is also better suited for use in enterprise environments.

The WiPG-1500 is specially suited for (driverless) compatibility with your touch display.