ASUS RS100-X7 1U Rackmount Server Barebone
Cost-Optimized 1U Server with High Power Efficiency
The ASUS RS100-X7 is a space-saving uni-processor (UP) server featuring an 80 PLUS power supply, dual server-class Gigabit Ethernet ports, and low power consumption. It's designed for telecom server centers, IDC, small and medium businesses, and any other large scale yet space constrained computing environment.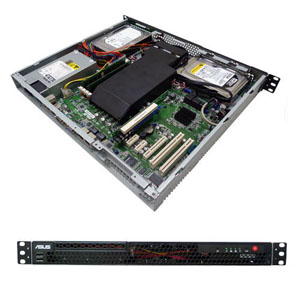 Supports Intel® Xeon® LGA 1155 CPUs
Designed for 32nm quad-core Intel® Xeon® E3-1200 and dual-core Intel® Core™i3-2100 processors, the RS100-X7 provides leading edge computing capabilities.
Compact and Space Saving
The RS100-X7 is built with a chassis that's only 15in. deep, saving space and increasing per-rack data center computing density. In addition, there are two 3.5in. hard drives inside to support RAID 0 and 1.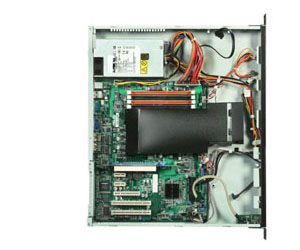 Excellent Power Efficiency with an 80 PLUS Power Supply
The single 250W 80 PLUS power supply reduces power loss and consumption, and leads to lower energy bills. ASUS intelligent fan control technology optimizes total fan power and noise levels to create a pleasant working environment.
Embedded RAID
The RS100-X7 offers Windows® RST and LSI® Mega RAID compatibility for extra-reliable data protection.
Dual Gigabit Ethernet LAN Teaming and Failover
With dual PCI Express Gigabit Ethernet, the RS100-X7 is capable of higher bandwidth aggregation and more reliable networking based on failover and load balance functions.