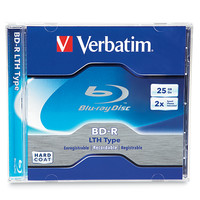 BD-R LTH Type 25GB 2X 1pk Jewel Case
Blu-ray Disc is the next-generation optical disc format that was developed to enable recording and playback of high-definition video (HD), as well as storing large amounts of data. A single-layer Blu-ray Disc can hold 25GB, which can be used to record over 2 hours of HDTV. Blu-ray uses a blue-violet laser to read and write data while current optical disc technologies such as DVD use a red laser. The shorter wavelengths of the Blu-ray technology make it possible to record more data on the same space. These discs are safeguarded by Verbatim's super hard coat which protects against everyday wear and tear. With the rapid growth of HDTV, Blu-ray will meet the consumer demand for recording HD programming and is expected to replace VCRs and DVD recorders over the coming years.
Low to High (LTH)
BD-R LTH is the same as all other Blu-ray media, except it's manufactured using a more efficient production process.
High-Definition
Blu-ray discs are designed especially to store large HD video and audio files. So, you'll use fewer discs when you're backing-up, recording or duplicating high definition digital recordings - including your music library.
Hard Coat
All Verbatim Blu-ray discs are treated with a super hard coat to prevent scratches, resist fingerprints and reduce dust build-up.
Laser Technology
Verbatim Blu-ray discs use blue-violet laser technology to read and write data. That means, superb resolution, excellent contrast, vivid colors and amazing sound.
Capacity
The Verbatim single-layer Blu-ray disc offers up to 25GB of storage space to back-up your video, music, photos and more.
Recordable
This single-layer Blu-ray disc is designed for one-time recording and should be used with BD-R hardware.
Compatibility
Verbatim Blu-ray discs are compatible with the latest Blu-ray hardware from leaders in the market like Sony, Pioneer, Panasonic and LG. For more specific compatibility information, see the compatibility chart.