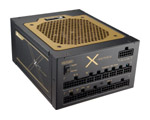 Fully Modular Design (DC to DC)
Common to all X-Series power supplies, the new X-1050 and X-1250 feature the unique integrated DC connector panel with onboard Voltage Regulator Module (VRM) that enables not only near perfect D-to-D conversion with reduction of current loss / impedance and increase of efficiency but also a fully modular DC cabling that enables maximum flexibility of integration and forward compatibility.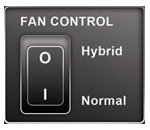 Seasonic Patented Hybrid Silent Fan Control - S2FC & S3FC
An industry first, advanced three-phased (Fanless, Silent and Cooling Mode) thermal control balances between silence and cooling. In addition, for X-1050 & 1250 a selector switch is provided to allow you to select between the Seasonic S2FC control, without fanless mode or the S3FC fan control, with fanless mode.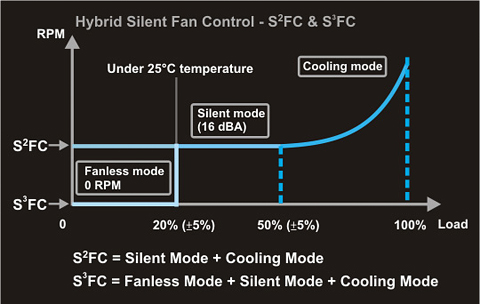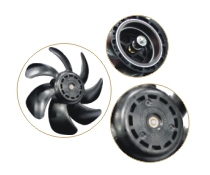 Sanyo-Denki San Ace Silent Fan
The world-renowned Sanyo Denki Ball bearing fans are made of the highest quality components to ensure maximum quality and performance. The use of spoon shaped high-density plastic fan blades with smoothed leading edges, strict tolerance ball bearings and precision copper axel are just some features to ensure ultra-low noise performance and quality. In addition, the fan uses three balancing points, instead of the industry standard of two points, to ensure perfect balance and rotation. The Sanyo Denki fan is a perfect match to the class leading Sea Sonic Hybrid Silent Fan control for the absolute top performance of the industry.
Special Features
80PLUS® Gold Certified Super High Efficiency
Full Modular Cabling Design
Patented DC Connector Module with Integrated Voltage Regulator Module (VRM)
DC to DC Converter Design
Seasonic Hybrid Silent Fan Control
Sanyo Denki San Ace Silent Fan
Conductive Polymer Aluminum Solid Capacitors
Highly Reliable 105°C Japanese Brand Capacitors
Tight Voltage Regulation (±3%)
Active Power Factor Correction (99% PF Typical)
High +12V Output
High Current Gold Plated Terminals
Dual Sided PCB Layout
Ultra Ventilation (Honeycomb Structure)
Multi-GPU Technologies Supported
All-in-One DC Cabling Design
Easy Swap Connector
Universal AC Input (Full Range)
5 Years Warranty
Product Information
Model: X-1050/1250 (SS-1050XM & SS-1250XM Active PFC F3)
1. Dimension (LxWxH): 190 x 150 x 86mm
2. AC Input & DC Output Voltages (Full Range: 100 ~ 240V (Max 90 ~ 264V))
3.Wire Configuration