Your gaming rig deserves the best power supply. The full modular and single +12V designed SeaSonic Platinum series is Fourth Gen Haswell CPU ready, and complies with the highest 80PLUS standard – 80PLUS Platinum. Seasonic Hybrid Silent Fan Control enables the best balance between cooling and noise. Power your gaming rig aggressively and efficiently.
Fully Modular Design (DC to DC)
The Platinum Series enables a near-perfect DC-to-DC conversion that optimizes efficiency by reducing current loss and impedance. It features a high-tech LLC/full-bridge circuit topology, with a unique integrated DC Connector Panel with an embedded Voltage Regulator Module. The Platinum Series achieves up to ±2% of tight Voltage Regulation. This series power supply also has a dual-sided PCB layout.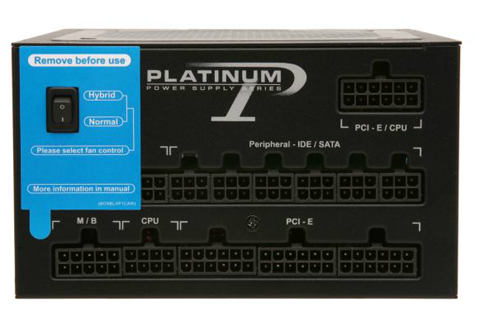 The fully modular cable design allows use of only the cables you need resulting in improved internal airflow and reduced system clutter. Easy Swap connectors allow quick and safe unplugging. High current gold-plated terminals ensure optimal signal transfer and stability of connected devices. All-in-one DC cabling design supports PC, IPC, workstation, and server systems.

Seasonic Hybrid Silent Fan Control

Cool aggressively when you play hard. Cool with silence when you play casually. SeaSonic Platinum Series is equipped with Sanyo Denki San Ace Silent Fan and offers an industry first, advanced three-phased thermal control (Fanless, Silent and Cooling Mode). A selector switch is provided to allow you to select between the Seasonic S2FC control (silent mode + cooling mode) and S3FC fan control (fanless mode + silent mode + cooling mode)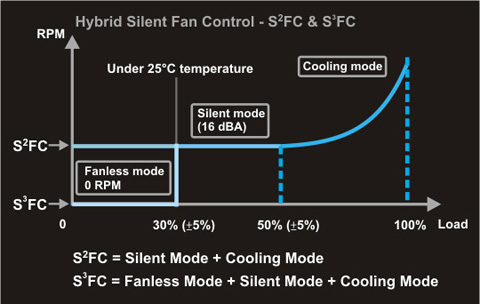 80+ Platinum

This 80+ Platinum certified series power supply delivers energy savings of up 92% efficiency and a true power factor of greater than 0.9PF.
Japanese Capacitors
Seasonic uses highest durable 221°F (105°C) Japanese Grade A capacitors and Conductive Polymer Aluminum Solid Electrolytic Capacitors on the Platinum Series for uncompromised performance, reliability and lifespan.
Strong Single +12V

The Platinum Series uses a high, single +12v rail design which provides enough power to your high end components, including your high-end CPU and the latest multi GPUs configuration.
What's in the Box: