Toughpower DPS 750W / 850W Power Supply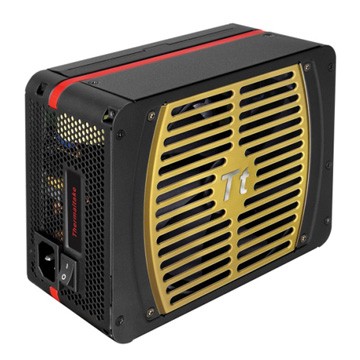 The Thoughpower DPS 750W/850W Power Supply is ideal for users who want both high-quality energy output and intelligent energy management. Enjoy highly-efficient power delivery with 80 PLUS Gold certification. This power supply is Haswell ready. In combination with DPSApp software, the digitally-controlled Thoughpower DPS 750W/850W Power Supply is an intelligent platform for energy management. DPSApp software allows you to digitally calculate electricity costs, monitor efficiency, wattage, voltage and more, while enabling an energy-saving solution for the environment.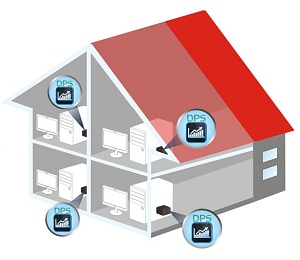 Toughpower DPS 750W/850W - An Intelligent Platform for Energy Management
The combination of Toughpower DPS power supply and DPSApp Software becomes an intelligent platform featuring:
1. Monitoring of the electricity cost of your PC – it helps you manage your expenses.
2. Recording of the status of your PC – it helps you monitor and organize the quantitative database.
3. Sharing in the cloud – it provides impressive functionality to share with friends.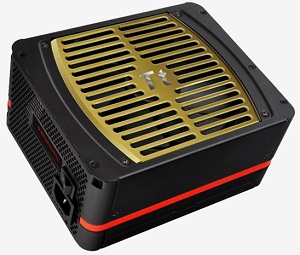 Digital Power Supply with DPSApp
New revolutionary Thermaltake Toughpower DPS is an innovative digitally-controlled power supply with software. The implementations come with better voltage regulation and improved light-load efficiency to provide your system with clean, stable, and economical energy.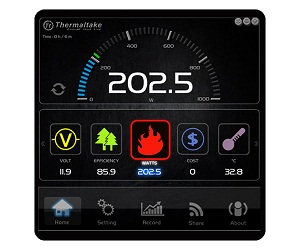 Smart DPSApp Software
The software enables you to digitally calculate the electricity cost, monitoring efficiency, wattage and voltage on the power supply with innovative technology.
Calculate the Electricity Cost
As the software digitally calculates the electricity cost, it can be helpful for expense control and management.
Monitor the Wattage
The software enables users to monitor the wattage change when using computer to play games, browse the internet, and more.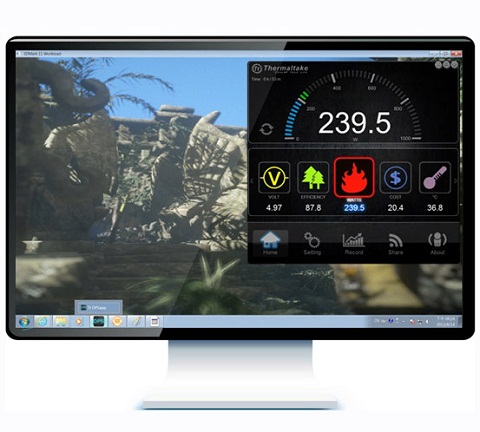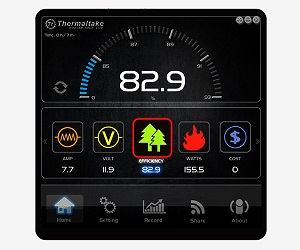 Monitor the Efficiency
The software enables users to monitor the efficiency when using the computer.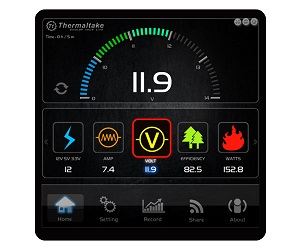 Monitor the Voltage
The software enables users to monitor the voltage when using the computer.
Sharing in the Cloud
With no connecting boundaries, DPSApp also provides users the functionality to share power usage results with friends through social network applications such as Facebook, Twitter, and Weibo, or by sending reports via e-mail.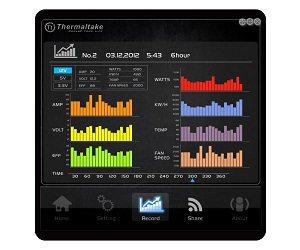 Quantitative Data Management
Organize and save records to view the database of usage in detail. Each record contains usage up to a six-hour period.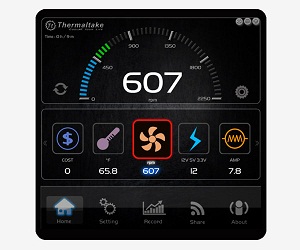 Digital Fan Control
Monitor and adjust the fan speed of the Power Supply in either silent or performance mode through DPSApp.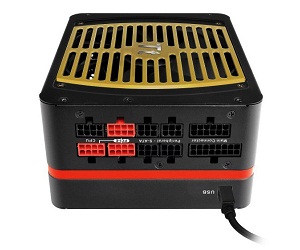 Fully Modular Cable Design
The fully modular cabling design lets you use only the cables you need, resulting in optimal airflow and reduced system clutter.
80 PLUS Gold Certified and Haswell Ready
Delivers up to 87% - 92% efficiency under real-world load conditions to ensure the lowest power losses. Besides, Toughpower DPS is already prepared for the new Intel Haswell processors to deliver stable voltages, achieving maximum energy savings.
Specifications
| | | |
| --- | --- | --- |
| P/N | TPG-0750D | TPG-0850D |
| Model | TPG-750DH3CTG | TPG-850DH3CTG |
| Type | Intel ATX 12V 2.31 & SSI EPS 12V 2.92 | Intel ATX 12V 2.31 & SSI EPS 12V 2.92 |
| Max Output Current | 750W | 850W |
| Peak Output Capacity | 850W | 950W |
| Color | Black | Black |
| Dimensions (H x W x D) | 86mm x 150mm x 180mm | 86mm x 150mm x 180mm |
| Power Factor Correction (PFC) | Active PFC | Active PFC |
| Good Power Signal | 100ms - 500ms | 100ms - 500ms |
| Hold Up Time | > 16ms at full load | > 16ms at full load |
| Power | 10A - 4A | 10.5A - 4.5A |
| Input Frequency Range | 47Hz - 63Hz | 47Hz - 63Hz |
| Input Voltage | 100V - 240V | 100V - 240V |
| Operating Temperature | 32°F to 104°F (0°C to 40°C) | 32°F to 104°F (0°C to 40°C) |
| Operating Humidity | 20% to 90%, non-condensing | 20% to 90%, non-condensing |
| Storage Temperature | -40°F to 158°F (-40°C to 70°C) | -40°F to 158°F (-40°C to 70°C) |
| Storage Humidity | 5% to 95%, non-condensing | 5% to 95%, non-condensing |
| Cooling System | 14cm dual ball bearing Fan: 1900RPM ± 10% | 14cm dual ball bearing Fan: 1900RPM ± 10% |
| Efficiency | Meets 80 PLUS Gold at 115VAC input | Meets 80 PLUS Gold at 115VAC input |
| MTBF | 120,000 hours minimum | 120,000 hours minimum |
| Safety Approval | CE, TUV, FCC, UL/CUL, BSMI, CCC | CE, TUV, FCC, UL/CUL, BSMI, CCC |
| PCI-E Connector | PCI-E 6 + 2-pin x 4 | PCI-E 6 + 2-pin x 6 |