Samsung 830 Series SSD for Notebook Computers
(128 GB) - Your PC Transformed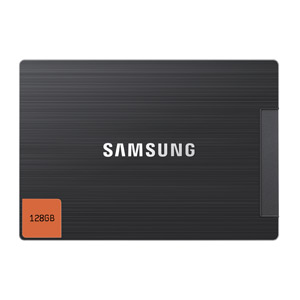 Powerhouse performance--allows you to boot up your system in as little as 15 seconds
Precision engineering from the inside out for exceptional performance and unrivaled reliability
Comes with Norton Ghost software for simple and safe data migration
Includes complete laptop installation kit
Ultra-slim to accommodate ultra-thin laptop PCs
Get more done on your laptop in less time with the Samsung 830 Series Solid-State Drive. This product enables you to boot up your laptop in as little as 15 seconds and is well suited for everyday computing tasks like surfing the web or playing PC games. Like other SSDs, this product has no moving parts, resulting in improved reliability and data protection (not to mention less noise) when compared with traditional hard drives. Norton Ghost software allows you to simply and safely transfer files to your new SSD with ease.

Explore the Samsung 830 Series SSD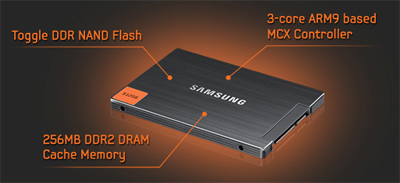 Faster Performance, Improved Multitasking
The Samsung 830 Series Solid-State Drive is tailored for computing tasks like gaming, web surfing, and playing multimedia files--and it can boot up your system in as little as 15 seconds. The device offers random read speeds of up to 80,000 IOPS, fast sequential read speeds of up to 520 MB/s, and fast sequential write speeds of 320 MB/s. And it delivers superior multi-tasking performance with Samsung 3-Core MCX Controller and toggle NAND technology.
Unrivaled Reliability
Samsung designs and manufactures its own NAND, Controller, and DRAM Cache components, ensuring exceptional quality and reliability.
Slim, Brushed Metal Design
This 830 Series drive features a sturdy, brushed metal shell to protect it from shock, dust, and corrosion. At 0.28 inches thick, the SSD is slim enough to accommodate ultra-thin laptop PCs. At 2.15 ounces, it keeps your laptop lightweight and easy to carry.
Energy Efficient for Extended Battery Life
As with all solid-state drives, this product contains no moving parts and therefore uses less power than a typical hard drive. This energy-efficient design can improve your laptop's battery life by up to 30 minutes--so you can stay on the go longer.
Kit for Easy Laptop Installation
The drive comes with a laptop installation kit containing a SATA-to-USB adapter cable along with a drive spacer for laptops with traditional 9.5-millimeter drive bays.
Norton Ghost 15.0 Software
This 830 Series drive comes with a full version of Norton Ghost 15.0, a disk-cloning program that simplifies data migration and allows you to copy your entire system to your SSD with a couple of mouse clicks. Norton Ghost also offers simple data backup and recovery to keep your data protected throughout the life of the SSD.
Samsung SSD Magician Software
The included Samsung's SSD Magician software provides system information and enables performance benchmarking, performance optimization, OS optimization, firmware updates, data security, and over-provisioning. It helps maintain the SSD at its peak condition throughout the life of your laptop.
Minimum System Requirements and Warranty Information
The Samsung 830 Series Solid-State Drive is compatible with Microsoft Windows 7 (32-bit and 64-bit), Windows Vista, Windows XP, Mac OS X, and Linux systems. It is backed by a three-year limited warranty.
Package Contents
Samsung 830 Series Solid-State Drive, Samsung SSD Magician software CD, Norton Ghost 15.0 software CD, quick user manual, drive spacer, and SATA-to-USB adapter cable.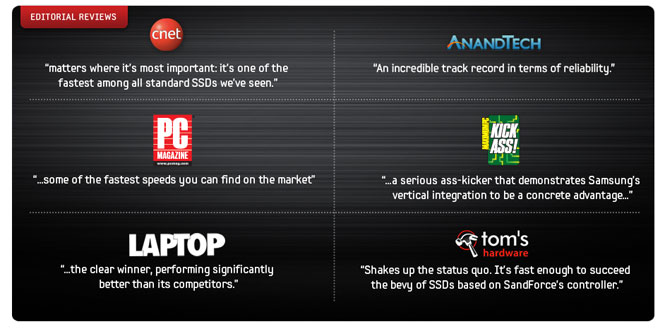 Capacity
128 GB
256 GB
512 GB
Model
MZ-7PC128N/AM
MZ-7PC256N/AM
MZ-7PC512N/AM
Type of Drive
SSD
Form Factor
2.5-inch standard (Reduced 7mm thickness for use with ultraportables and netbooks)
For Use With
Laptops, ultraportables, netbooks
Interface
SATA revision 3.0 (SATA 6Gbits/s)
Random Read Speeds
80,000 IOPS
Sequential Read/Write Speeds
520 MB/s / 320 MB/s
520 MB/s / 400 MB/s
Controller
3-Core MCX Multi-Core
Type of Memory
Toggle DDR 2xnm class NAND Flash
Kit Contents
Drive spacer and SATA-to-USB adapter cable
Included Software
Samsung Magician 3.0, Norton Ghost 15
Dimensions
0.28 by 2.75 by 3.94 in. (H x W x D)
Warranty
3-Year Limited