SDXC Pro UHS-1 Class 10 Memory Card (64 GB)
Data transfer speeds up to 80 MB/s
64 GB capacity
Waterproof, shockproof, and magnet proof
Compatible with all devices that accept SDHC and SDXC cards
10-year limited warranty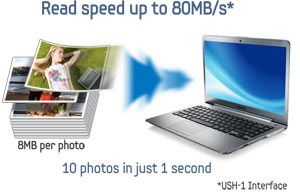 80 MB/s Data Speeds Ideal for DSLR Photography
With data transfer speeds up to 80 MB/s, the Samsung SDXC Pro UHS-1 Class 10 Memory Card can keep pace with the steep memory demands of DSLR photography and HD recording. The card records photos quickly, allowing you to capture up to ten 8 MB photos in a single second. The fast data speeds also ensure prompt uploading when you transfer files between the card and your PC.
UHS-1 Speed Class for Smooth HD Video
Boasting a UHS-1 Speed Class rating, the Samsung SDXC Pro Memory Card can support Full HD video recording. Its fast transfer speeds prevent data loss during filming, resulting in seamless footage that is free of video artifacts.
64 GB Capacity for Expanded Storage
The Samsung SDXC Pro Memory Card expands the onboard memory of digital cameras, camcorders, laptops, and other devices that accept SDHC and SDXC cards. With its 64 GB capacity, it can store up to 12,000 20-megapixel photos, eight hours of HD video at 1080p, or 15,040 3.5-minute songs (MP3 format).
Waterproof, Shockproof, and Magnet Proof
The Samsung SDXC Pro Memory Card is designed to preserve your valuable data from the elements. It is proofed against water and magnetic fields and can last up to 24 hours in seawater. It also has a highly shock-resistant design, protecting the card against drops and impacts.
Samsung Memory Cards: Exceptional Performance and Reliability
Since 1992, Samsung has been a global leader in memory and digital storage. Samsung's memory cards incorporate the latest flash memory technologies and continually deliver the cutting edge in speed, security, and capacity. Whether you're a digital photographer, a videographer, or a hobbyist, you can rely on Samsung's robust line of memory cards for all your data storage needs.
The Samsung SDXC Pro Memory Card is backed by a 10-year limited warranty.
Package Contents
Samsung SDXC Pro UHS-1 Class 10 Memory Card.

750 photos
1,500 photos
3,000 photos
6,000 photos
12,000 photos
30 mins
60 mins
120 mins
240 mins
480 mins
940 songs
1,880 songs
3,760 songs
7,520 songs
15,040 songs
*Photo: 20 megapixels (5472 x 2448) **Video H.264 @ 1080p ***Music: 3.5 min MP3 song
Speed
Samsung Plus SDHC Cards
Class 4
HD Compliant
Class 10
Full-HD Compliant

8GB Ultra High Speed (UHS-1) SDHC Memory Card

16GB Ultra High Speed (UHS-1) SDHC Memory Card

32GB Ultra High Speed (UHS-1) SDHC Memory Card
Samsung Pro SDHC/SDXC Cards
Class 10
Highest SDHC Compliance Standard

16GB Pro Extreme Speed (UHS-1) SDHC Memory Card

32GB Pro Extreme Speed (UHS-1) SDHC Memory Card

64GB Pro Extreme Speed (UHS-1) SDXC Memory Card