Team Dark Series 16GB (2 x 8GB) DDR3 1600 CL9 Desktop Memory Modules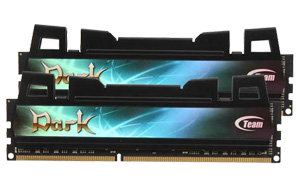 Best Choice for Use with Mainstream Platforms
Facing the Core i3/i5/i7 processor platform overclocking trend, the Team Xtreem Dark series is designed for the needs of mainstream players. All models in the series are compatible with Intel XMP technologies and feature high performance and low latency, and they enable not just overclocking fans but average players to enjoy overclocking fun. Additionally, the Team Xtreem Dark series is the best choice for AMD users who prefer high CP products that have the perfect balance between product performance and price. The Team Xtreem Dark series is definitely the best decision when building a high value gaming platform.