Powerful yet simple
The TS-221 comes with powerful hardware for amazing processing performance. Together with the new QTS 4.0 operating system, you can enjoy convenient data backup, cross-device synchronization, easy home entertainment, and remote access to the Turbo NAS anytime and anywhere.
---
Superior Performance

Powered by the Marvell ARM 2.0GHz processor, the TS-221 provides a large storage capacity for archiving files, videos, and music. The TS-221 can handle multiple users accessing the system and multiple applications running at the same time. USB 3.0 ports are also included for high speed data backup to external drives.
---
Easier Operations on QTS 4.0 Desktop

The QTS 4.0 Desktop including quick start menu, graphic dashboard, drag-and-drop icons, multiple desktops, personalized wallpapers, and the smart toolbar make system operations much easier. In addition, multi-tasking is supported which allows multiple windows to be open to access multiple applications concurrently.
Easy System Set-up Without Using a CD

Installation process is done completely through the cloud. Simply visit the set-up portal, start.qnap.com, follow the guide to complete the system set-up and download the utilities you want. That's it, your TS-221 is ready to go!

App Center - A Whole New Experience

The App Center centralizes various apps developed by QNAP and third-party developers. Popular apps such as Google Drive, Plex media server, NZBGet, Python, and more are available in the App center for you to enhance your TS-221 experience. Installation is virtually immediate, with just one click the App will start installing onto the NAS.
---
Freely Access your Cloud Anywhere
All of your content is available on the go! Through any Web browser or the free app for tablets and smartphones the TS-221 becomes your personal cloud so you are always connected to your data. Take advantage of the service, which allows you to remotely access your TS-221 wherever you are. Instantly stream your multimedia content and share it with your friends.

Manage various files with upmost productivity
The Turbo NAS provides powerful File Station to manage all kinds of files, and supports seamless file sharing among computers of different operating systems. Get the confidence that all your files are well organized, under control, and easy to be shared.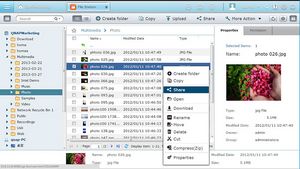 Connecting multimedia content in modern homes
No worries about the tons of photos, music, and videos stored in different places and on different devices at home. The Turbo NAS features rich multimedia applications including photo station, music station, video station, TV station and HappyGet, and acts as a home multimedia "hub" for storing files and easily playing and sharing them with others. The Photo Station makes photo sharing simple, and you can designate your own access right controls. The Music Station helps categorize your music collection, and displays album covers to easily organize your personal playlists. The Video Station is great for archiving and playing your personal video collection online. Insert the DVB-T USB TV tuner into the Turbo NAS, and then you can log onto the TV Station web interface to watch or record digital TV shows immediately, anywhere in the house. The HappyGet helps to easily back up YouTube and Vimeo videos or Facebook photos to the Turbo NAS and supports music playlist, all within the Chrome web browser.

Stream TV content your way!
From DLNA, to AirPlay, simply choose the way you prefer to stream your TV - then, sit back, relax and enjoy your video collections on TV. The Turbo NAS is a full media center with DLNA support. You can use DLNA-compatible devices such as HDTV sets, Sony PS3, Microsoft Xbox 360 and Hi-Fi system to enjoy videos stored on the Turbo NAS. The TS-221 even supports Apple AirPlay. You can enjoy video and multimedia contents on AirPlay supported devices. You can also use the TS-221 as a PLEX media server and enjoy your content through any Plex client or Smart TV.
Cross-device file synchronization is a breeze
You have a desktop, a laptop, and a smart phone. You work in an office, at home, or sometimes in a coffee shop. Now, the Qsync utility enables you to sync your files anywhere in a snap. You don't have to manually copy files from one device to another to get the latest versions anymore. Qsync is especially useful for frequent travelers to manage files and always have the most updated files on different devices. Qsync provides multiple ways of file synchronization and group file sharing, greatly enhancing the flexibility of collaboration.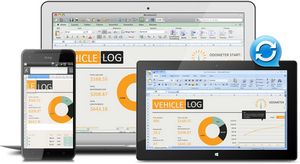 Access, Manage and Enjoy with your Tablets and Smartphones
The TS-221 is your private cloud storage that virtually enlarges the capacity of your smart mobile devices. Qfile allows you to access, upload, download, manage, and share stored files easily as if you are carrying tons of files in your pocket. Music, photos and videos can be streamed, enjoyed and shared anytime, anywhere. Qmanager lets you monitor and manage the TS-221 remotely and efficiently without turning on a PC.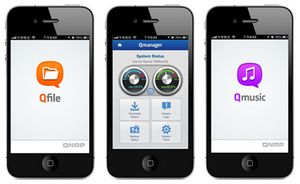 Interact Through your Favorite Social Media Sites
Many applications on the TS-221 are designed with friendly options allowing you to share and connect with your social media communities. When you use Photo Station, or Video Station, you can pick and share photos and video links directly to Facebook. DJ Station allows you to stream and share your music playlist with your friends and family on your social media platforms.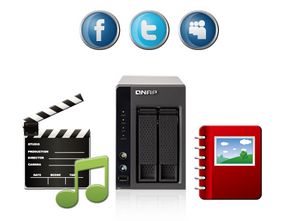 Surveillance Station Pro - Protect your Home and Valuables
The Surveillance Station Pro brings home surveillance to the TS-221. The TS-221 becomes a professional surveillance station to view IP cameras from your web browser and mobile devices. Support for over 1,000 IP camera advance features is also included with the Surveillance Station Pro software, such as real-time monitoring, recording, and playback. With the user-friendly interface and the expandable IP camera channel licenses, Surveillance Station Pro builds a professional surveillance center for you to monitor your valuables.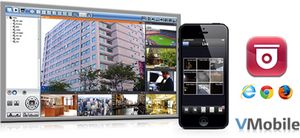 ---
Data Security

User Access Controls
Easily set up user accounts, user groups, shared folder access right, and user quota
Unauthorized IP-based Blocking
A comprehensive list granting proper access from different users based on IP address can be established to authorize or deny access to the TS-221.

Anti-virus
The TS-221 has a built in anti-virus feature to detect and protect against viruses, malware, worms, and Trojan horses.
Encrypted Login, Access and Network Transfer
SSH remote login, SSL security (HTTPS), Secure FTP, and encrypted remote replication are supported.
Detailed Logs
Detaiedl logs of file-level access to the TS-221 via different file transfer protocols, and services accessed by online users can all be recorded.
---
Expandable Storage

The TS-221 supports a large storage capacity, fulfilling the increasing demand for storage. It supports comprehensive RAID management and online RAID capacity expansion appropriately storing important data and reducing risks of data loss.
---
All-in-One NAS Server for Home and SOHO

The TS-221 brings you extra with all-in-one home server features, e.g. iTunes server,UPnP media server, backup server, printer server, FTP server, Web server, database server, etc.
---
Eco-friendly Design

The TS-221 is designed to be eco friendly, and to help you save on your electricity bill. The smart fan can automatically adjust its speed based on system pre-defined criteria or a specific temperature. Use the hard disk standby mode if there is no disk accessed within the specified period, lowering energy consumption and extending the lifespan of the hard disks. The Turbo NAS can also be setup to automatically power on, off, or reset.