Comparison between ReadyNAS 300 Series and ReadyNAS 500 Series
ReadyNAS 300 Series
ReadyNAS 500 Series

RN31200-100NAS

RN31400-100NAS

RN31600-100NAS

RN51600-100NAS
Memory
2GB DDR3
2GB DDR3
2GB DDR3
4GB ECC DDR3
No. of Bays
2
4
6
6
No. of Simultaneous Users
6 - 25
6 - 25
6 - 25
26 - 300
Maximum Solution Capacity
28TB
56TB
64TB
84TB
Processor – Intel Atom Dual Core 2.1GHz
Processor – Intel i3-3220 3.3GHz Dual Core
2.5" SATA Support / SS Support
3.5" SATA Support / SS Support
Gigabit LAN Ports
2
2
2
4
eSATA Ports
1
2
2
3
USB 2.0 Ports
1
1
1
1
USB 3.0 Ports
2
2
2
2
ReadyNAS 314: Four-Bay Network Attached Storage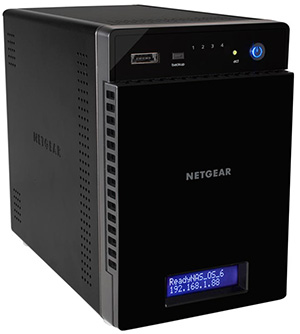 Easily Store, Share and Access Data from Your Personal Cloud
The ReadyNAS 300 series is an advanced and intuitive solution centralizing, securing and controlling access to your digital assets. More than just unified (NAS and SAN) storage for your business, each ReadyNAS includes innovative technologies such as unlimited snapshots, thin provisioning, and cloud-managed replication. Designed to service between 5-25 simultaneous users, the ReadyNAS 300 is an ideal storage solution for small offices.
The NetGear Difference
First desktop NAS for the SMB to include unlimited snapshots, cloud-managed replication and real-time anti-virus protection
Sleek, modern and intuitive user interface
Cloud-based set-up and file management through ReadyCLOUD
Powerful embedded and add-on applications for file serving, backup, disaster recovery and virtualization
Features

Unlimited Snapshots, Now on the Desktop — ReadyNAS gives you continuous data protection with unlimited block-based snapshots of your file system. Create and track multiple versions and restore any point of time with a single click.

Move it Here. Copy it There. Store it Anywhere — Whip through file-based remote replication from anywhere. Powered by the ReadyCLOUD platform, Replicate makes it simple to copy, move and store data offsite for protection and peace of mind.
ReadyCLOUD: Easy Cloud-Based Set-Up, Management, and Replication — ReadyCLOUD allows you to discover and manage any ReadyNAS device from the cloud - just plug the unit into your network and log onto the Internet - set-up is as simple as clicking a button.

Thin Provisioning and XRAID2 Add Capacity (While Lightening Your Management Load) — Get the critical flexibility to add capacity as needed - no need to pre-determine volume capacity and quotas ahead of time. XRAID2 adds automation and volume expansion
Stop Risk before it Starts with Real Time Anti-Virus & Encryption — Whenever a file is written to the ReadyNAS, the file is scanned in real-time to prevent any danger - a must-have requirement when using bit-torrent or downloading files directly from the Internet to the ReadyNAS. ReadyNAS Encryption also gives you real-time protection, encrypting files as they're written.

Expands Growing Data — ReadyNAS 300 series is available in a 2-, 4-, or 6-bay configuration with a maximum capacity of a 4TB hard drive per bay.
ReadyNAS Solutions
File Sharing
These days, running a successful business often depends on successful file sharing - application data, virtual images, client files, email, all the digital files that make your business go. With ReadyNAS, you finally have an advanced and easy-to-use solution for centralizing, securing, and sharing those critical assets. Faster processors mean more simultaneous users can access unified storage—across PC, Mac and Linux environments. ReadyDROP and full Dropbox integration make it easier than ever to sync your important files, photos or videos across all of your web connected devices.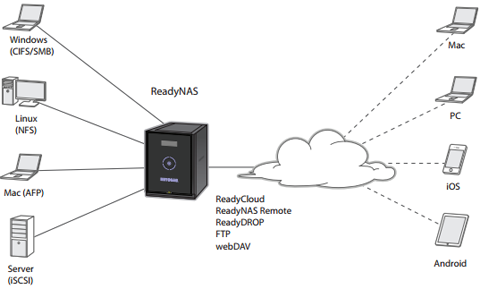 Backup
Unlimited snapshots give you complete control over the past, present, and future of your data. This enterprise-class feature copies any point of time in the file system, can be manually or automatically scheduled, and can restore any version with a simple click. Other data protection innovations for disk-based storage like Real Time Anti-Virus and Encryption bring new confidence to the integrity of your data and back-ups.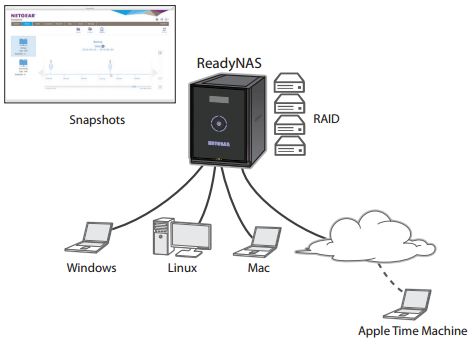 Disaster Recovery
The custom-built ReadyNAS OS protects stored data with automatic RAID configuration, the continuous security of Unlimited Snapshots, and easy-to-manage Cloud Replication. By maintaining multiple copies of vital data through cloud replication, ReadyNAS OS makes it easy for you to move data offsite to protect against natural disasters and theft.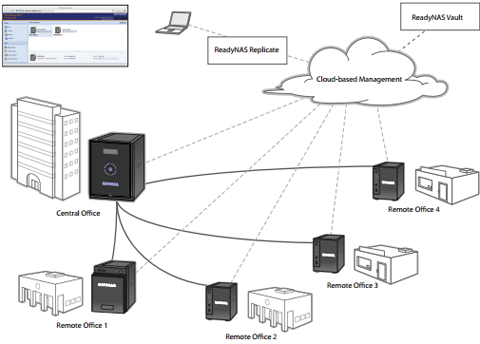 Virtualization
With Unlimited Snapshots, thin provisioning, and improved iSCSI support, ReadyNAS delivers a virtualization platform with next generation features at an affordable price.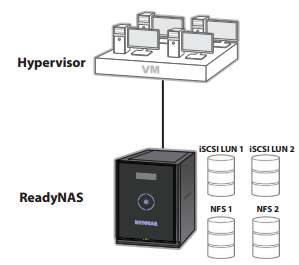 Images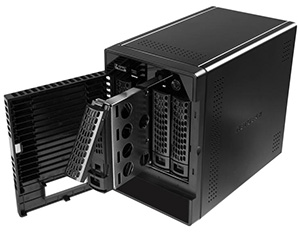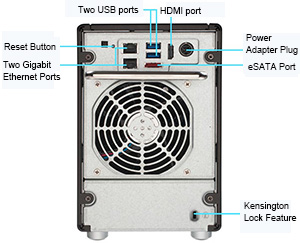 Package Contents
ReadyNAS 314 (RN31400-100XXX)
Four hard drive trays, tool-less installation
ReadyNAS OS 6.0 Installation Guide
Power cord
Ethernet cable
ReadyNAS Installation and Resource CD
System Requirements
Ethernet connection
Hard disk drive or drives from NetGear Hardware Compatibility List (if purchased a diskless system)
Supported Operating Systems
Microsoft Windows 8
Microsoft Windows 7
Microsoft Windows Vista
Apple Macintosh OS X
Linux, UNIX, Solaris
Apple iOS
Google Android
Supported Browsers:
Microsoft Internet Explorer 9.0+
Apple Safari, 5.0+
Google Chrome 20+
Mozilla Firefox 14+
If you have difficulty accessing the local admin page or if you notice unexpected behavior try using another browser.