LaCie Rugged USB 3.0
Thunderbolt™ Series

Move at the Speed of Lightning.
Universal connectivity with Thunderbolt and USB 3.0
Shocking speeds up to 385MBps (SSD)
Bus-powered for complete mobility
Accident-resistant to protect your data
---
Deadlines rule our world. When digital storage is critical for your project, it had better be as fast and reliable as you are. From the desktop to the badlands, it has to connect to any computer, deliver more than enough speed for the most demanding applications, and protect data against any threat. Enter the LaCie Rugged USB 3.0 Thunderbolt Series.
---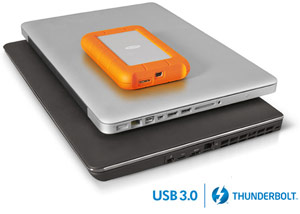 Universal Connectivity
Don't let your project get derailed by external drive or computer incompatibility. With both USB 3.0 and Thunderbolt interfaces, the LaCie Rugged is a perfect match for your Mac® and PC. And because USB 3.0 is backwards compatible, you can connect it to any standard computer on the planet. The LaCie Rugged is also fully bus-powered through the included USB 3.0 and Thunderbolt cables. Its portability and interfaces make it the must-have sidekick to a new Mac or Ultrabook™.
---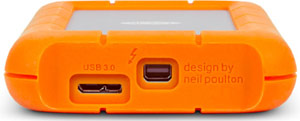 No-Compromise Speed
Get lightning-fast transfer speeds on Mac and PC thanks to the USB 3.0 and Thunderbolt interfaces. With the SSD version, the LaCie Rugged delivers up to 385MBps – the fastest bus-powered product ever. The HDD version performs up to 110MBps, a 35% improvement over FireWire 800. Back up and transfer mountains of data in a fraction of the time. Enjoy noticeably more responsive photo library browsing.
---
Complete Data Protection
Protecting your data is vital to meeting your deadlines, and disaster can strike at any moment. That's why the LaCie Rugged is MIL-compliant for superior data protection from accidental drops up to 4ft (1.2m). Whether it falls off your desk or out of the pocket of your safari jacket, you're confident that your data is still accessible. The SSD version goes a step further for the ultimate in resilience against vibration and shock. Both versions are tough enough to be shipped for reliable delivery to clients or partners. Included software even protects your files from prying eyes with AES 256-bit encryption.
---
User-Friendly Software Suite Included

Automatic Backup
Easy setup and automatic backup for both Mac and PC.
---

Password Protection
With military-grade AES 256-bit encryption, LaCie Private-Public ensures that your files are protected from unauthorized access.
---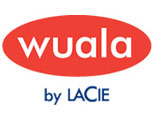 Secure Cloud Storage
10GB of Wuala Secure Cloud Storage is included for one year to store and share your data online with industry-best security.
---