Infortrend EonNAS Pro 500 is a 5-bay Tower NAS designed to help SMB users optimize file sharing, IP-SAN applications and data backup. Powered by Intel Atom Dual-Core 1.8 GHz with exceptional 4 GB DDR3 RAM, the Infortrend EonNAS Pro 500 offers enterprise-level features that can be easily accessed among local and remote workstations featuring Windows, Mac or Linux platforms and configured through an intuitive user interface. Features such as data deduplication, unlimited snapshot, pool mirror, ZFS Hierarchical Checksum, corrupt data self-healing, compression and remote replication deliver high efficiency and excellent reliability.
Advanced File Sharing and IP SAN Support
With comprehensive network protocol support on EonNAS Pro 500, files can be easily shared among local and remote workstations featuring Windows, MAC or Linux platforms. Access control for folders and subfolders allows you to easily meet different user requirements in the office. For consolidated management, you can also choose to import account information from Windows Active Directory (AD) to EonNAS Pro 500.
The built-in iSCSI target support on EonNAS Pro 500 enables you to deploy IP SAN and serve applications such as mail servers, databases and virtualization. All EonNAS Pro 500 models are compatible with VMware, Hyper-V and Citrix virtualization platforms. With CHAP authentication, iSCSI data can be kept secure from unauthorized initiators. Capacity utilization is further enhanced by thin provisioning technology. By dynamically allocating capacity to applications on an as-needed basis, EonNAS Pro 500 eliminates pre-allocated yet unused data volumes and simplifies storage resource management. In addition, EonNAS Pro 500 supports MPIO and MC/S to help users achieve data path failover, load balancing, and enhanced performance.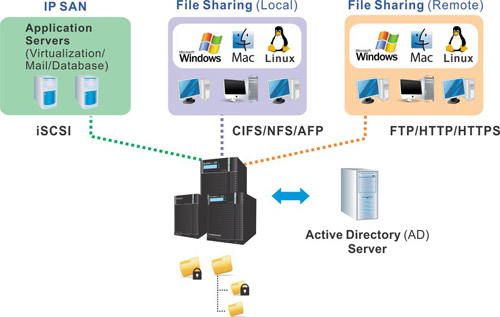 Comprehensive Backup Options
With EonNAS Pro 500, users can backup data in various ways. EonNAS Pro 500 comes with free licenses for FarStone TotalRecovery Pro backup software. You can leverage this solution, or other compatible third-party software, to backup PC and server data. For Mac users, EonNAS Pro 500 supports Apple Time Machine. Data backup to or from external disk drives can be achieved via USB or eSATA connections. You can also configure USB-based data transfer for one-touch-copy, enabling you to complete a data copy with a single button press (EonNAS Pro 500) when an external drive is connected via the USB port at the front of the EonNAS Pro 500 chassis.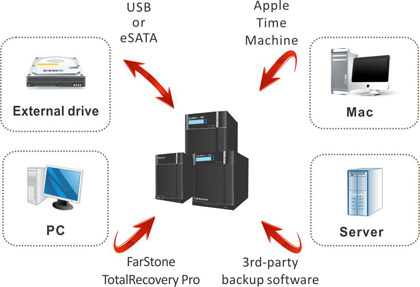 Optimized Storage Capacity Utilization
EonNAS Pro 500 ensures you get the most out of your available storage capacity. EonNAS Pro 500 comes with inline, block-based data deduplication, a feature often seen only in enterprise storage solutions. Duplication calculations are performed as each new data block enters deduplication-enabled volumes. When the system sees that an identical block is already present in the volume, the new block will be discarded and only a pointer will be created for reference to the existing block. By removing duplicate data blocks, the technology offers storage space savings of around 90% in backup applications, 70% in virtualization environments and 40% for common office files.

Robust Data Protection
Core business assets are protected with robust, enterprise-class features. EonNAS Pro 500 features RAID protection, which ensures data stays intact even during simultaneous failures of up to two disk drives. When a drive failure occurs, a pre-assigned hot spare will be automatically leveraged to rebuild the original RAID configuration. In addition, disk drives are hot-swappable, meaning they can be replaced without disrupting your applications on the EonNAS Pro 500 system. In rare cases of system failure, you can quickly restore services simply by removing the drives on the old system and putting them into a replacement system. All your data and settings can be recovered following initial set-up.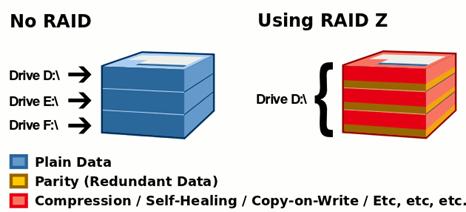 The embedded ZFS file system ensures end-to-end data integrity through a hierarchical checksum mechanism. When a data block is created, a checksum of this block is stored in its parent block pointer. Whenever a block is accessed, its checksum is calculated and compared with the stored checksum value for integrity. This unique mechanism allows EonNAS Pro 500 to effectively detect data corruption phenomena that go undetected in other file systems, and automatically repair affected data with ZFS self-healing features.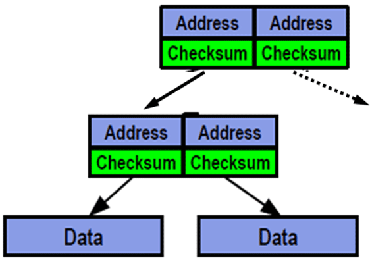 The snapshot feature helps you deploy multiple recovery points for iSCSI volumes or shared folders at minimized time intervals and space requirements. In the event of human errors or virus attacks, you can quickly restore data with the snapshot copies. EonNAS Pro 500 will automatically remove snapshot images when the number of snapshots or their retention period exceeds pre-set thresholds.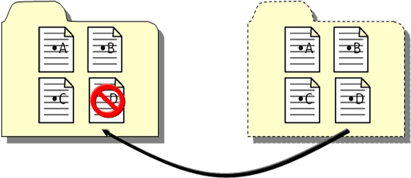 Remote replication offers scheduled data replication to another EonNAS system or third party device via the rsync protocol. In addition, the pool mirror function supports real-time replication that keeps data in two different EonNAS systems synced at all times, ensuring that a standby system can seamlessly take over operations when the primary system goes down.
User-friendly System Management and Monitoring
System management for the EonNAS Pro 500 is extremely easy. Within less than 15 minutes you can complete the process from power-on to initial set-up. A user-friendly, web-based UI helps you manage your system intuitively. You can easily access all frequently-used features via shortcuts and quickly complete required configurations with step-by-step wizards. EonNAS Pro 500 also supports a dashboard feature to help you monitor real-time system status. EonNAS Pro 500 notifies you of critical system events in a number of ways, such as LEDs, system buzzers, email notifications and SNMP traps.