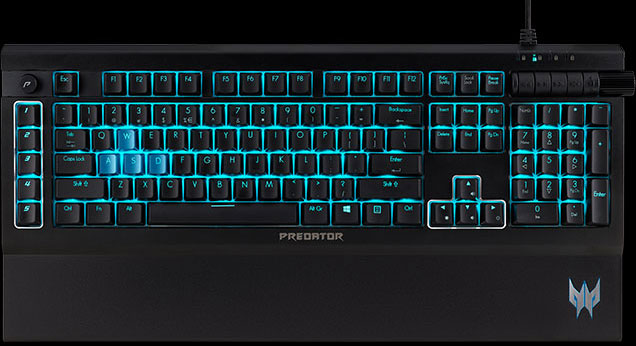 Predator Aethon 500
Color Your Way. Game Your Way
With outstanding accuracy and legendary durability, Predator Aethon 500 leads you to the purest game world. Per-key backlighting allows for unlimited lighting customization, while the detachable wrist rest keeps you playing for hours without fatigue. Just choose your desired profile via the Game Mode key, and game your way.

TACTICAL AND EVER-LASTING
Feel the difference with each press of the blue switch mechanical keys. The 70 million keystroke-rated keyboard provides the tactical edge that can be the difference triumph or defeat.

LIGHT IT UP-YOUR WAY
Take total control over lighting to the tune of 16.8 million colors with the option of customizing the backlight of each key. Afterwards, experiment with 9 preset lighting effects or create your own.

NEVER MISS A PRESS
In the heat of the moment, a single missed keypress can spell defeat. With full N-key rollover, press as many keys (simultaneously if needed) as you like.

ELEGANCE WITH AN EDGE
Relish in the metallic touch of the anodized aluminum faceplate and the comfort of the detachable magnetic wrist rest—or—make use of the easily accessible media control to avoid interrupting your game sessions.

KEYED TO TRIUMPH
Choose the right setup for the right situation with the Game Mode Key. This allows for five profiles for your five dedicated macro keys (25 in total) and can also be used to toggle various RGB settings.