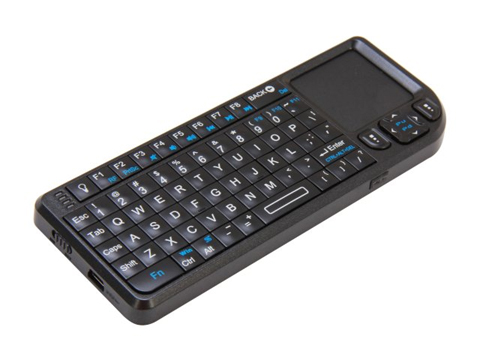 VisionTek Candyboard 900319 Black 69 Normal Keys USB RF Wireless Mini Keyboard
Put the power of a full-sized keyboard, trackpad, and mouse in the palm of your hand!
With a 69-key QWERTY style keyboard, a capacitive-sensing touch pad, and navigation keys for menu scrolling convenience or gaming-style joystick action, the VisionTek CandyBoard RF is a powerful input and control solution sized slightly bigger than a candy bar.
It's a sweet replacement for the bulky, space-consuming keyboard and mouse typically used to control home theatre and family gaming set-ups. From its wireless range up to 30 feet to the LED backlit keyboard for comfortable use in low light conditions, this innovative, pocket-sized keyboard will bring new found enjoyment to your entertainment experience.
Small in size doesn't mean small in features however. The CandyBoard RF contains a rechargeable Lithium Ion battery that charges via the included USB cable with any standard USB equipped device. LED indicators let you know at a glance connection, charging, and battery capacity status. And with a Plug and Play design, you can use the CandyBoard RF straight from the packaging with no set-up hassle.