Present 3D content, experience intuitive writing, and preserve more power - all with the BenQ MW821ST Projector. An ultra short-throw ratio, 13,000:1 ultra-sharp contrast ratio, a 3000 ANSI lumen brightness, and long lamp life all ensure a vibrant, reliable visual performance time and again.
Power-Saving, Eco Friendly
World-Leading SmartEco Technology for a Greener Environment
BenQ's own SmartEco Technology maximizes energy saving without compromising brightness and picture quality. What's more, the lamp has an unusually long life span.
Eco Blank Mode
The Eco Blank mode helps lower the total power consumption up to 70% by automatically dimming the lamp power. Activate Eco Blank mode when you need to direct the audience's focus back on you – or simply when the projector is not in use.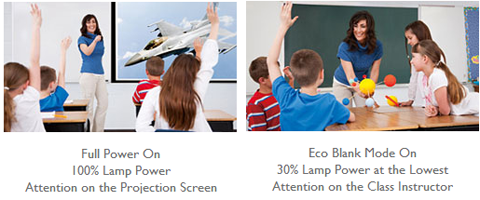 No Source Detected Mode
If turned on for over three minutes without a display source, the projector will automatically switch to Eco Blank Mode to eliminate unnecessary energy waste and prolong the life of the projector lamp.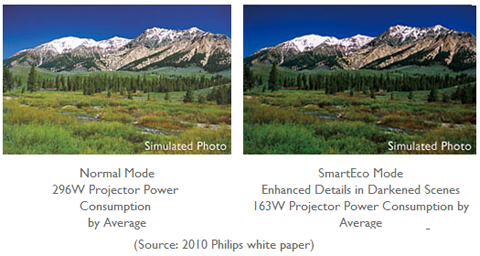 SmartEco Mode
The SmartEco Mode cleverly adjusts the lamp power to maximize power saving by delivering the best contrast and brightness performance using only as much light as needed.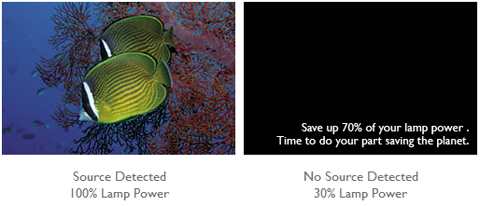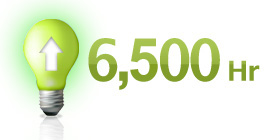 Long Lamp Life at up to 6500 hours
The MW821ST optimizes lamp life up to 6500 hours* - twice the average lamp life expectancy - reducing lamp changes and keeping maintenance to a minimum. (*Results will vary depending on environmental conditions and usage.)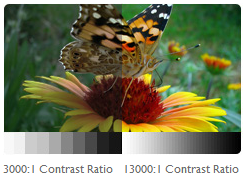 Ultra-High Contrast Ratio
An ultra-high contrast ratio projects sharp images, even for high brightness projectors. Get whiter whites and blacker blacks with a 13,000:1 contrast ratio
0.5W in Standby Mode
When inactive, the MW821ST complies with 2013 EU standards by keeping power consumption to a minimum of less than 0.5W on standby, extending lamp life and reducing energy costs.
Audio Pass Through
Audio Pass Through allows users to engage the projector's speakers in standby mode - conserving energy and preserving lamp life.
PointDraw 3.0 Pen (Optional)
The PointDraw 3.0 pen has been equipped with an Accelerometer for an improved writing experience. Exclusive coaxial design gives the most intuitive writing experience with QDraw3 Interactive Software. Pens are rechargeable via standard micro USB cable or by plugging into a specially-designed BenQ Charging cradle.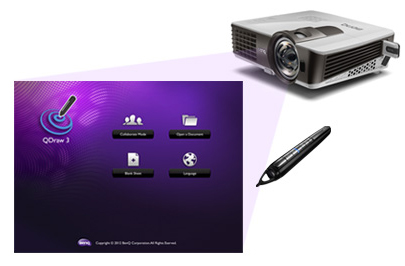 3D Capability Improvement
Research has shown a 46% increase in student engagement and a 34% increase in test scores with the use of DLP 3D projection. The MW821ST supports HDMI, designed to maximize your audiovisual enjoyment* with the capacity to pass two simultaneous 1080p signals with one connection. (*The 3D formats supported are 3D field-sequentials, 3D frame-packing, 3D top-and-bottom, and 3D side-by-side.)
Various 3D formats supported

Hassle-Free Projector Maintenance
LAN Control with Crestron and PJ-Link
With LAN Control, IT managers can perform day-to-day projector maintenance and repair tasks efficiently and effectively. Land control offers them full access and control over every projector directly from their workstations. The MW821ST offers seamless support for the Crestron and PJ-Link LAN Control system.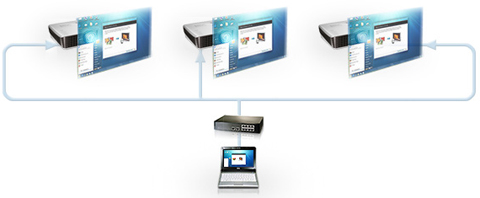 LAN Display
LAN Display offers a cost-effective solution for projector implementation management using a single LAN cable to control and display. This feature also offers simultaneous 4-1 or partial projection display option for better content management at discussions, presentations, training sessions, and in the classroom.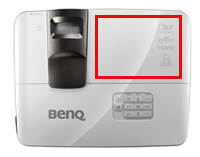 Upper Lamp Door for Easy Lamp Access
The upper lamp door is a maintenance feature that allows IT managers to replace projector lamps safely and quickly, even if the projector is mounted upside down on the ceiling. Should the lamp go out during class, it can be replaced without delaying the lesson.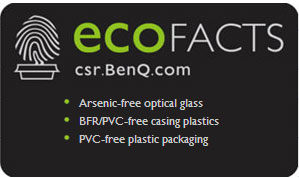 ecoFACTS Label
ecoFACTS can tell you just how eco-friendly BenQ products are! ecoFACTS displays BenQ's great efforts on the restriction of hazardous substances and responsible material selection, packaging, energy-saving design and other aspects of their products.