Bring the Ultimate Interactive Presentation to Your Classroom
The all new second generation PointDraw technology endows the MP780 ST+ projector with the ultimate interactivity. Interact simultaneously with dual pen support and QDraw 2.0 on the WXGA resolution screen. This ultra-short-throw projector also enables 3D projection to maximize the learning experience.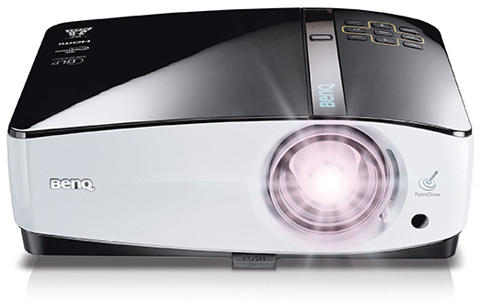 The Ultimate Interactivity
Teachers and students collaborate with two PointDraw pens! The second generation PointDraw technology features the Dual Pen Mode to enable collaboration through simultaneous teacher-student interaction. With the purchase of the MP780 ST+, you'll get the upgraded PointDraw Pen 2.0 and QDraw 2.0 support for free!
PointDraw Pen 2.0
The second generation PointDraw pen delivers a much faster response time and supports classroom interaction from up to 30ft. Who said you have to wait around for magic to happen?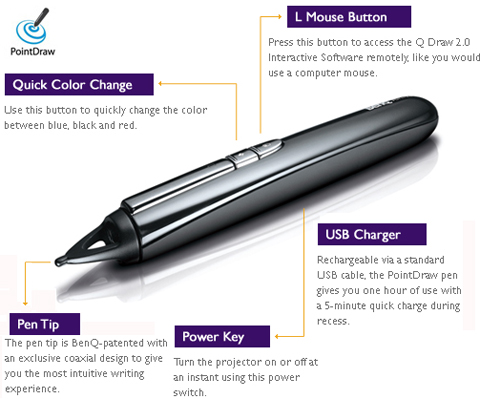 QDraw 2.0
Designed to support the Dual Pen Mode, the QDraw 2.0 Interactive Software now features two toolbars. Paired with the first PointDraw pen detected, the teacher toolbar can be customized by each teacher using the "teacher pen." Paired with the second PointDraw pen detected, the student toolbar is placed down low within easy reach of students using the "student pen."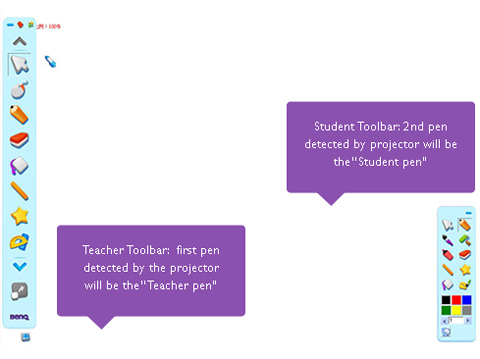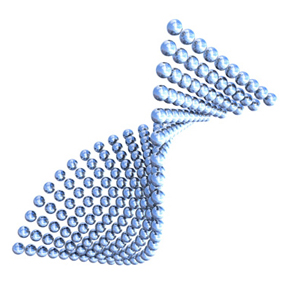 DLP Link 3D Projection
The MP780 ST+ is 3D-ready to maximize students' learning. Teachers can illustrate complex or abstract concepts using 3D graphics and engage students in biology projects such as animal dissection more effectively. They can also take their classes on virtual field trips whenever and wherever they want.
Thoughtful Design for Teachers
Calibration-Free Interactivity
Unlike other interactive projection solutions, BenQ's PointDraw technology requires no calibration at all between the MP780 ST+ and the projection screen. Teachers can easily set up their lesson and begin teaching. All they need to do is switch on the projector and the PointDraw pen!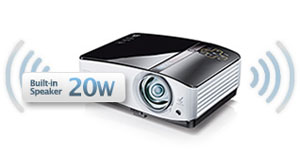 20W Speaker Power and Microphone Input Support
The MP780 ST+ comes with enhanced audio support for your classroom. Two 10W speakers are sealed and secured within each side of the projector with BenQ's anti-shake design to deliver 20W of crisp, clear audio performance with stable projection. The microphone input connects the projector to a conventional microphone or microphone headset for increased ease of teaching and learning.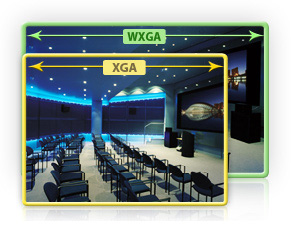 WXGA Widescreen Short-Throw Projection
Engage your class with BenQ's WXGA (1280 x 800) short-throw picture performance! Compared to 4:3 projections, WXGA widescreen projection boosts the total viewing area by 30% for more effective learning. The unique ultra short-throw technology renders sharper, clearer images and less shadow distractions requiring less than 30in. to project a large, 87in. image. WXGA is the best resolution support for widescreen PC and notebooks.
LAN Display and USB Display
The MP780 ST+ keeps display setups quick and easy with LAN Display and USB Display options. LAN Display supports classroom projector control and audiovisual projection display via a single LAN cable. It also enables simultaneous school-wide emergency broadcasts. USB Display offers the plug-and-play convenience of a USB connection – with automatic resolution detection for the best image presentation and extension support for simultaneous multi-projection display.
PC-Less Teaching
The MP780 ST+ supports PC-less teaching in two ways: USB Drive Display and Remote Desktop. USB Drive Display allows teachers to teach with a USB flash drive. All they need to do is save the files they need onto a USB flash drive and insert it in the MP780 ST+ to start teaching. File types supported are JPEG, JPG, BMP, PNG, GIF, and TIFF. Remote Desktop grants teachers remote access to files stored in their computers with a wireless mouse and keyboard via LAN connection. With this handy feature, there will be no need for a classroom computer – which means more money saved on computer purchases, maintenance, and repairs for your school.
ecoFACTS Label
ecoFACTS can tell you how eco-friendly BenQ products are! ecoFACTS displays BenQ's great efforts in the restriction of hazardous substances, as well as responsible material selection, packaging, energy-saving design and other aspects of the products.