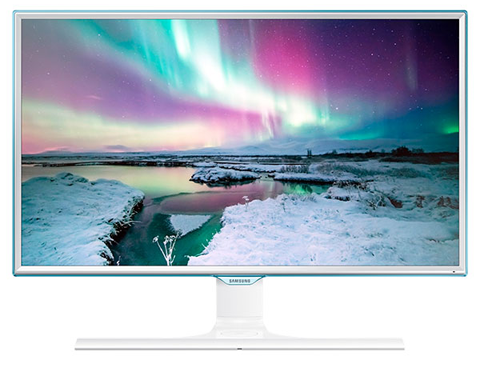 27" SE370 LED Monitor with Wireless Charging
Experience the World's First Smartphone Wireless Charging Monitor
The SAMSUNG SE370 functions not just as a display monitor, but as a wireless charger, too. With the built-in Qi wireless charging technology, you can simply place your mobile device on the monitor stand's circular wireless charging area, and then wirelessly charge your device quickly – no messy cables, maximum desktop space.
With a Full HD 1080p resolution, the SAMSUNG SE370 produces tack-sharp, crystal-clear images. The wide viewing panel offers a consistent image appearance from all viewing positions of 178 degrees horizontally and vertically. AMD FreeSync technology eliminates screen tearing and ghosting effects, without the cost of any input lag and performance. Coupled with a fast 4ms response time to reduce blurring during fast-motion scenes, you can watch videos or play games without missing a beat. Also, the SAMSUNG SE370 focuses on minimizing eye strain with the Eye Saver mode. With a nice, modern design with ultra-thin bezels, there's no doubt this monitor will seamlessly fit in your modern home.
Revolutionary Wireless Mobile Device
Samsung has utilized its technology to build an innovative monitor with a wireless charging function for your Qi – an interface standard developed by the Wireless Power Consortium for inductive electrical power transfer over distances of up to four centimeters – enabled mobile device. Simply place your device on the monitor stand's circular wireless charging area. It will then begin to charge automatically, as shown by the LED light. Handle your phone effortlessly while it charges, without the clutter of cords or cables. Compatible devices include the Galaxy S6, S6 edge, S6 edge+, and Note 5. Additionally, the Galaxy S5, Galaxy S4, Note 4, Note Edge and Note 3 can be charged when equipped with a Wireless Charging Battery Cover.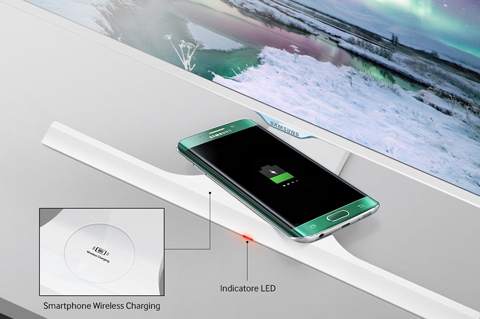 AMD FreeSync
Enjoy smooth images, even during fast-moving scenes. AMD FreeSync dynamically syncs the screen refresh rate with the frame rate of your content to minimize input latency and dramatically reduce image tearing and stutter during gaming. Plus, with a fast 4ms response time, you'll see the fastest on-screen motion clearly and smoothly with less motion blur, judder and ghosting. The fast response time provides a steady visual, allowing players to experience their games at a higher level.
Entertainment from Every Angle
Wide Viewing Panel provides 178° wide viewing angle horizontally and vertically, so that you can experience the optimal screen from any position. Plus, with a high brightness level of 250 cd/m2, the picture quality is more vivid and brilliantly clear.
Sleek, Modern Design with Slim Bezel
With a beautiful new semi-transparent blue finish on all four sides, Samsung's sleek Touch of Color design modernizes your living space. The bezel that frames the monitor is ultra-thin, especially at the bottom. Not only does it deliver a clean, modern look, it also naturally draws your eyes to the screen. With Touch of Color accents, the T-shape stand completes the ensemble with a refined, minimal finish.
Eye Saver Mode
Eye Saver Mode optimizes your viewing comfort by reducing blue light emissions and flickers at the touch of a button. Read documents, play games, watch movies and edit photos for longer periods of time, and experience a more comfortable, more pleasing view, without worrying about eye strain or fatigue.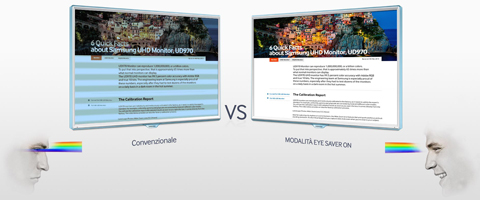 Eco-friendly Monitor
Just by purchasing this monitor, you're saving energy and reducing your environmental impact. Activate the Auto Setting to reduce energy use by about 10%.* The Eco-Saving Plus feature reduces screen brightness to save power, plus the screen brightness automatically transitions fluidly - reducing energy use even more. The monitor itself is also constructed without PVC**.
*Based on internal testing
**Some cabling contains PVC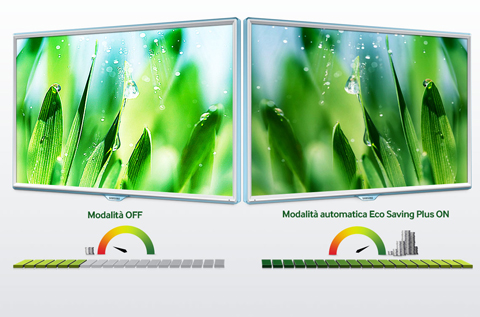 Gallery