ViewSonic's VX2460h-LED features an LED backlit 24" (23.6" viewable) ultra-thin widescreen monitor with up to 40% energy savings compared to a regular 24" monitor. Environmentally-friendly mercury-free VX2460h-LED offers Full HD 1920x1080 resolution, two HDMI inputs, external power supply, 2ms response time, and 40,000,000:1 MEGA Dynamic Contrast Ratio. The stylish glossy bezel, touch sensitive controls, and ultra-thin profile combine to make it the center piece to your home or office design. While the fast response time and high contrast ratio deliver extraordinary visual entertainment. A 3 year warranty, the industry's best pixel performance policy, energy-saving Eco-mode and Windows 7 certification make the VX2460h-LED a great long term investment.

1/4" Ultra Slim Side Edge Bezel
This display features an ultra-slim edge – only 1/4" deep and a glossy new bezel to complement any home setting. The sleek seamless touch sensative controls provide a simple and intuitive operating experience.

Full HD 1080p
The VX2460h-LED features a 24" widescreen with 1920x1080 resolution that is capable of displaying a native Full HD 1080p image. Today, devices that can display Full HD content output are getting more and more common. However, without a native Full HD display, you will not be able to experience the picture clarity and the details of the 1080p content you view.

Blur-free with ClearMotiv II Imaging Technology
Innovative ClearMotiv II imaging technology enables a fast 2ms liquid crystal response time, resulting in crisp and clear video performance. Experience digital broadcast-quality, full-motion video with razor-sharp images that never blur.
Mega Dynamic Contrast Ratio
One of the great features of VX2460h-LED is its ability to dim the backlight completely for pure darkness during dark scenes such as a night shot in a movie. Contrast ratios refer to the ratio of the brightest color to the darkest color. With traditional CCFL backlit displays, contrast ratios are limited to the fluorescent lamp's ability to dim in order to reproduce darkness. However, with the LED backlight, each LED has the ability to completely shut off allowing for a near infinite ratio of black to white contrast. The end result is true blacks that result in greater overall image quality.
The Power of HDMI
HDMI is one of the most powerful and widely available communication standards that connects digital audio/video sources such as set-top boxes, DVD players, personal computers (PCs, laptops), video game consoles such as the PlayStation3 and XBOX 360, and AV receivers to compatible digital audio devices, computer monitors, and digital televisions. With just one cable, HDMI supports any TV or PC video format, including high-definition video and up to 8 channels of digital audio. This powerful technology comes standard in VX2460h-LED. This way, you can connect your monitor to your desktop or laptop computer and work, surf the web or play games. Or you can connect it to your gaming console and enjoy the large 24" screen, 1ms response time and integrated speakers. You can even connect it to a cable box or a satellite receiver and watch TV on your monitor! Although the monitor doesn't have a tuner to receive the TV signals from the air, HDMI + receiver box combination gives you the same TV experience. And another great example of the countless video sources you connect to is a Blu-ray DVD/CD player.
Diverse Connectivity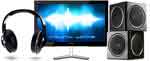 The VX2460h-LED features three video inputs, Dual HDMI and VGA. You can connect three different sources at the same time and then toggle from one to another by selecting the input source through the On-Screen-Display (OSD). You can connect headphones to the audio-out port for privacy. Or connect your external speakers for direct play of the HDMI audio source.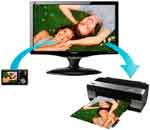 sRGB Color Correction Technology Delivers the Most Accurate Color Performance Available
ViewSonic LCD monitors embedded sRGB color correction technology reproduce 100% sRGB rich color for color performance matching original input sources without decreasing or leveraging color quality. sRGB ensures all displayed images/videos are as natural as the original sources, displaying real color for captured camera and camcorder content.
Save Cash and Save the Planet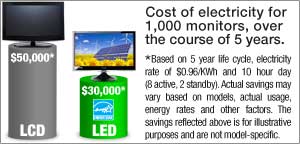 With its mercury free backlight and low energy consumption, the Energy Star 5.0 certified VX2460h-LED is not only environmentally friendly but also friendly on your electricity bill as well. This can add up to thousands of dollars saved for large install bases, such as big corporate buildings or schools, the savings can be as dramatic as $20,000 in five years!

Eco-mode for up to 35% energy savings*
ViewSonic's proprietary Eco-mode function comes standard with the VX2460h-LED. When you don't need all of the powerful features the VX2460h-LED has to offer, you have the option to reduce the monitor's brightness, save energy, save the planet and prolong the lamp life. You can select one of the "Optimize" or "Conserve" options and save up to 35% energy. Especially under low ambient light conditions, adjusting the brightness will improve visibility by reducing eye fatigue. Reducing brightness will also prolong the monitor's lamp life, improving your return on investment. *Energy savings may vary based on actual usage and other factors.
The best pixel performance guarantee and 3 year limited warranty

One of the aspects that makes ViewSonic a market leader in displays is its dedication to quality. ViewSonic is committed to use the highest grade panels and offer the best pixel performance policy in the market. We also back our displays with 3-year limited warranty for your peace of mind.
Full HD Format Support With a maximum resolution of 1920x1080 and widescreen (16:9) aspect ratio, the ViewSonic VA2431WM displays full HD 1080p content in its native format without any loss of image quality.
Superior Image Quality The ViewSonic VA2431WM's impressive 100,000:1 dynamic contrast ratio and 300cd/m2 brightness ensure accurate color reproduction and sharp images especially in dark images.
5ms Video Response Time The ViewSonic VA2431WM features an ultra-fast 5ms video response time to provide superior motion video and gaming.
Space Saving The ViewSonic VA2431WM features a VESA wall mounting interface (100mm) on the back for easy wall or arm mounting to save space.
Integrated Speakers With high-quality built-in speakers, the ViewSonic VA2431WM provides rich stereo sound while saving precious desktop space.
EPEAT Silver EPEAT is helping transform the marketplace for green computer products, and the ViewSonic VA2431WM is one of them which meet all required criteria plus at least 50% of the optional criteria of EPEAT.
Warranty, Returns, And Additional Information
Return Policies

Return for refund within: 30 days
Return for replacement within: 30 days

This item is covered by Newegg.com's Standard Return Policy.