Key Features:
19" (18.5" viewable) widescreen LED backlit monitor; ideal for small office, home office applications, corporations, government and education
Up to 50%* power savings over a traditional CCFL 19" monitor
1366x768 resolution with 16:9 aspect ratio for perfect image reproduction
100mm x 100mm VESA compliant for wall mount or monitor stands
Highest grade panel with the best pixel performance policy in the industry
What is an LED monitor?
The term "LED monitor" generally refers to a monitor with an LCD panel and an LED backlight. A typical LCD monitor uses cold cathode fluorescent lamps (CCFL) as a light source to illuminate the LCD panel. In an LED backlit monitor, white LEDs (Light Emitting Diodes) are used as the light source. Environmentally-friendly LED backlights provide the following benefits:
Up to 50%* less power consumption compared to traditional CCFL monitor
Mega dynamic contrast ratios. Provider deeper blacks and richer colors.
Environmentally-friendly mercury-free backlight
Low EMI (Electro Magnetic Interference)
Slimmer design
Weight reduction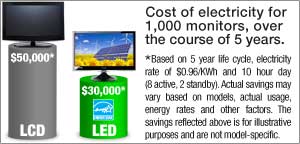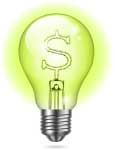 Save Cash and Save the Planet
With its mercury-free backlight and low energy consumption, the ENERGY STAR 5.0 certified VA1912a-LED is not only environmentally friendly but also friendly on your electricity bill as well. This can add up to thousands of dollars saved for large install bases, such as big corporate buildings or schools, the savings can be as dramatic as $20,000* in five years!

10,000,000:1 MEGA Dynamic Contrast Ratio
One of the great features of the VA1912a-LED is its ability to dim the backlight completely for pure darkness during dark scenes such as a night shot in a movie. Contrast ratios refer to the ratio of the brightest color to the darkest color. With traditional CCFL backlit displays, contrast ratios are limited to the fluorescent lamp's ability to dim in order to reproduce darkness. However, with the LED backlight, each LED has the ability to completely shut off allowing for a near infinite ratio of black to white contrast. The end result is true blacks that result in greater overall image quality.
Pair it with a ViewSonic or Mac computer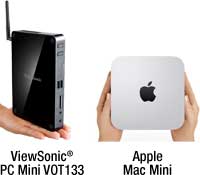 One of the key advantages of the VA1912a-LED monitor is its diverse connectivity options, making it flexible to be paired with a PC or a Mac computer. Now you can hook up any Viewsonic PC as well as a MacBook or a Mac Mini to the VA1912a-LED and enjoy a full 19" (18.5" viewable) widescreen with LED backlight!
VESA mountable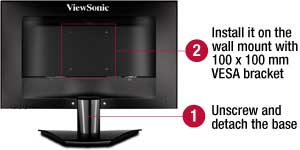 The VA1912a-LED features a 100 x 100 mm VESA mountable design that allows you to mount it on a monitor stand or on a wall, depending on your specific needs. You can detach the base easily by unscrewing four screws and then mounting the display on its new stand or wall mount.
Eco-mode for up to 50%* energy savings
ViewSonic's proprietary Eco-mode function comes standard with the VA1912a-LED. When you don't need all of the powerful features the VA1912a-LED has to offer, you have the option to reduce the monitor's brightness, save energy, save the planet and prolong the lamp life. You can select one of the "Optimize" or "Conserve" options and save up to 50%* energy. Especially under low ambient light conditions, adjusting the brightness will improve visibility by reducing eye fatigue. Reducing brightness will also prolong the monitor's lamp life, improving your return on investment. *Energy savings may vary based on actual usage and other factors.
The best pixel performance guarantee and 3-year limited warranty
One of the aspects that makes ViewSonic a market leader in displays is its dedication to quality. ViewSonic is committed to use the highest grade panels and offer the best pixel performance policy in the market. We also back our displays with a 3-year limited warranty for your peace of mind.
Other features: