AOC G2460PG 24" G-Sync Ultimate Performance Gaming Monitor
24" - Ultimate performance with NVIDIA G-SYNC™ that eliminates screen-tearing and stuttering for smoothest and fastest gaming experience yet.
NVIDIA G-SYNC™, ULMB and NVIDIA 3D Vision Ready. 1920 x 1080 Full HD Resolution, 144Hz refresh rate with 1ms response time. Display Port 1.2 with USB 3.0 and USB 2.0 connectivity.
Gain a serious competitive edge with AOC's NVIDIA G-SYNC™ monitor that eliminates screen-tearing and minimizes display stutter and input lag. Be immersed in the clearest on-screen action while maintaining that competitive edge over other players, with agile 144Hz refresh rate and 1ms response time for highest frame rate and no lag. No more screen tear, display stutter, and input lag as you dominate your competitors with the ultimate gaming monitor powered by NVIDIA® G-SYNC™ technology for the smoothest and fastest gaming experience yet.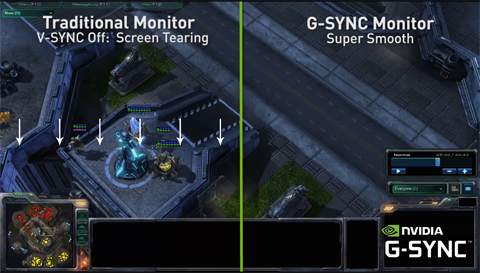 NVIDIA G-Sync™
NVIDIA® G-SYNC™ is the revolutionary solution that synchronizes the display's refresh rates to the GPU in your GeForce GTX-powered PC to eliminate screen tearing and minimizes display stutter and input lag, in order to provide the smoothest, fastest, and visually stunning gaming experience to date. What you get is fluid and responsive gameplay, with objects looking sharper, scenes appearing instantly and more vibrant in visual quality than on any other monitors, so you can enjoy the latest games like Assassin's Creed® IV Black Flag™*. NVIDIA® G-SYNC™ delivers the smoothest and fastest gaming experience with a serious competitive edge.
*Assassin's Creed® IV Black Flag™ is trademark of Ubisoft Entertainment in the U.S. and/or other countries.
144Hz Refresh Rate and 1ms Response Time
Game with the fastest frame rate possible and ensure lag-free, smooth gaming, 144Hz refresh rate, effectively 2.4 times faster than a standard display. A lower frame rate can make enemies appear to jump from spot to spot on the screen, making them difficult targets to hit. With 144Hz frame rate, you get those critical missing images on the screen that shows enemy movement in ultra smooth motion so you can easily target them. You won't have to put up with input lag and screen tearing with this AOC gaming display.
A 1ms fast response time means you get to enjoy fast-moving actions with worrying about image smearing or ghosting that occurs with slow response time. In other words, you get to experience a lag-free gaming with that desired competitive edge as it should be with this smooth rendering AOC gaming display.
ULMB
With NVIDIA® Ultra Low Motion Blur (ULMB) technology, objects in motion look sharper than they do on normal 60Hz monitors — even at high refresh rates such as ULMB can be a big advantage in gaming, especially for graphically-intensive scenes. ULMB can be turned off and on with a quick Hot Key on the front bezel. ULMB mode currently works at 85Hz, 100Hz, and 120Hz refresh rates.
NVIDIA 3D Vision™
The G2460PG is both NVIDIA 3D Vision and NVIDIA 3D Vision 2 Ready so you can transform your experience with immersive 3D full HD 1080p technology. With NVIDIA 3D Vision™ 2 glasses technology and the required NVIDIA graphics card, you are completely immersed - transforming all your gaming experiences and movies to 3D. NVIDIA 3D Vision 2 technology supports the richest array of 3D content available, including 3D games, Blu-ray 3D photos, and thousands of 3D photos. With this new technology, it delivers twice as sharp 3D images than conventional 3D technology. NVIDIA 3D LightBoost™ is a unique new NVIDIA technology that dramatically improves the 3D experience by delivering much brighter 3D screen images and richer color quality than existing display technologies. It requires the additional NVIDIA 3D Vision 2 Kit for immersive 3D enjoyment.
Connectivity
G2460PG comes with a DisplayPort 1.2, two USB 3.0, and two USB 2.0 with a charger. The G-Sync monitor has direct-insert horizontal connectors to easily connect cables, a Kensington security slot, and is VESA 100mm wall mount compliant. Also included are AOC's e-Saver and i-Menu software.
Gallery