AOC 24" Class Anti-Blue Light Technology LED Monitor
24" Class LED monitor with AOC Anti-Blue Light technology is easy on the eyes. 1920x1080 Full HD Resolution. VGA, HDMI ports with 1 ms response time.
AOC Anti-Blue Light technology protects the eyes from permanent damaging effect of short wavelength blue light, often during staring at computer screens for a long period of time. 90% blue light reduction without compromising color accuracy, and preventing eyestrain, eye fatigue , and headaches.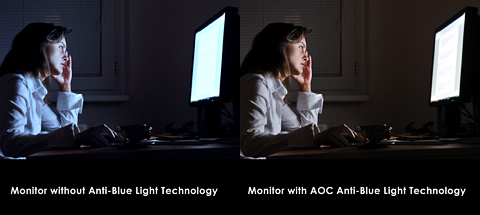 What is Blue Light?
AOC's new E2476VWM6 features a new Anti-Blue Light technology designed to protect the eyes from permanent and damaging effects of short wavelength blue light of computer screens. Blue light, the end of the visible portion of the color spectrum (380-450 nm), is made of high-energy waves. These waves are strong and penetrating. Blue light radiates from our computer monitors, smart phones, and tablets. We spend hours a day in front of our screens working and socializing. However, most people are aware that our screen time comes with side effects. Headaches, eyestrain and eye fatigue are common complaints after working on a computer for an extended period of time.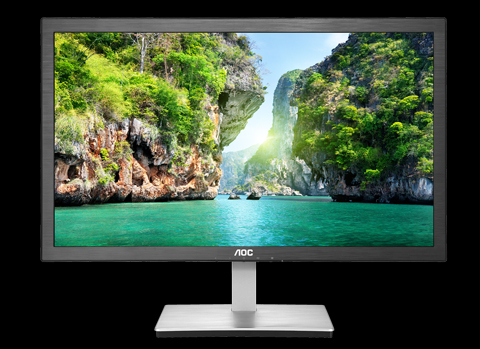 Anti-Blue Light Technology
AOC has created an innovative hardware solution to protect against the damaging effects of blue light from computer screens. AOC's Anti Blue Light technology is revolutionary in reducing the intensity and strength of blue light from computer screens while maintaining true color and clarity.
How it Works
By shifting the peak of the blue chip from current peak from 444 nm to 460 nm AOC is able to avoid hazardous blue light with wavelengths under 455 nm by this innovative LED technology. This results in over 90% reduction in eye-damaging short wave length blue light with little to no effect on display brightness and color. Unlike AOC's patent-pending hardware solution, competitors' software solutions in reducing blue light results in side effect of dimmed or yellow screen, thus compromising true color accuracy and clarity.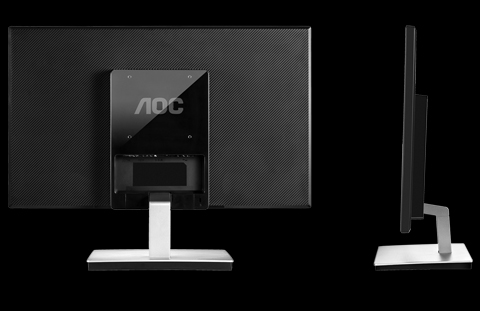 User-Friendly and Eco-Friendly Features
The E2476VWM6 comes with VGA and HDMI connectivity for high-quality video and audio experience. The VESA 100mm Wall Mount compliant feature allows you to have the monitor mounted on the wall with the appropriate mounting accessory. The E2476VWM6 is Energy Star certified and EPEAT Silver with low-power consumption, and comes with AOC's eSaver and iMenu software for both eco-friendly and user-friendly configuration and navigation.
What's In The Box