Superior Image Quality Meets Classic Elegant Design
The perfect blend of style and performance, the ASUS VS247H-P is the perfect desktop monitor solution for your office or home use. It features a full HD 1080p resolution, boasts an impressive ASCR dynamic contrast ratio of 50,000,000:1, and utilizes innovative Splendid Video Intelligence technology, producing bright, crystal-clear images with saturate colors and fine details. The built-in Smart View technology, coupled with the aspect control function, gives you great flexibility to customize the screen for better viewing experience. A wide range of video input options, such as HDMI, VGA, DVI ports etc., ensures compatibility with almost all video sources.
You'll also take a great delight in its slim profile with adjustable features, detachable stand base, wall-mountable design, and eco-friendly construction.
Best Picture Quality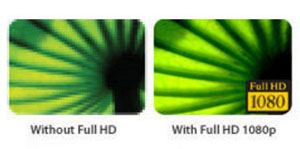 Full HD 1080p Visual Enjoyment
Enter a spectacular world of colors with the ASUS VS247H-P LED-backlight monitor. With a maximum resolution of up to 1920 x 1080, it delivers tack-sharp and crystal-clear images with vivid, true-to-life colors to please your eyes incredibly.
50,000,000:1 ASUS Smart Contrast Ratio
With a high ASCR contrast ratio of up to 50,000,000:1, the VS247H-P can dynamically enhance the display's contrast by adjusting the luminance of the backlight to achieve the darkest black and brightest white, delivering lifelike images.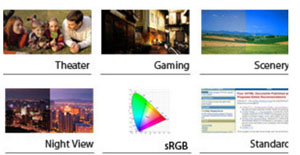 Splendid Video Intelligence Technology
The exclusive Splendid Video Intelligence Technology optimizes video performance and image fidelity by enhancing color, brightness, contrast, and sharpness. Up to six preset video modes (Scenery, Theater, Game, Night View, sRGB and Standard) can be selected via a hotkey.
Optimized for Better Viewing Experience
Versatile Viewing Positions with Smart View Technology
When you would like to watch movies upward lying down, the Smart View Technology can adjust color parameters to deliver the same image quality and colors with straight viewing.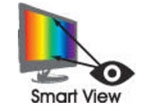 Aspect Control Function
Aspect Control function allows users to select a preferred display mode among Full and 4:3 for true-to-life gaming or movie watching without any data loss or image distortion.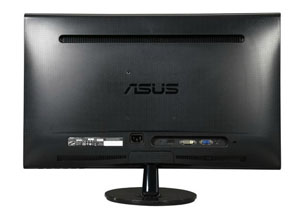 Extensive Connectivity
The ASUS VS247H-P provides a rich set of video input options – including one DVI port, one VGA port, and one HDMI port, letting you use it to present content from various video sources.
Slim, Classic Design. Wall-mount Support.
The sleek, slim design with an elegant stand seamlessly blends into any tight space, and takes up less desktop for a cleaner-looking office. You can tilt the monitor from 20-degree backward or 5-degree forward, giving you a comfortable viewing experience.
This monitor is compliant with VESA wall mount 100 x 100mm pattern. Easily detach the stand base, and then install it on the wall or a monitor mount. The Kensington Security Slot provides added anti-theft security – don't worry that it will be stolen.
Green in Mind
Mercury-free LED-backlit panel
Corrugated cardboard packaging with at least 80% recycled content
Slim-flat packaging allows more cartons to be fitted per cargo, reducing transportation costs and CO2 emission
Energy and Planet Saving
37.2k Wh electricity saving
23.6kg reduction in CO2 emissions, equivalent to: 1.9 trees planted