Overview
SURFBoard® Smart Video Adapters
Motorola SURFBoard Smart Video Adapters Simplify Connected Home Networking Using the Power of MoCA
Digital Entertainment Anywhere in the Home
Motorola SURFboard SMART Video Adapters enable consumers to create high-speed Ethernet networks in their homes using their existing coaxial cable outlets. Consumers can also use SURFboard SMART Video Adapters to compliment their wireless home networks, or to establish network connections in areas with limited or no Wi-Fi coverage. As a result, consumers can enhance the performance of today's most popular IP-enabled devices, and extend their reach throughout their homes, creating a true connected home entertainment experience.
Whether streaming HD-quality movies and television shows from their online accounts, or enjoying online gaming at speeds three to five times faster than Wi-Fi connectivity, SMART Video Adapters support all of today's most popular networked entertainment experiences. What's more, SMART Video Adapters are compatible with cable, DSL, fiber, and satellite networks.*
Unleash the Power of MoCA
Motorola SURFboard SMART Video Adapters utilize lightning-fast, reliable MoCA networking technology. MoCA significantly reduces the sort of slow, weak, or erratic connectivity that sometimes plagues Wi-Fi and PowerLine adapter networks, which greatly enhances the performance of networked devices. Thanks to MoCA's powerful, 175Mbps bandwidth, consumers experience faster, more reliable performance that's immune from interference, without having to worry about interference or crosstalk with household devices or cell phones. With this superior performance, consumers can distribute digital content throughout their homes without annoying interruptions or loss of connectivity.
A Single Point of Entry for the Connected Home
SMART Video Adapters are the ideal choice for consumers who want to create a connected home network or expand the reach and capabilities of their current home networks. Consumers can create an Ethernet network using the coaxial cable in their home to power smart devices such as SMART TVs, Blu-ray players, gaming consoles, Apple TV, Roku, Google TV, Tivo and Slingbox, which they can use to access over the top content from providers like Netflix, Hulu, Vudu, Amazon Prime and more. Harnessing the SMART Video Adapters powerful aggregate bandwidth, consumers can also expand their connected home network to include managed home solutions, such as IP-enabled security cameras or SMART thermostats, to extend the performance of their networks.
Highlights
Compatible with cable, DSL, fiber, and satellite networks
Up to 175Mbps throughput
Supports up to four simultaneous HD streams
Add up to 16 SMART Video Adapters to your home network
True plug and play connection; no Wi-Fi setup or software installation required
Ethernet connectivity drastically reduces interference with cell phones and home appliances
Connects to standard Coax outlet, eliminating the need for new wiring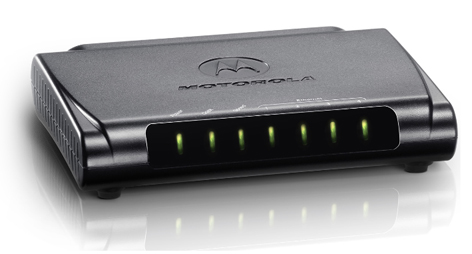 Plug and Play Connectivity
Motorola SMART Video Adapters are ready to go right out of the box. Consumers need only connect their SMART Video Adapters to their existing coaxial outlets to begin enjoying the benefits of an Ethernet- based MoCA network. There are no wires to run or software to install. Once connected, the SMART Video Adapter will automatically detect and join the home's existing network, practically eliminating the need for user intervention.
With Motorola SMART Video Adapters, consumers can enrich their entertainment experiences and maximize the capabilities of today's hottest new connected devices. The SMART Video Adapters' ease of use, powerful reach and coverage, and versatile performance make it an ideal, cost-effective option for consumers who want to create a whole-home ecosystem of connected devices.
What's in the Box