Arctic P402BT Bluetooth Wireless Stereo Headphones
Arctic P402BT is a Pro DJ-style over-head / over-ear Bluetooth stereo headphone with the addition of a microphone conveniently integrated into the ear cup. Enjoy your favorite music and video in full CD-quality stereo sound free from the tangling cord and take care of important phone calls hands-free when using with your Bluetooth-enabled smartphone anytime, anywhere.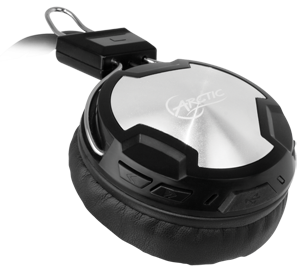 True CD Quality Stereo Sound
Arctic P402BT supports the Advanced Audio Distribution Profile (A2DP) which means you get true CD-quality stereo sound when you play your favorite music or video. The sound quality is just like wearing a regular pro DJ-style stereo headphone but without the tangling cord. Imagine the freedom - you are no longer restricted to stay close to your mobile device while appreciating the music!
Arctic P402BT also supports important AVRCP profiles so you can use Arctic P402BT like a remote, skipping tracks forward and backward as you please, as well as HSP/HFP profiles, which make Arctic P402BT compatible with single-channel VoIP applications.
Extended Playback and Talk Time
Arctic P402BT has enough power for you to listen to music, watch videos, or talk on the phone for hours upon hours on a single charge, saving you from inconvenient and frequent charging and interruptions. You no longer have to charge Arctic P402BT after each use because of the high-capacity rechargeable battery inside. You will know when to recharge your Arctic P402BT when you see the LED flashing or hearing the audio beep tone reminder. Simply connect your Arctic P402BT to a USB port with the supplied charging cable for charging.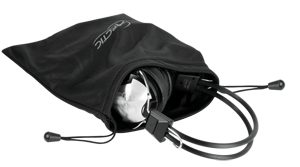 Comfortable Wearing Style
Soft and generously padded ear cups completely cover up your ears - without pinning them back uncomfortably - while delivering true CD-quality stereo sound with sensitivity on all frequencies. Your listening experience will be much more comfortable than having ear buds sticking into your ears.
Background noise is conveniently reduced while still allowing you to have full awareness of the surroundings for your safety. At only 4.8oz, they're easy to wear for Pro DJ-style headphones with full-size ear cups even if you wear them for an extended period of time. Arctic P402BT headphones come with a microfiber drawstring pouch, making them easy to store and carry around.
Convenience of Hands-free Phone Calls
Use Arctic P402BT with your smartphones for hands-free calls. Arctic P402BT puts the music on hold automatically and alerts you with audible ring-tone for incoming calls. Press the button once to answer and again to end the call. Arctic P402BT will then resume playing the music exactly where you left off.
Enjoying music does not have to get in the way of your busy work schedules. Pairing Arctic P402BT with your Bluetooth-enabled device is as simple as holding down a button until seeing LED flashes in both blue and red.
Multi-Platform Compatibility
The versatile Arctic P402BT headphones are a great accessory for Bluetooth-enabled smartphones, tablets, MP3 players, e-readers, and any computing devices running MacOS/iOS or Android operating systems.
Arctic P402BT also supports Bluetooth-enabled Windows-based devices with functional Bluetooth transmitters capable of recognizing external Bluetooth audio devices.
Arctic P402BT Key Features
Stereo CD-quality audio playback
20-Hr Music Playback / 30-Hr Talk time
Supports A2DP / AVRCP / HSP / HFP Bluetooth profiles
Track skipping / volume control buttons
Microphone for hands-free calls
Bluetooth ver. 3.0, non-hi-speed data transfer + EDR
Over-head / over-ear wearing style
Soft padded earcups
Weighs only 4.8oz
Microfiber drawstring carrying pouch
Arctic P402BT Multi-Platform / OS Compatibility
OS: MacOS / iOS / Android/Windows
Apple devices: iPhone 5S / 5C / 5 / 4S / 4 / 3GS / 3, iPAD / Mini, iPod Touch
Samsung devices: Android smartphones / tablets
Other Android devices: smartphones by HTC, LG, Motorola and more
E-Reader: Kindle / Fire / HD / HDX
Tablets: Google Nexus, Microsoft Surface
Gaming console: PS3 (chat audio only)
Warrnaty Info
Two-year limited warranty
Inside The Box
Arctic P402BT Bluetooth stereo headphone
Microfiber drawstring carrying pouch
Charging cable