Pure Origin with Optical Muscle Added
Impressed by muscle of the ROCCAT's Kone series mice? Now, a new member Kone Pure Optical is added into this series. Besides featuring advanced technologies of Kone series, it combines the customizable functionality and ergonomic shape of the Kone Pure—91% the size of the Kone—with an ultra-precise, true 4000 DPI Pro-Optic (R3) optical sensor. Adjustable DPI (400, 800, 1200, 1600, 2000, 3200 and 4000 DPI) ensures lag-free gaming with precise control at the speed you need. With grounding innovations such as Easy-Shift[+], Talk, and Talk FX, it sets a new standard in gaming.
Advanced Features
4000DPI Pro-Optic (R3) Optical Sensor for Top Precision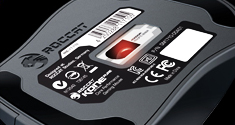 The world's fastest Pro-Optic R3 optical sensor is adjustable, delivering true 400, 800, 1200, 1600, 2000, 3200 and 4000dpi at the touch of a button—for lag-free gaming with precise control at the speed you need. With a 1000 Hz polling rate and optical scanning with up to 20 G acceleration, the sensor reacts precisely to your mouse pad, further improving tracking and minimizing pick-up-flight—and further improving your command capabilities.
Mouse Buttons and Scroll Wheel with Easy-Shift+ Technology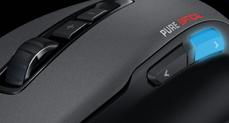 Up to seven fully-programmable buttons and a tough-built 2D mouse wheel offer the optimal amount of combat control. You can swiftly access to all the command options you need to dominate any skirmish. Easy-Shift+ lets you set two functions for each mouse button and the scroll wheel, letting you pack a massive amount of quickly-accessible control into an uncluttered space. And the included ROCCAT Driver software lets you easily program and fine tune a multitude of settings—and gives you sound feedback with most changes—so you can game exactly how you like.
Store a Bounty of Macros and Settings to Call Up Instantly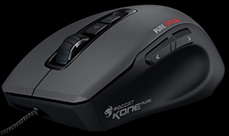 Store all of your macros and profiles with a hefty 576KB of on-board memory. The blazing 32-bit Turbo Core V2 processor allows you to call up any of your custom settings instantaneously.
Customizable Light and Effects System in a Sleek Form Factor
The Kone Pure Optical offers more than just killer gaming performance: It features a ROCCAT logo that you can set in your choice of 16.8 million colors—as well as program for effects. You can even program the logo to execute cool effects, like a "breathing" function, or color rotation in your choice of shades—eye-catching displays sure to enhance your battle experience. The Kone Pure Optical has a new, slimmer profile that's 91% the size of the Kone[+].
ROCCAT Click Master Switch and Titan Wheel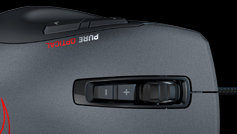 ROCCAT Click Master Switch powered by Omron ensures every button press registers with extreme precision and pronounced feedback as well as the longest life of hardcore gaming, click after click. The Titan Wheel is constructed with the world's strongest axis shaft and most advanced encoder—and designed using the planet's most innovative gaming engineering for millions of ultra-precise steps during its lifespan.
Treat Your Hand to Some Serious Ergonomics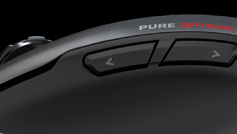 Perfectly-weighted design allows for smooth, cozy and rock-steady gliding. Together with a soft-touch, ultra-comfort surface, you can game long without the slightest irritation.
Combine Devices & Games in New Ways – For Unmatched Intensity
ROCCAT Talk lets your gaming devices combine with one another, so you can take advantage of that cooperation to play like never before. It is available for the ROCCAT Kone XTD, the ROCCAT Kone Pure and also for the ROCCAT Kone+ mice, in combination with the ROCCAT Isku or the ROCCAT Isku FX Gaming Keyboards. While ROCCAT Talk FX translates on-screen game action into exciting sensory effects on your gaming hardware—for a new level of intensity-packed play. It is available for the ROCCAT Kone XTD, the ROCCAT Kone Pure and the ROCCAT Kone+ mice. It is also available for the ROCCAT Isku FX Gaming Keyboard. More products are on the way!
Technical Specifications
Pro-Optic Sensor R3 with up to 4000dpi
1000Hz Polling rate
1ms Response time
12000fps, 10.8 Megapixels
30G Acceleration
3.8mps (150ips)
16-bit Data channel
1-5mm Lift-off distance
72MHz Turbo Core V2 32-bit Arm based MCU
576kB Onboard memory
Zero-angle snapping/prediction
1.8m Braided USB cable