JLab Ups the Game with Every New Generation of the Best-Selling JBuds Line, and the J4 Rugged Metal Earbuds Style Headphones are No Exception
Building on the sleek style, premium sound, and maximum comfort of the JBuds J3 earbuds, we gave the new JBuds J4's a flexible exoskeleton armor over all components for extreme durability and a hot new rugged look. These cans are built to last! The J4 ear buds also feature a rock solid, heavy duty aluminum housing, tangle-free flat cables with Kevlar reinforcement, eye candy 3D logo details, and an extra tough EVA carrying case with room for your J4's and an iPod nano or shuffle. The J4's also include seven pairs of custom molded earbuds cushions, in both single flange (XS, S, M, L) and double flange (XS/S, S/M, L/XL).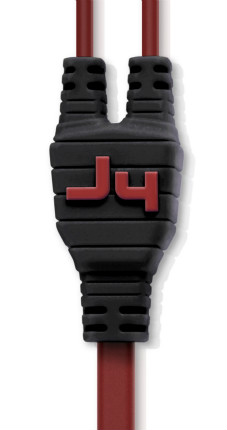 Features
Extra rugged build with aluminum housing, flexible exoskeleton armor on all components, and Kevlar reinforced tangle free flat cable.
Rich, dynamic soundstage with crystal clear highs, deep, full mids, and tight, punchy bass.
Includes seven sizes of soft silicone ear buds for a super comfortable, noise isolating fit, and a rugged travel case.
Works with every iPod, iTouch, iPhone 3G/4G, Kindle, iPad, mp3 player, CD, portable DVD, PSP, Nintendo DS, and Laptop.
Also available as J4M with mic for iPhone 3G/4G, Blackberry, HTC, Android, and other smart phones.
Gold plated 3.5mm audio jack for premium, no-loss sound connection to your audio device.
Compatibility
iPhone, Android, HTC, Windows, Blackberry, and most other smartphones to listen to your favorite jams*
Tablets: iPad, Motorola Zoom, HP Touchpad, Asus EEE Pad, Acer Iconia, Toshiba Thrive, Coby Kyros, Viewsonic, Sony, Blackberry Playbook, Vizio, Archos, Android, Dell, T-Mobile, and others*.
MP3 players: All iPods, Mach Speed, Sansa, Sandisk, Coby, Archos, Sony, Creative, Sylvania, and others*.
eReaders: Kindle and others*
Gaming Systems such as DS, Leapfrog and other portable devices*
Computers: All laptops, notebooks, and desktops*
*JBuds are compatible with any portable devices with a standard 3.5mm jack. Please check your device specifications or manufacturer for any further compatibility details..