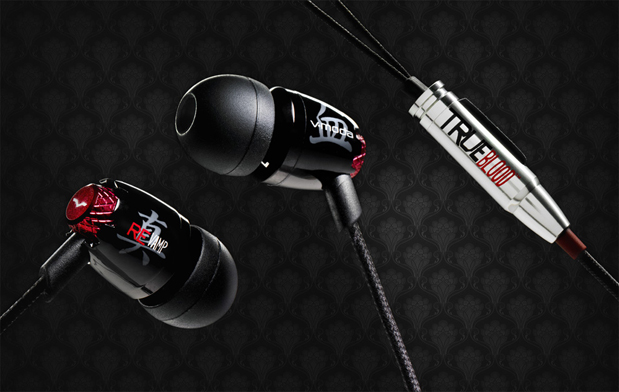 REVAMP : METAL : In-Ear Noise Isolating Headphones with 1-Button Mic
Life begins at night for the vampires of True Blood®, when the ability to hear a heart beat from afar is a primal necessity. The pulse-pounding synthesis of sound, style and comfort is designed for mobile beings whose lives begin at night. From the aircraft-grade aluminum silver bullet microphone that doubles as a necklace pendant, to the Kevlar® reinforced fabric cables, REVAMP is museum-quality art.



9mm V-MASQUE high-definition driver provides
vibrant bass, vivid mids, vivacious highs
V-PORT for 3D soundstage

Built to last under strict military testing
guidelines (MIL-STD-810G)
Durable aluminum-metal construction
Kevlar® reinforced cable survives
60k+ bends
45-degree flexible 24k gold-plated plug
Elegant carrying pouch
Designed for seductive styling and supernatural sound, REVAMP is a testament to V-MODA's dedication to quality and innovation. A masterfully tuned 9mm V-MASQUE driver, verified to strict consistency standards delivers vibrant bass, vivid mids, and vivacious highs. Additionally, the V-PORT delivers a 3D soundstage, invoking the sense of a live music experience.

After years of research, V-MODA discovered that The Fit is the Sound as everybody's ear is shaped differently. REVAMP's remastered BLISS™ 2.0 (Bass Level Isolating Soft Silicone) noise isolating fittings are precisely shaped to create greater sound, stability and comfort for the greatest amount of people. The newly designed medical-grade BLISS 2.0 (Bass Level Isolating Soft Silicone) fittings come in four sizes (XS, S, M, L) and is perfect for those even with small ears. The detachable sport earhooks feature patent-pending ACTIVE FLEX™ technology, which allows the headphones to adjust independently to each ear and minimize cable noise while creating a secure fit and consistent sound for an active lifestyle.


Immortal durability was achieved through relentless engineering of every component in REVAMP to pass strict MIL-810-STD test guidelines. The foundation of this quality is its lightweight all-metal construction and Kevlar reinforced fabric cables. The durable, fabric cable also reduces tangles while the gold-plated steel plug features a 45-degree extended strain relief to withstand stress.
Universal Compatibility & Communication
Featuring a discreet 1-Button microphone, REVAMP is universally compatible with all iPhone
®
, iPad
®
, iPod
®
, Android
®
, Blackberry
™
, tablets, notebooks, audio devices and smartphones with a 3.5mm port.

True
Hertz--The Great Revelation
Did you know that not all headphone drivers are created equal? Without rigorous quality testing, many headphones have variances from unit to unit of up to 30dB, even on the left to right channels. But V-MODA's strict driver testing program guarantees consistent quality and critically-acclaimed sound in every single pair of REVAMP headphones, every time. When it comes to the frequency response curve, the traditional old-school specifications people judge headphones by, such as 5Hz-30kHz does not paint a full picture. It's akin to only considering a statue by its height versus its finer details in the sculpted curves and artistic expression. V-MODA sculpts the sound at every step along the entire frequency response range by utilizing a 31-band EQ, lab and subjective testing during the tuning stages.
Guaranteed Satisfaction
V-MODA's commitment to quality stays with you: Each REVAMP purchased from V-MODA.com or any of our Verified Dealers is backed by an unrivaled 2-Year V-MODA Premier Warranty. If you're rough on your headphones, don't worry. With the REVAMP's Immortal Life Program, you get a 50% off lifetime replacement guarantee. V-MODA even offers an unrivaled home audition guarantee.
What's In The Box?
V-MODA for True Blood® REVAMP headphones, 4 pairs of BLISS 2.0 fittings (XS,S,M,L), ACTIVE FLEX detachable sport earhooks, carry pouch.



Offical HBO Licensed Product. © 2011 Home Box Office, Inc. All Rights Reserved.
HBO and related trademarks are the property of Home Box Office, Inc.