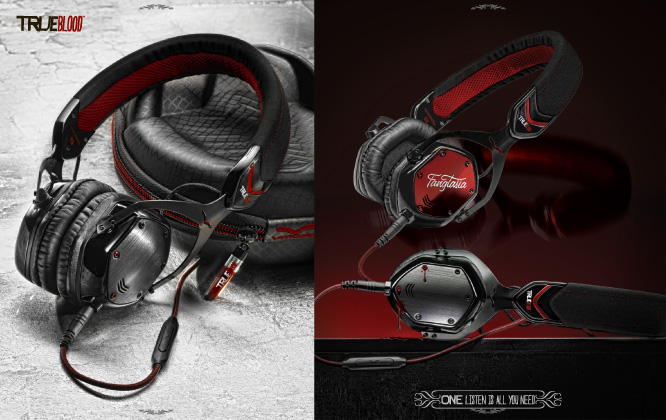 Included exoskeleton
blood vial
case and
detachable reinforced mic cable.
Shapeshift your style with interchangeable
custom metal shields (sold separately)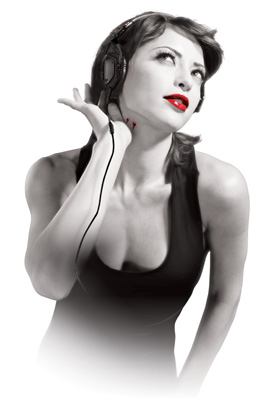 V-80 On-Ear Noise Isolating : METAL : Headphones
Life begins at night for the vampires of True Blood®, when the ability to hear a heartbeat from afar is a primal necessity. It is this heightened sense of sound that is the essence of the ultra-compact V-80 On-Ear headphone.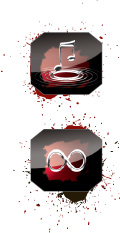 • 40mm Dual-Diaphragm drivers • Vibrant Bass, Vivid Mids, Vivacious Highs • BLISS™ Noise Isolation • BEATPORT 3D Soundstage

• Lightweight, steel construction • Ergonomic Steelflex Headband • Exoskeleton blood vial case • Military-Level quality (MIL-STD-810G) • Kevlar® reinforced cables pass 1 million flex cycles
MATERIALEDGE
Masterfully crafted for years alongside legendary musicians, producers and DJs, V-80 exposes the fine details of sound and turns music into a new dimension. Durable metal materials and star-worthy glamour end the hunt for the perfect headphone. V-80 is truly bespoke for beings whose style and sophistication has evolved through the ages.
Supernatural Sound, Super-Sleek Size
V-80 was engineered to expose the finer details and range of your favorite recordings while making you feel like you are experiencing it live. Like vampire blood, using a V-80 bonds you with these authentic legendary artists whose lives begin at night on stage and in the studio.

At the heart of the V-80 is its patent-pending and biggest-in-class 40mm Dual-Diaphragm High-Fidelity Drivers that deliver multi-driver sound with the efficiency of a single driver. This technology allows the V-80 to deliver the response and range of multiple drivers with the energy efficiency of a single, smaller driver. The result is pulsing bass, a meaty mid-range, and crystal clarity on today's portable devices.

To create this live experience, a unique combination of noise isolation and acoustic channeling technologies was used to add multi-dimensional layers to the listening environment. Supple BLISS memory foam ear cushions isolate noise and immerse you into your own world of sound. The specially tuned BEATPORT and memory cushions create a true 3D soundstage versus fully closed-back headphones by directing air out of the ports to maintain noise isolation.

Seductive Style
Reflecting the seductive style of True Blood® comes naturally to the V-80. V-MODA fanatics will immediately recognize the signature metal "V" design, in addition to the added details such as the blood vial zipper pull and luxurious red accents. The on-ear design is 53% smaller than the now legendary over-ear Crossfade LP.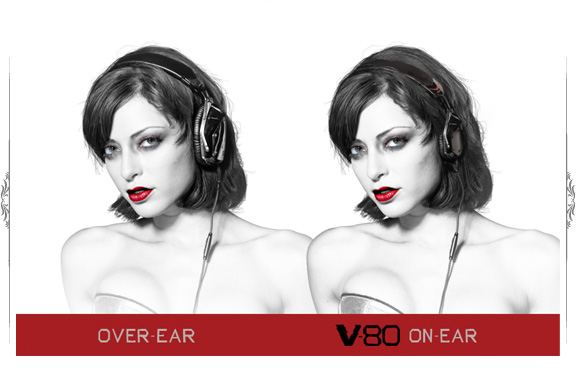 V-MODA continues the commitment to timeless materials that the immortals cherish, from the brushed aircraft-grade aluminum shields, to the rich and durable microfiber suede headband, to the braided Kevlar cables.

Shapeshift Your Style
Like V-MODA's customers, True Blood® fans are part of a unique tribe. They live for the show and immerse themselves in the culture. With the V-80's interchangeable custom metal shields, Trubies and vampire enthusiasts can shapeshift their style and express their membership in the True Blood® tribe. Choose from a selection of official True Blood® symbols and expressions (sold separately), or create your own.




Immortal Durability
V-MODA is passionate about sound and providing you a durable product. Four years of testing the V-80 on tour and in everyday life situations resulted in a tank-like steel frame, ergonomic steelflex headband, and detachable Kevlar-reinforced cables to ensure unprecedented durability. Using strict military testing guidelines (MIL-STD-810G), no company puts their product through more punishment and duress than V-MODA to ensure nearly immortal quality.

And like an immortal, the V-80 can repair itself. It features a flexible memory steel headband and detachable cables, memory foam cushions and shields. The V-80's modular engineering means it'll survive whatever the night throws at it.

The Fit is The Sound
Relentless research over the course of four years in ergonomics was spent to perfect one of the most challenging acoustic devices, the on-ear or "supra-aural" headphone. To make supernatural sound required supernatural ergonomics, as the fit can alter the sound up to 50dB with on-ear headphones. Additionally, most on-ear headphones are so uncomfortable they can only be worn for a few minutes, which is unsuitable for watching your favorite shows or jamming to your favorite mix in our modern mobile lifestyle.


The V-80's tailored fit is balanced enough to create a natural sound with a proper on-ear seal, and ensures there's never too much pressure on any part of the head at any time, so you can rock on deep into the night.

TrueHERTZ--The Great Revelation
Did you know that not all headphone drivers are created equal? Without rigorous quality testing, many headphones have variances from unit to unit of up to 30dB, even on the left to right channels. But V-MODA's strict TrueHERTZ driver testing program guarantees consistent quality and critically-acclaimed sound in every single pair of V-80 headphones, every time.

When it comes to the frequency response curve, the traditional old-school specifications people judge headphones by, such as 5Hz-30kHz does not paint a full picture. It's akin to only considering a statue by its height versus its finer details in the sculpted curves and artistic expression. V-MODA sculpts the sound at every step along the entire frequency response range by utilizing a 31-band EQ, lab and subjective testing during the tuning stages.
Balancing Music's Weakest Link
The experience of sound is only as strong as its weakest link. Today, that's too often terrible compression in the digital source material as much as the ergonomics and inconsistent quality of the headphone's frequency response curve. Additionally, songs are mastered and mixed differently because of the same sound chain, even on the same album. Therefore, V-MODA's tuning methodology is balanced and utilitarian, with an organic and clear soundstage that doesn't rely on additional sound processing, batteries or crossovers: the result is the greatest sound for the greatest amount of people.

Guaranteed Satisfaction
V-MODA's commitment to quality stays with you: Each V-80 is backed by an unrivaled two-year premier warranty. And if you're rough on your headphones, don't worry. With the V-80's Immortal Life replacement program, you get a 50% off lifetime replacement guarantee. (See package insert for details.) V-MODA even offers an unrivaled home audition guarantee.

Universal Compatibility and Communication
V-80 is universally compatible with all audio devices, smartphones and tablets with a standard 3.5mm port. It works perfectly on all iPhone, Android, Blackberry, iPod, tablets, notebook, MP3 and audio devices.





Included are two detachable cables, a 1-button microphone and long audio-only cable. Also, it's great for gaming and fully Skype compatible on smartphones, tablets and latest generation Apple products without the need for an adapter. Additionally, three-button remote cables and pro DJ adapters are also available.

What's In The Box?
V-MODA for True Blood® V-80 headphones, exoskeleton blood vial hard case, detachable Kevlar reinforced 1-button mic/audio cable, detachable Kevlar reinforced universal professional/home audio cable, carabineer clip, 2-year warranty.


Offical HBO Licensed Product. © 2011 Home Box Office, Inc. All Rights Reserved.
HBO and related trademarks are the property of Home Box Office, Inc.