Crossfade M-80 On-Ear Noise Isolating: METAL: Headphones - White Pearl


"Winning raves from company founder Val Kolton's fellow DJs and other stylish children of the night both for their strong audio performance and their standing as fashion accessory"
- Rolling Stone
"I simply can't think of another headphone that does so much, so right. I simply can't recommend them highly enough. I love these headphones. HIGHLY RECOMMENDED"
- Stereophile + InnerFidelity Editor, Tyll
"The sound of the headphones is excellent, with some seriously punchy bass and a really clean and crisp high-end."
- iCreate Magazine
"Very solid sounding. I was impressed"
- Tekzilla, Patrick Norton
"V-MODA's M-80 is one of most capable, revealing, and best-balanced on-ear headphones we've tested"
- Playback AVguide

Master
Crafted®
The audiophile award-winning Crossfade M-80 is the ultimate symbol of sophistication in sound and style. Authentically tuned by a legion of legendary musicians, Grammy-Award winning producers and audiophiles, the M-80 packs timeless materials, professional acoustics, natural noise isolation, ergonomics and military-level ruggedness into a design 53% smaller than its over-ear sibling.
Superior Sound

40mm patented Dual-Diaphragm drivers (biggest in class)

Vibrant Bass, Vivid Mids, Vivacious Highs

V-PORT V3 Soundstage

BLISS™ Noise Isolation w/o Leakage

Military-Level Quality

Lightweight, steel construction

Ergonomic Steelflex Headband

Exoskeleton hard case

Military-Level quality (MIL-STD-810G)

Kevlar® reinforced cables (3-Button, 1-Button)

passes 1 Million flex cycles
Patented Driver Technology
The nucleus of M-80 is its unique and biggest-in-class 40mm Dual-Diaphragm Drivers that deliver multi-driver sound with the energy efficiency and quality of a single driver. To recreate a pure balanced sound analogous to vinyl, M-80 uses no batteries or artificial sound processing.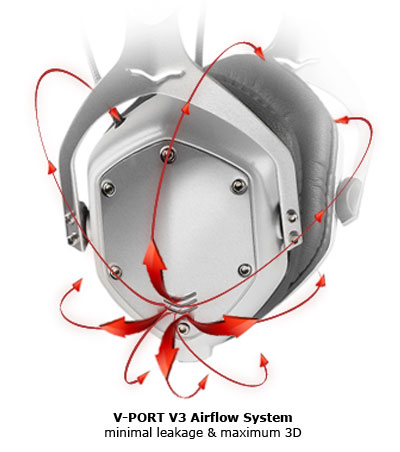 BLISS Comfort and Noise Isolation
Over 4 years of R&D went into developing the ergonomics of the headband and supple BLISS memory foam ear cushions to naturally isolate noise without adding too much pressure on your ears and head. The specially tuned V-PORT V3

and memory cushions create a true 3D sound stage versus closed-back headphones while minimizing outside sound to others. It's the perfect balance of isolation, staging and ergonomics that makes M-80 the essential companion for long play sessions on smartphones, notebooks and tablets.




Material
EDGE
M-80's first-class materials and silver finish are virtually indestructible. It is forged from a metal frame, STEELFLEX headband that perfectly contours the head for a sleek look, interchangeable matte silver metal shields, replaceable memory foam cushions, Kevlar-reinforced microphone cables and an exoskeleton carrying case that you can attach to your bag.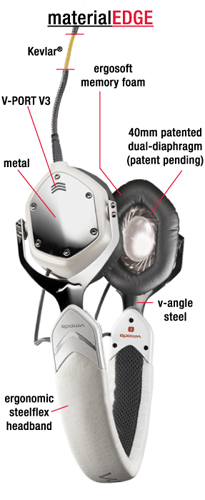 MIL-STD-810G and V-MODA Quality Tests:
Cable/Plug Bend:

Kevlar reinforced cables and 45-degree plug can each bend over 1 million times

Concrete Drop:

Survives 70+ drops on concrete from 6 feet

Headband Bend:

Headband can bend 10+ times flat

Sound Variance:

Virtually inaudible sound variances of less than 2dB versus 10-30dB+ of inferior products

Environmental:

High and low temperatures, humidity, salt spray and UV exposure

Custom Laser Engraved Shields
You can choose from a variety of colors to customize your shields and even laser engrave any artwork such as your logo or favorite team. Endorse Yourself.
Universal Microphone Cables
M-80 comes with 2 Kevlar reinforced microphone cables for universal compatibility with all modern mobile and audio devices. The microphone cables are universally comatible with all smartphones (iPhone, Android, Windows, Blackberry), tablets (iPad), notebook, MP3 and audio devices.
Satisfaction Guaranteed
V-MODA's commitment to quality stays with you as each M-80 purchased from V-MODA.com or any of our Verified Dealers is backed by an unrivaled 2 year V-MODA Premier Warranty. And in the unlikely event you run over your headphones with a tank, don't worry. With the V-MODA Immortal Life Program, you get a 50% off replacement in any disaster. V-MODA is so confident the M-80 is a superior headphone, it even offers an unrivaled 60-day test drive guarantee.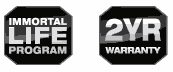 What's Included?
V-MODA Crossfade M-80 headphones, exoskeleton carrying case, carabiner, 3-Button mic/audio cable and 1-Button mic/audio cable.
Specifications
Type:

Supraaural (on-ear)

Speaker Drivers:

40mm patented Dual-Diaphragm High-Fidelity Driver

Impedance:

28.5 Ohms

Frequency Response:

5 - 30,000 Hz

Sound Pressure Level:

105 dB

Standard Cables:

Kevlar® reinforced, 55" 3-Button cable with mic, 55" 1-Button cable with mic

Plug:

45 degree, 24k gold-plated 3.5 mm (1/8") stereo plug

Weight:

200g (headphone only)