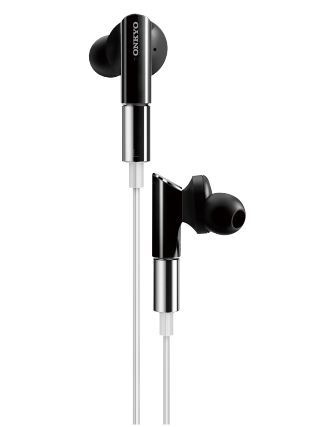 IE-HF300 In-Ear Headphones
(Black / Silver Cable)
All-New 14.3mm (9/16")High-Performance Drivers for Deep Bass, Clear Mid-Range, and Detailed Treble
Anti-Vibration Aluminum Die-Cast/ABS Resin Hybrid Body
6N Oxygen-Free Copper Cable Protects Signal for Pure Sound
Detachable Design for Easy Cable Replacement
Tough Elastomer Cable Sheath Reduces Touch Noise
High-Quality Gold-Plated MMCX and Mini-Stereo Connectors
Reinforced L-Shaped Mini-Stereo Plug
Comfortable In-Ear Headphone Sleeves for a Secure Fit
Tough, Lightweight, Durable Construction
Compatible with Most Media Players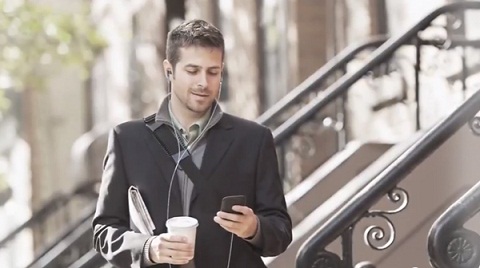 Hi-Fi Earbuds that Let Your Music Off the Leash
With the development of an all-new headphone sound, featuring a large, low-impedance transducer, these headphones reach deep into the mix, balancing silky smooth bass with an open and natural mid-range. Tough aluminum and ABS resin hybrid construction helps to provide the necessary rigidity to tame resonance and distortion. Crystal-clear audio comes courtesy of an audiophile-grade, super-conductive copper cable wrapped in transparent elastomer insulation to minimize touch noise.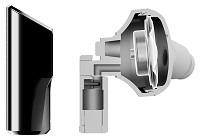 Deep, Well-Controlled Bass Performance
Experienced headphone users agree that bass response isn't a question of quantity, but quality. Drowning in poorly defined bass does no music any favors, whereas well-balanced low frequencies add weight and dynamism to all kinds of music. Onkyo's engineers spent long hours perfecting the tuning of the IE-HF300s to produce deep, tuneful bass that doesn't overwhelm the middle frequency band.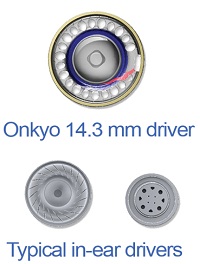 High-Performance Dynamic Drivers
The IE-HF300s feature an uncommonly large 14.3 mm (9/16"?) dynamic or moving-coil-type transducer. The design is noted for its durability, accuracy, and ability to reproduce a wide frequency bandwidth, and it's perfected here in a particularly natural-sounding custom driver. Durable aluminum/ABS resin housing provides exceptional rigidity, reducing unwanted vibration. These drivers are sympathetic to compressed audio formats without sacrificing sensitivity for lossless and high-resolution playback.

High Purity Copper-Core Cable for Pure Sound
The headphone's cable is of critical importance to its sound quality. The IE-HF300 comes with a 6N oxygen-free copper cable, which delivers almost zero resistance for superior sound.

Insulating the core is a tough and flexible elastomer sheath that minimizes touch noise and ensures the best possible conductivity. It also resists tangling. As with all Onkyo headphones, it's also detachable for easy replacement.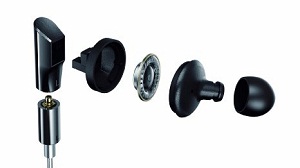 Rugged Construction
Onkyo protects your investment with the use of tough, impact-resistant materials. All cable connectors are gold plated to preserve signal integrity and resist the effects of corrosion, extending the life of your headphones.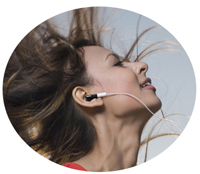 Comfortable for Long Listening Sessions
The nozzle section on the IE-HF300 is angled to provide optimum comfort and a secure fit. Ergonomic soft-touch earpads provide a firm, comfortable seal against ambient noise, and won't fatigue during longer sessions. Running for a train or putting your feet up at home, you'll hardly know you're wearing them.
Available in More Colors