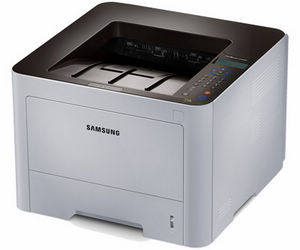 Samsung Printer
ProXpress
SL-M4020ND/XAA


Fast, Professional Quality Printers with Lower Operating Costs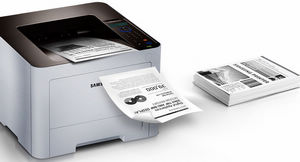 High-Speed Printing
The robust ProXpress M4020ND delivers fast print rates - 42 pages per minute (PPM). Powered by a Cortex-A5 core processor and 256MB of memory, it delivers unsurpassed performance for business applications. High performance coupled with ease-of-use enables businesses to accelerate document and image processing for increased efficiency.
Great Print Quality
ReCP technology improves the readability of printed documents by enhancing thin lines and sharpening the edges of fine text. The ProXpress M4020ND delivers sharp, solid prints with effective output print resolutions of up to 1,200 x 1,200 dpi.
Print with More Paper Types for all Kinds of Uses
The printers' multipurpose tray supports media of up to 58lb, offering more printing choices for professional documents. Labels, cards, covers and envelopes can be printed using the multi-purpose tray with ease. This ability virtually eliminates the time it takes to feed sheets one at a time.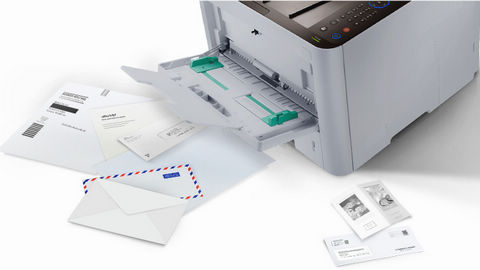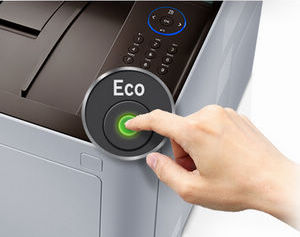 Better for Your Budget and the Planet
Businesses can lower toner and paper usage with the One Touch Eco Button. The One Touch Eco Button automatically activates 2-up printing (two pages on the same side) and duplex printing (printing on both sides). Users can also choose the option to skip blank pages in the toner saving mode. These eco settings can be adjusted using Easy Printer Manager. With toner save mode, you can also reduce toner use and bring your printing costs down even more.
Central Print Usage Control Saves More Resources
Central Print Usage Control, activated through the SyncThru Admin Job Accounting feature, enables managers to assign users to specific printers. Users can also be assigned quotas for the number of pages or copies they can make per printer.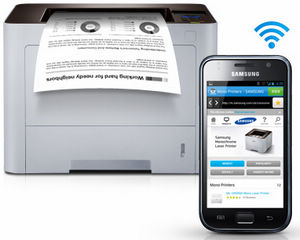 Easy Mobile Printing
Release the full productivity of your mobile devices with the Samsung Mobile Print App, available for iPhone, iPad, Android, and Windows Phone devices. Don't waste time switching devices or transferring files when you can print directly from the source. This application allows you to easily print directly from your mobile device to the printer over your wireless network. Unlock your full potential with the only printer manufacturer's mobile solution that allows you to print not only JPEGs and PDFs, but also the full suite of Microsoft Office documents, including Word, PowerPoint, and Excel. You can even scan and fax, directly from your tablet or smartphone.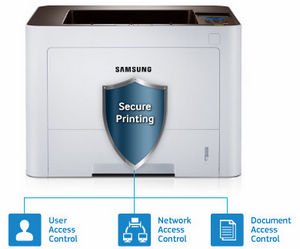 Enterprise-Level Document Security
Businesses cannot afford the leakage of confidential information when they produce and print numerous official documents. With the ProXpress M4020, worry of information leakage will be a thing of the past. Samsung SyncThru Admin provides greater control over user, document and network access at the enterprise security level.