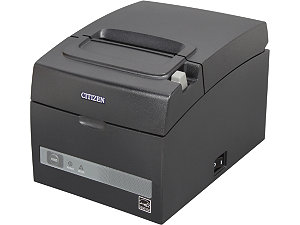 Citizen CT-S310II Thermal Receipt Printer
The new Citizen CT-S310II receipt printer is a green step forward towards reducing negative impact on the environment and it is ENERGY STAR® Qualified. We invite you to take advantage of its benefits including lower cost for more features, lower power consumption and excellent paper savings.
Environmentally Friendly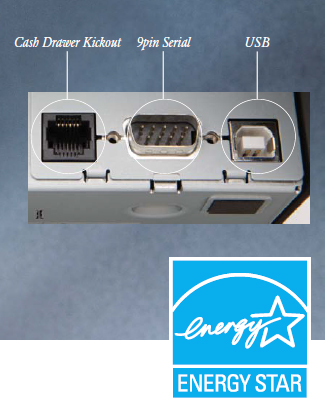 From production and packaging to utilization and recycling the CT-S310II fulfills today's demand for green IT products. Global warming, sustainability, as well as living and being green are on the minds of people everywhere. Reducing the amount of paper used and wasteful power consumption is a big factor in reducing global warming. Citizen Systems new CT-S310II receipt printer reduces power consumption by up to 45% and has a save paper function which can save up to 20% of receipt paper. The Citizen CT-S310II is ENERGY STAR® Qualified, helping reduce a shop keeper's or a restaurant's carbon footprint.
Built-in Power Supply
The built-in ENERGY STAR® power supply is most efficient at managing power consumption. Eliminates unsightly power "brick" and frees up space.
Dual Interface
With a USB and serial interface on board, the CT-S310II is a future-proof investment.
Tool-free Maintenance
Paper jam? No problem. The CT-S310II comes with the same intelligent service features as Citizen's high-end printers. The easily removable auto cutter and printer head make for quick and easy maintenance.
Long Life Print
The new LLP functions can extend the print head life to 200km or more.