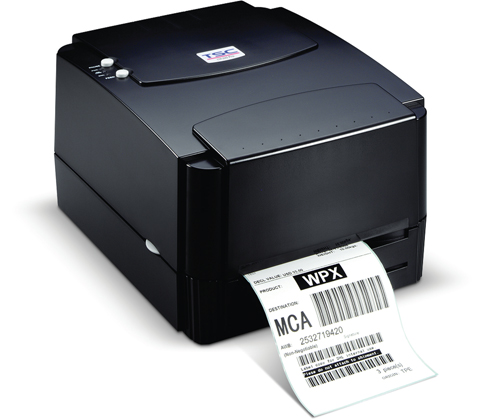 Desktop Thermal Transfer Bar Code Printer

TTP-243 Pro Series
Redefining "Performance" in an Entry-Level Desktop Printer
TSC's original entry-level TTP-243 series desktop printer redefined "performance," earning a reputation as the toughest, most durable printer in its class. Its new replacement – the TTP-243 Pro Series – incorporates the same features, plus brand-new state-of-the-art electronics, packing even more performance into an entry-level platform.

One of the key features of the TTP-243 Pro is its innovative dual-motor print engine, which incorporates a 32-bit high performance processor that can handle high volumes of data without sacrificing throughput. The TTP-243 Pro prints 203dpi images at speeds up to three inches per second. A second model in the series, the TTP-342 Pro, offers high resolution 300dpi printing at speeds up to two inches per second.

The TTP-243 Pro holds up to 8.4-inch OD label rolls and has a ribbon capacity of 300 meters. It also features two standard interfaces – RS-232 serial and USB 2.0. A factory option is available for a main board contains both RS-232 serial and parallel ports.

The TTP-243 Pro comes with 4MB of Flash memory and 8MB of SDRAM and offers an optional SD card reader for expanding memory up to 4GB. It also features TSC's powerful TSPL Printer Language, as well as the Translation Printer Language Eltron® (TPLE). Labeling software and a Windows® driver are included at no extra charge.

Like its predecessor, the TTP-243 Pro offers a variety of options, including a rotary cutter, keyboard display units, a long range linear imaging barcode scanner, an SD card reader slot, a Bluetooth module, a 3-inch-core label spindle and an external label hanger (for the TTP-243E Pro model).