Redefine High Fidelity and Clarity.
Digital music sources are an important source for audiophiles. Catering to the needs of the user, the ASUS Xonar team launches its first hi-fi USB DAC, the Xonar Essence One, and commits to subvert the low quality digital music stereotype. It is the industry-leading, high-end USB DAC with the world's first 8x symmetrical upsampling, an extremely high 120dB SNR, audiophile class headphone AMP with a full op-amps swappable function.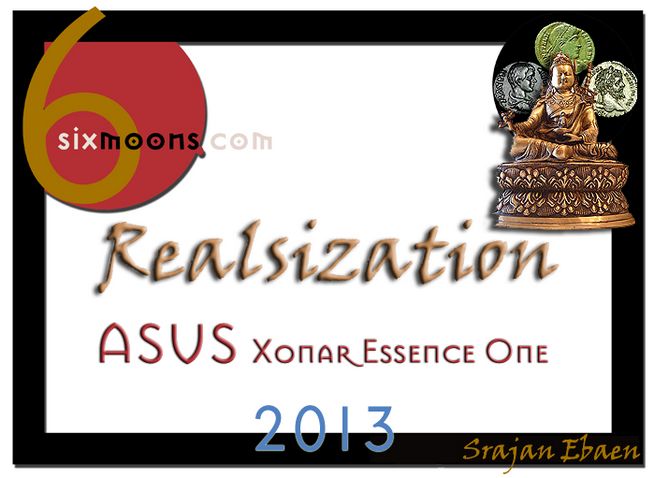 Hi-Fi audio through the world's first 8x symmetrical upsampling The Essence One preserves faithful details of your music collection. While common upsampling USB DACs just transfer whatever audio source to 192kHz indistinguishably, the Essence One upsamples 44.1/88.2/176.4kHz input to 352.8kHz and 48/96/192kHz input to 384kHz in a symmetrical manner. The Essence One also supports to increase data volume by upsampling the bit-rate to 32bit corresponding to the original content. (Note: 44.1*8=352.8kHz; 48*8=384kHz)
Extreme audio clarity with 120dB SNR and Balanced XLR output The average SNR of other USB DACs is about 110dB. With the extremely high SNR (120dB), the Xonar Essence One provides audiophiles clearer sounds with every detail while significantly reducing noise level. The Xonar Essence One also features balanced (XLR) outputs. This is a higher quality output that is useful for eliminating unwanted noises and interference. Since a balanced line contains two signal carrying conductors of equal magnitude but opposite polarity, noises induced along the cable path cancel each other out when they reach the destination load. This makes balanced lines perfect for professional applications where long cable connection with induced noises might be a problem. XLR connectors should be wired as follows: Pin 1- Ground; Pin 2- Hot (in-phase); Pin 3- Cold (phase-inverted).
Built-in headphone amp and a dedicated internal power supply The Xonar Essence One integrates an audiophile-class headphone AMP circuit which powers up ALL Hi-Fi headphones and grants 100% performance, even with impedance up to 600ohms. It offers extra dynamics, sound details and low distortion. The internal power supply supports all international voltages and has generous margins for over and under voltage conditions. It provides the cleanest power for the cleanest sound with excellent immunity to noise on the AC line.
11 swappable OP-amps and Dedicated Volume Controls Op-amp is the key part that amplifies the analog signal in your DAC and affects tone characters (darker, brighter, sound image, etc.) Xonar Essence One allows user to swap almost every OP-amps for a fully customized sound. The ASUS Xonar Essence One is fitted with two dedicated volume controls: one for the headphones and another for speakers. Unlike most USB DACs which use only one volume control for the output level of both headphone and speaker (or even no volume control), Xonar Essence One allows users to set the headphone and speaker volume level separately.
Toslink and Coaxial S/PDIF inputs and bit-perfect with ASIO 2.2 Driver The ASUS Xonar Essence One is fitted with a set of digital inputs, Coaxial and Toslink, which enable the connection of source components. The digital inputs accept data formats at sample rates up to 192 kHz. Bit-perfect is how the audio stream will come from your PC. The ASUS Xonar Essence One's ASIO 2.2 driver simplifies the process of multiple audio streams, bypassing latency issues in Windows, to deliver a low-latency, high fidelity sound file that is identical to the original audio file.
Low Clock Jitter with Asynchronous Data Transfer Most USB audio uses Synchronous Data Transfer mode to adjust the internal clock to compensate different data transfer rates between PCs and USB audio devices. But the jitter is worse if the transfer rate is different between a PC and the audio device. To avoid this issue, the ASUS Xonar Essence One supports Asynchronous Data Transfer mode. This mechanism feedbacks the buffer status to the system, and the system is based on buffer status to adjust to the speed of the data transfer, which leads to a low amount of jitter in the Xonar Essence One.
Warranty, Returns, And Additional Information
Warranty
Limited Warranty period (parts): 3 years
Limited Warranty period (labor): 3 years
Return Policies

Return for refund within: 30 days
Return for replacement within: 30 days

This item is covered by Newegg.com's Standard Return Policy.