The Fujifilm FinePix S6800 Digital Camera features a 16.2M BSI-CMOS sensor to produce high quality imagery with notable low-light sensitivity. A Fujinon 30X optical zoom lens expands the range of expressive possibilities. You can enjoy the high speed performance, such as fast continuous shooting speed of 8.0fps at full resolution (max. 10 frames) and an auto focusing speed of 0.3 seconds. SR AUTO (Automatic Scene Recognition) can automatically determine the scene type you are working in, and choose from one of six pre-determined sets of exposure profiles to optimize your images. Image composition and playback is possible on the rear 3.0" 460k-dot LCD monitor.

High Sensitivity, High Resolution CMOS Sensor with 30X Zoom
Great for people who want the features and flexibility of a DSLR outfit but without the weight and hassle.
Fujinon 30X Optical Zoom (24mm - 720mm) & Super Macro
Fujinon zoom lenses with fast apertures of f/3.1 to f/5.9 With 15 elements in 11 groups, the lens combines aspherical and ED elements to good effect for reduced aberration and superior image quality. With Super-Macro Mode capturing subjects as close as 2cm from the lens, the FinePix F6800 seamlessly covers an enormous focal range with no need to ever change lenses.
Continuous Shooting 8.0 Frames per Second at Full Resolution (Max. 10 Frames)

Quick Response

16 Million Pixels CMOS Sensor
16M BSI-CMOS makes even dark scenes bright for high-quality images.
Six Scene Auto-Recognition (SR AUTO)
Framed scenes are automatically detected and selected into appropriate camera settings: Portrait, Landscape, Night, Macro, Night Portrait, and Backlit Portrait.

Full HD Movie (1080i / 60fps)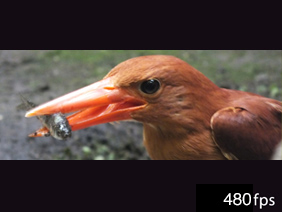 High Speed Movie
Sometimes things happen too fast for you to see them properly with your own eyes. The FinePix S6800 can freeze the action at up to an amazing 480fps! So you can see every single minute detail and watch things happening step by step in slow motion.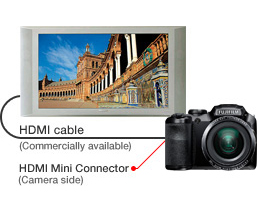 HDMI Connect
Simply connect any HDMI cable available in the market to the HDTV and enjoy the full impact of high resolution images and movies.

High Performance Shooting Function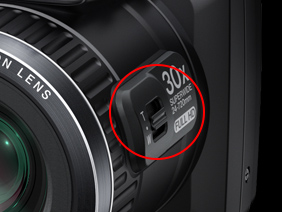 Side-Lever Zoom Control
You adjust zoom with your left hand while the index finger of your right hand rests on the shutter button, ready to take the shot and choose from three zoom speeds or use "auto back zoom" for long zoom photography.
Versatile Shooting Modes P / S / A / M / Mode Dials
3D Shooting with "Individual Shutter 3D"
Two exposures of the same scene are saved in Multi-Picture Format (MPO) to create convincing images that appear to have been shot in real 3D. An overlapping guide on the LCD screen provides assistance for positioning the exposures, making it easy for anyone to create impressive 3D effects. And Fujifilm's proprietary high-resolution 3D print system produces natural, beautiful 3D prints from images captured with the FinePix S6600 / 6700 / 6800.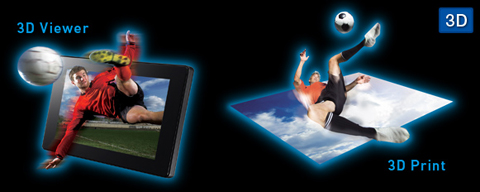 Motion Panorama 360
Just sweep the camera right-left or up-down to shoot giant panoramas up to 360 degrees. When you view the panorama playing back on your camera or personal computer, you can enjoy a seamless panorama image with both ends stitched together to create a "cylinder" view.

Dynamic Range (HDR)
This mode uses Multi Frame technology to capture three consecutive photos shot at high speed - under-exposed, normal exposure, and over-exposed. The three images are then layered to an optimum balance of detail in shadow and highlights, eliminating "blackout" or "washout" and producing pleasing, natural gradations.
Instant Zoom
A function to follow moving subjects in standard wide view for easy framing at high zoom settings. With a single press of a button, the subject tracked within the selected frame on the LCD, will be captured and saved at a high zoom ratio (1.4X or 2.0X digital zoom).
Face Tracking Auto Focus
Face Detection couples with Tracking Auto Focus for new ways of capturing great people pictures, even when those people won't stop moving. Face Detection optimizes focus and exposure to ensure bright, clear faces, while Tracking Auto Focus maintains sharp focus on moving subjects. The result is attractively exposed, well-focused photos.
Face Detection
Face Detection optimizes people pictures by detecting faces and adjusting focus and exposure to ensure bright, clear results.
Red-Eye Removal in Detected Faces
Red-eye removal automatically detects and corrects flash reflection for a perfect end result.
Instantly Detect up to 10 Faces!
The Face Detection can simultaneously recognizes up to 10 faces in a photo. Share your group portraits using the zoom up function in playbacks, checking each detected face. Each priceless expression can be cropped and saved in clear high resolution results.
Playback Functions
Micro Thumbnail View
Up to 100 pictures can be viewed at a time in a 10 x 10 array of micro thumbnails. Convenient for smooth and comfortable playback.
Share Your Images with Built-In Social Networking
Don't wait until you get home to start choosing which pictures to upload to Facebook. Start the process in camera by tagging the pictures you want to share. The next time you connect to your home computer your images will upload automatically. The same goes for movie clips too, which can also be uploaded to YouTube™.
Easy Web Uploading to YouTube™ and Facebook via MyFinePix Studio
It's as easy as one, two, three. Shoot pictures and tag them for upload to your Facebook profile page or YouTube™ account.