For everyday shooting or those occasions when photo quality truly matters, the compact Panasonic LUMIX DMC-GF3 camera delivers beautifully. It offers the benefits of a digital SLR interchangeable system camera with the ease of use of a compact point-and-shoot.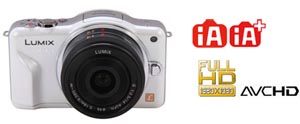 DSLR-Like Image Quality, Features, and Lens Options
Ultra Compact System Camera Body with Built-in Flash (7.83oz)
Intuitively Easy - 3in. Touch-Enabled LCD Control with Mode Thumb Wheel
New Lumix LightSpeed Focusing and PinPoint Focusing Control
Full HD Video 1080/60i - AVCHD
Highlights
Breakthrough Mirrorless Structure
The DMC-GF3 uses the Micro Four-Thirds System standard, a system of interchangeable lenses developed to enhance the characteristics of digital photo technology. The GF3 design, with its mirrorless structure, eliminates the need for a mirror box and optical viewfinder. This helps preserve image quality despite the camera's slight profile, delivering improved performance in a convenient, digital interchangeable lens system.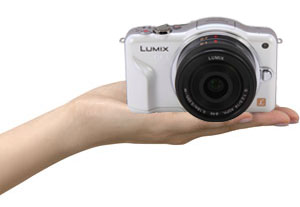 Easy to Interchange Lens
GF3 provides appealing ability to capture a wider range of expression with a relatively simple lens change. The GF3 is compatible with the full range of Micro Four-Thirds System standard lenses, including the LUMIX G / Leica DG line-up. LUMIX G / Leica DG lenses feature many of Panasonic's most innovative features, including telephoto and 3D capabilities. The compact, lightweight LUMIX / Leica lenses also support the unique contrast AF system of the LUMIX G series cameras and comply with the Micro Four Thirds System, designed to optimize the performance of the camera. Model# LUMIX DMC-GF3CW is a dual lens kit.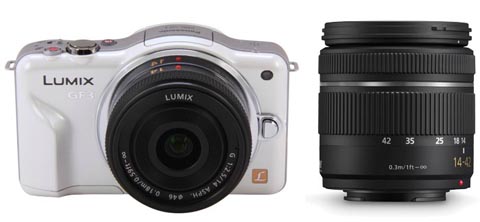 12.1MP Live MOS Sensor
The GF3 is equipped with a 4/3-type 12.1MP Live MOS sensor, which delivers the superior image quality of a traditional CCD sensor with the energy efficiency of a CMOS sensor. The MOS sensor has a high S/N and an advanced circuit structure that's largely unaffected by the noise generated on the circuits. This allows the GF3 to provide stunning image quality that rivals, or in some cases surpasses, that of DSLR cameras.
Light Speed AF
The GF3 has the world's fastest auto focus technology, Light Speed AF. This reduces focus detection time by doubling the drive speed, from 60fps to an impressive 120fps. Speed and focusing accuracy of the advanced contrast AF system on the DMC-GF3 far surpasses even the most high-end digital SLR cameras with phase-difference auto focus. Light Speed AF, when combined with the GF3's touch-control AF, makes setting and focusing on a subject quick and easy, so spur-of-the-moment shots are always optimized.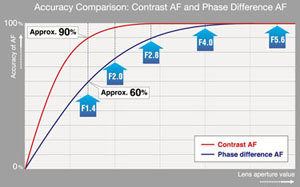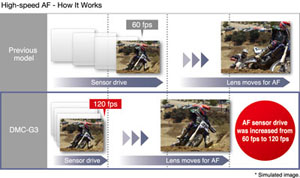 Intelligent Auto Plus
If you think using a digital SLR camera is too complicated for everyday photos and video, think again. The GF3 incorporates Panasonic's exclusive Intelligent Auto (iA) Plus technology; recording amazing photos and movies is as easy as using a compact point-and-shoot camera. In iA Plus Mode, shooting is fully and automatically optimized in any situation; you get incredible image quality with virtually zero effort.
1920 x 1080 Full HD Video
The GF3 goes beyond mere still photography with a capable 1920 x 1080 HD video recording function. Record movies beautifully in high quality AVCHD format, which offers almost twice the recording time of standard Motion JPEG HD video capture. The most innovative feature of the GF3's video recording abilities is the dedicated button that lets you record video while shooting still photos. The video recording function is also equipped with a Dolby Digital Creator microphone that records true-to-life audio and has an innovative Wind Cut feature that reduces background noise. The result is an enhanced sound quality on your HD movies.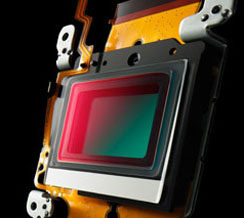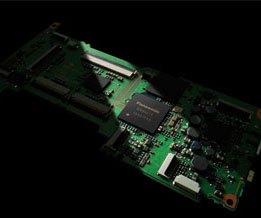 3.0in. 460,000-Dot High Resolution LCD
The DMC-GF3 has a generous 3.0in. LCD display screen with a 100% field of view and an impressive 460,000-dot high-resolution output. The wide-angle viewing makes it possible to frame photos in a variety of creative ways for both dynamic shooting and image playback and editing. The screen has been equipped with LUMIX's acclaimed Intelligent LCD technology, which automatically adjusts screen brightness in 11 steps according to ambient conditions. The large viewing area of the screen also makes sharing images with friends and family much easier.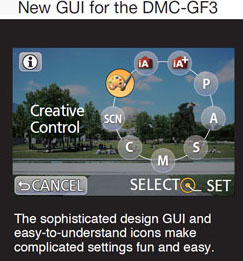 Extended Battery Life
The camera can take up to 340 shots on a single battery charge, so you'll be free to shoot for hours without having to worry about recharging the lithium-ion battery. This extended battery life makes the GF3 ideal for use on vacations, day trips and everyday shooting at a moment's notice.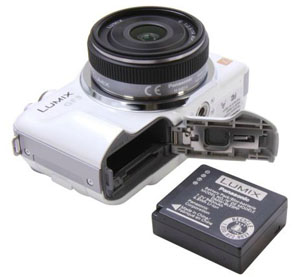 What's in the Box