The best just got even better with the OmniPage professional 18! Better OCR speed, better accuracy, better performance. The OmniPage professional 18 upgrade offers new improvements and added functionality, and helps save you time and money while increasing overall productivity. Whether you're already an OmniPage user, or you're looking for a new document-imaging solution, the OmniPage professional 18 is the perfect choice for organizations of all kinds.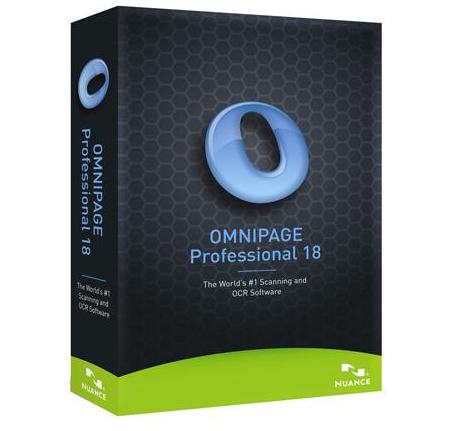 Powerful advantages!
•Take advantage of superior word accuracy to re-create documents quickly
•Maintain formatting, so a converted document looks exactly like the original
•Make documents completely searchable while preserving existing text
•Batch convert paper and PDF files into documents you can edit and archive
•Automate the collection and conversion of forms and data
•Connect with leading cloud storage services and convert documents in them
•Redact and highlight automatically with workflows
What's new!
•Start Page provides guidance
When OmniPage opens it presents clear options to open or scan documents, open OmniPage Project Documents and provides pre-programmed workflows to take your documents from one format to another in one easy step.
•Most productive and accurate searchable PDF ever
The new eDiscovery Assistant for searchable PDF is a revolution in safely converting a single PDF or batches of PDFs of all types into completely searchable documents. Now you don't have to open PDF files one by one, or use an OCR process that might unintentionally wipe out valuable information.
• Connect and convert in the Cloud
The included Nuance Cloud Connector application provides access to a number of cloud services including Microsfot Live SkyDrive, GoogleDocs, Box.net and many more. The added benefit of the Nuance Cloud Connector is its ability to integrate directly with Microsoft Windows providing easy drag-and-drop access directly to cloud services. The Nuance Cloud Connector is also upgradeable to a more feature rich version of the product called Gladinet Cloud Desktop Pro. This enhanced version adds additional functionality for using cloud services for automatic backup and file synchronization.
•Poorly scanned images need OmniPage with scanner enhancement tools
When whiteboard content is captured by digital camera, the text and diagrams can be enhanced for maximum readability. Auto-crop pages to have margins detected and reduced; the punch hole remover and border tools produce clean page borders without scanning shadows and marginal notes.
•Automatic language detection
Let the program assign a single language to each incoming page during unattended processing. It chooses from the languages with dictionary support that use a latin-based alphabet (so Russian and Greek are excluded) plus Japanese, Korean and Chinese (Traditional and Simplified). When this feature is enabled, no manual language selection is necessary.
•Better control over determining blank pages
A new sensitivity setting increases the accuracy of recognizing blank pages that may scan as light gray or colored pages by allowing the threshold for blankness to be adjusted. This improves the use of two controls: the new pre-processing option 'Drop blank pages' and the existing saving option'Create a new file at each blank page'.
•ISIS scanners
Scanners that support ISIS drivers can be used to scan directly into OmniPage.