PaperPort 14 is a popular scanning and document management software application designed for home office use. An easy-to-use combination of a traditional file cabinet and adigital document desktop, PaperPort 14 enables you to scan, organize, find, and share all of your documents and photos from your PC. It enhances the capabilities of your scanner or all-in-one device to quickly transform paper — mail, photos, legal paperwork, tax information, forms, bills, receipts warranties, and other important documents — into high-quality, searchable PDF files with the click of a button.
PaperPort even puts all the PDF files on your desktop in clearly marked, color-coded folders, so information is always at your fingertips.
But people have fundamentally changed the way they access information. It seems everyone, including the kids, has smartphones and tablets that are always connected. In this ever-busy world, wouldn't it be nice to have access to important personal documents as easily as getting access to the weather report, sports scores, music, and videos?
With PaperPort 14, you can put an end to your reliance on copying, faxing, and mailing to reduce waste, conserve energy, save money, and get access to all your documents anywhere and anytime.
There's no better, faster, or easier way to eliminate paper, organize your home office, and get access to your documents once and for all.
Customers use PaperPort 14 to:
Reduce paper clutter all over the house
Empty desk drawers and get rid of bulky file cabinets
Scan, view, edit, and share PDF files with unprecedented speed and ease
Find documents instantly
Organize and manage all documents in one easy-to-use software application
Bring greater efficiency to home-based businesses, personal finances, school work photo collections, hobbies, and other endeavors
What's New in PaperPort 14?
The Nuance Cloud Connector application: Now you can gain access to a number of cloud services, including Microsoft Live SkyDrive, Google Docs, Box.net, and many more. Plus, files are accessed in the PaperPort folder directory, so you can scan, stack, or unstack PDF files, and create PDF files directly in the cloud.
Evernote "Send To" Connector: Drag-and-drop files to the Evernote Send To Connector, create a new note, or add the document to an existing note. You can also right click on the Evernote connector and get files attached to any note so they are copied to the PaperPort desktop.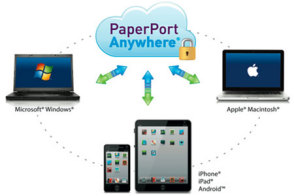 Features
Get more organized
PaperPort gives you a single solution for scanning paper and accessing, viewing, editing, and converting files on your PC – the best way to get, and stay, organized.
Take advantage of the cloud
With connectivity to your favorite cloud applications you can extend powerful document management capabilities to any device with a browser.
Become an expert … in no time flat
PaperPort reduces the complexity of scanning to a single push of button. Set-up a breeze, and once start, you will quickly have all your documents stored and accessible in one easy-to-use application.
Go green
Reduce waste and conserve energy by putting an end to your reliance on printing, faxing, and mailing. You'll save money, too!
Gain true peace of mind
Improve document management processes with PaperPort. Once you file a document in PaperPort, you can rest assured it will never be lost, damaged, or accidently thrown away.
Get more done faster
PaperPort 14 includes a powerful PDF Viewer that replaces the free Adobe®Reader®, so you can view, edit, and share PDF documents like never before.
Find information instantly
Now you can create searchable digital PDFs from digital files and scanned paper documents. Then, to quickly locate a specific file, simply enter keywords or phrases into a desktop search.
Clean up and enhance digital photos
Scanning pictures is just the first step. PaperPort helps make your digital photos look better than ever with a feature-rich set of photo tools and optimal resolution for screen and print.
Convert paper into text
PaperPort converts paper to text in one, easy step. Just drag and drop a scanned document onto any text application in the PaperPort "Send-to" bar to create editable text for instant use in word processing or spreadsheet software.
Fill out forms quickly, neatly
FormTyper converts scanned paper forms into electronic forms you can fill out, save as PDF, and email. It's fast, easy, and automatic.
Works with any scanner
Make your all-in-one printer, mobile scanner, or desktop scanner faster and easier to use with PaperPort 14. Get better results, too.